Boss' softer side wins Torre back
Originally Published:
October 18, 2005
By
Bob Klapisch
| Special to ESPN.com
NEW YORK -- The flight from LaGuardia Airport to Tampa kept Joe Torre in the air for more than two hours, both physically and literally. The Yankees manager was en route to a face-to-face visit with George Steinbrenner on Monday, where a reckoning awaited. After enduring a long summer of second-guessing and backstabbing, Torre was about to find out if he still had a job.
He'd been assured by club president Randy Levine there was no reason to sweat. "We want you back," is what Torre was told. Still, a meeting with Steinbrenner is its own moment of truth, and Torre needed closure on several key fronts.
Why was pitching coach Mel Stottlemyre, Torre's most loyal lieutenant, attacked so relentlessly from afar? Why was Steinbrenner picking Torre apart, game by game, one move at a time, during the regular season? And if Lou Piniella is going to be hanging around in 2006 ... well, that was the most disturbing question of all: Who did Steinbrenner really want in the dugout?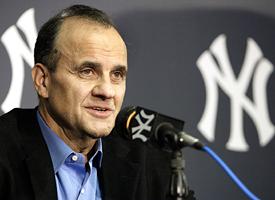 AP Photo/Julie JacobsonJoe Torre will return for his 11th season as the Yankees' manager in 2006.
Torre had spent 10 days at home considering his options after the Yankees' disappointing loss to the Angels in the division series. Quitting was high on the list. As he put it, "I went back and forth. There was some waffling."
Ali Torre watched while her husband considered Plans B and C. She knew her husband was serious about leaving the Yankees when she realized the TV in the living room was tuned to golf, not the AL Championship Series. Ali understandably thought her husband had gone through enough -- just look at him, she told herself, all he wants to do is sleep -- but she didn't lean on him to quit.
Instead, there were only words of reason.
"I told him, 'My only concern is for your health,' " Ali said. " 'If you want to continue, take a good look at your stress level.' "
He'd finished out the division series looking every last minute of his 65 years. Why stay? Why bother? Torre had another $13.1 million on the table, but it wasn't just the money. He could have negotiated a buyout for the last two years of his contract. And Torre knew his decision would have no bearing on GM Brian Cashman, who's been mulling his own future with the Yankees.
Torre realized there was only one reason to keep managing the Yankees -- because he loved it.
He loved it more than he hated Steinbrenner's knife wounds, delivered by the Tampa cabal. More than he hated seeing Alex Rodriguez fail to drive in a run in five games against the Angels. More than he was bothered by Randy Johnson's immaturity. More than he was saddened by Bernie Williams' decline.
Torre could live with all that, but he had to know that Steinbrenner wanted him back. For all his street smarts and Brooklyn-honed survival skills, Torre's need for approval has never really been entirely quenched. It goes all the way back to an abusive, alcoholic father, who taught Torre an important lesson about surviving in a household where a mercurial parent rages -- stay invisible.
That's why the meeting with the Boss meant so much to Torre. He wasn't just looking for the right words, he was listening for Steinbrenner's tone. He knew how brutally cold the owner could be; when Torre called him in July to wish him a happy birthday, the Boss rushed him off the phone in a matter of seconds.
This time it had to be warmer or Torre might have cleared out his desk.
But it didn't turn out that way. Steinbrenner told his manager almost everything he needed to hear.
"We didn't use the word love, but it was pretty warm," Torre said. "It was more than cordial."
Just like that the crisis passed -- for now, anyway. Torre is smart enough to know Steinbrenner will never stay out of his face entirely, and the first time the Yankees lose two of three to the Red Sox, it'll be as if Monday's summit never took place.
Still, Torre's desire to move on was satisfied. He and Steinbrenner have promised to communicate, call each other more often, not let third parties relay insults. It's as healthy a relationship as the two could have, at least in the offseason. But the Yankees are still five years into a world championship drought, during which Steinbrenner has invested almost $1 billion. And for that, someone has to pay.
Maybe it means a new GM, although several Yankee insiders think Cashman will sign a new three-year deal with Steinbrenner next week. Maybe it means a new coaching staff. Already, the Yankees have begun the courtship of Leo Mazzone, sure to outbid the world for the Braves' pitching guru. The Yankees intend to make Johnny Damon dizzy with cash, too, even if they're a longshot to sign the Red Sox's free agent-to-be. If they can't land Damon, the Yankees have a long list of potential replacements for Williams in center, including Juan Pierre and Torii Hunter.
The Twins' two-time Gold Glove winner is preparing for a trade, recently selling his house and telling the Minneapolis Star Tribune, "I want to be here, but you never know what could happen."
Torre identified center field and middle relief as the Yankees' two greatest blemishes. He's been asked for his input, which means he's already doing better than last offseason. But that goodwill won't count for much if the Yankees aren't faster, younger and more athletic in 2006.
Another summer of playing catch-up with the Red Sox but then collapsing in the first round of the playoffs and the Torre-Steinbrenner marriage will be over. It might not even make it to September, let alone the winter.
Torre, no dummy, realizes all of this. In the Yankees' universe, a pat on the back is sometimes the equivalent of a Michael-to-Fredo Corleone kiss of death. Beware.
Bob Klapisch is a sports columnist for The Record (N.J.) and a regular contributor to ESPN.com.
Bob Klapisch is a sports columnist for The Record (N.J.) and a regular contributor to ESPN.com.
EDITORS' PICKS
The BBTN 100 counts down the top 25 players in baseball for 2015.
Rankings »

MLB players weigh in on baseball's best player, PEDs and what they really think about A-Rod's return.
MLB Confidential »

Where does the recently-signed Yoan Moncada land on Keith Law's prospect rankings?
Top 50 update