Commentary
Bright season for Rays suddenly a bit gloomy
Originally Published:
September 16, 2008
By
Jayson Stark
| ESPN.com
ST. PETERSBURG, Fla. -- The date was July 24 -- nearly two months ago.
It was long before the great Olympiad, long before the politicos launched into conventioneering. Heck, it was so long ago
Manny Ramirez
still wore a "B" on his cap. It was also the last day the
Tampa Bay Rays
DIDN'T hold undisputed possession of first place. Until Monday night, that is. Until the Red Sox stomped into Tropicana Field -- a place they hadn't won all year -- and hung a 13-5 bludgeoning on the team with the best home record in baseball (53-22 overall, 49-14 since April 22). Oh, technically, Tampa Bay still leads Boston by a couple of percentage points. But by the time six different Red Sox had finished their home run trots, the American League East was in a virtual tie -- the Rays at 88-60 (.595), the Sox at 89-61 (.593). And all of a sudden, this feel-good series Tampa Bay had waited a lifetime to play didn't feel so good anymore. "It's a test," said
Cliff Floyd
, the Rays' veteran voice of wisdom. "And we've been tested the whole season. Adversity is something we've beaten. We've just got to keep beating it till it's down and buried." Well, if this night was a test, it's safe to say this team didn't exactly graduate magna cum laude. This was how ugly a night it was for those plucky Rays: • Their ace,
Scott Kazmir
, skipped his first pitch all the way to the backstop, walked the first two hitters he faced on four pitches each, served up four homers for the first time in his career and gave up as many runs as he got outs (nine). • After holding the Red Sox to 16 total runs in the first six games these teams played in the Trop this season, the Rays practically gave up that many Monday in just three turns through the Boston lineup. • Eleven different Red Sox players reached base. The only starters who didn't have an extra-base hit were the double-play combination,
Dustin Pedroia
and
Jed Lowrie
. And over the first eight innings, more Red Sox hitters reached base (22) than made outs (21). • Finally, Monday evening got so disheveled that, by the sixth inning, there was just one Tampa Bay position player on the field who was still in the same place he'd started the game. And that was fill-in center fielder Fernando Perez, who was starting only the sixth game of his career because regular center fielder
B.J. Upton
is still out with a quad strain. But what the heck. This was one last chance to catch a
Chris Smith
vs. John Jaso, mano-a-mano, before next March in spring training.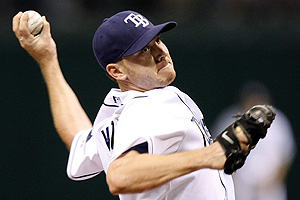 AP Photo/Mike CarlsonScott Kazmir had been pitching well -- until Monday. He gave up six hits, nine runs and four homers in just three innings of work in a blowout loss at home against the Red Sox.
"That," Rays manager Joe Maddon said afterward, "was just a good old-fashioned whippin' tonight." Yeah, it wasn't a particularly uplifting chapter in this real-life sporting fairy tale. That's for darned sure. But that's the problem with real life. A massive clunker from your best starting pitcher can screw up those happily-ever-afters in a hurry. Kazmir came rolling into this game off three spectacular starts in which he'd allowed just nine hits and two runs in 17 1/3 innings. But even in the bullpen, he said, he felt like he "had jet lag." And unfortunately for him and his team, the schedule forced him to go out and pitch after that, instead of heading home for a good nap. He hadn't allowed a home run to a left-handed hitter in his past 28 starts, dating back to Sept. 4, 2007. But a three-run
David Ortiz
homer, three batters into the evening, wiped out that streak. And the next wipeout wasn't far behind. Kazmir also hadn't allowed two homers in an inning since April 29, 2007 -- 53 starts ago. But two hitters after Big Papi's blast,
Mike Lowell
pounded homer No. 2 halfway up the left-field bleachers. Three innings later, Kazmir served up yet another two-homer inning. And the first of those two bombs, a towering
Jason Bay
moon shot, actually violated the law of gravity by going up and then forgetting to come down (after rattling around one of those always-entertaining Tropicana Field catwalks). "Tell you what," Floyd said, "what goes up in this park might not ever be found again." That's a concept Sir Isaac Newton might have serious trouble relating to. But while we know the laws of gravity don't apply to the Trop, the bigger question for pennant-race purposes is whether those laws are about to apply to the team that plays there. As recently as the end of August, the Rays led the Red Sox by 5½ games. Now all 5½ games of that lead are history. And while both teams are almost certainly heading for October, a wild-card ticket isn't what Tampa Bay has in mind right now -- not after leading the division for soooooo long. When Red Sox manager Terry Francona was asked Monday night how much first place meant to his team, he replied, calmly: "Well, we want to finish first. That's what we set out to do. But other than that, I think our players are staying in the moment." Down the hall in the other clubhouse, though, there was no philosophizing. For the Rays, at this point, not finishing first would be a gigantic letdown.

These last two weeks, you've got to challenge yourself. When you get down to the last two weeks, it drains you mentally -- to the point where, when the season's over, you might see some guys passed out in here, just from mental exhaustion.
--Rays DH Cliff Floyd
"For this team, it's huge," said Kazmir. "Just for our confidence, it's enormous to be able to know that you took the division and you're going into the playoffs with that momentum. And having home-field advantage -- that's another big thing for us, because we really feel comfortable in this dome. "So it's going to be huge. And that's what we want to do. We don't want to settle for the wild card. We want to finish this thing off and go into the postseason winning the division." To do that, though, they're going to have to navigate a schedule that will offer them no sympathy. After the Red Sox leave town Wednesday night, the Rays get a four-game Trop matchup with the Twins, who need to win those games more than Tampa Bay does.
After that, it's back on the road for the final week, with seven games in Baltimore and Detroit, while Boston spends the final week at home. And not only do the Rays have no off days for the rest of the season, they'll go through September without having had a single day off at home since Labor Day.
"The way they made the schedule hasn't helped us a lot," Floyd said. "But that's just the way it is. These last two weeks, you've got to challenge yourself. When you get down to the last two weeks, it drains you mentally, to the point where, when the season's over, you might see some guys passed out in here, just from mental exhaustion." They certainly played Monday like a team that looked exhausted. But it wasn't as if there was NO good news for the Rays. At least they failed to draw 30,000 people for their biggest home game in history. (Announced paid crowd: 29,772.) So why was that such good news, you ask? Because they've won 18 straight home games when the attendance was 30,000 or higher. (Last loss: Opening Day.) So at least that streak is still intact. Whether the Rays' two-month streak atop the AL East stays intact, however -- that's up to
Josh Beckett
and
Andy Sonnanstine
, who will duel Tuesday in this very same yard. "[Monday] was a test. So [Tuesday is] our wake-up call from tonight," Floyd said. "If we want this division, we've got to take it. They seemed to want it more than we did tonight."
Jayson Stark is a senior writer for ESPN.com. His book, "The Stark Truth: The Most Overrated and Underrated Players in Baseball History," was published by Triumph Books and is available in bookstores. Click here to order a copy.
ESPN Senior Writer
Senior writer for ESPN.com
21 years at the Philadelphia Inquirer
Author of three baseball books
EDITORS' PICKS
The BBTN 100 counts down the top 25 players in baseball for 2015.
Rankings »

MLB players weigh in on baseball's best player, PEDs and what they really think about A-Rod's return.
MLB Confidential »

Where does the recently-signed Yoan Moncada land on Keith Law's prospect rankings?
Top 50 update