Epstein back in savior role for Red Sox
Updated:
January 21, 2006, 10:28 AM ET
By
Sean McAdam
| Special to ESPN.com
For the longest time, they were without a general manager.
Now, with a month to go before pitchers and catchers report to spring training, they have three.
It's been that kind of offseason for the Boston Red Sox.
They seemed to lead all of baseball in disgruntled veterans but couldn't trade either David Wells or Manny Ramirez. As February nears, they still have gaping holes at shortstop and center field. And after being turned down by a succession of candidates for their front office vacancy and promoting not one but two in-house to fill the void, they have now come full circle, with prodigal GM Theo Epstein back in the fold.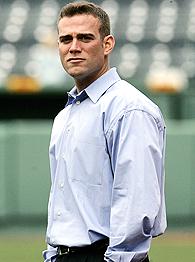 Jim Rogash/WireImage.comEpstein's return caps a strange offseason, even by Red Sox standards.
Epstein slipped out of Fenway Park dressed in a gorilla costume on Halloween and returned Thursday night, nearly as unnoticed. The Red Sox issued a three-paragraph release announcing his return but offered little in the way of details or explanation.
Apparently, when CEO Larry Lucchino said the Red Sox would "leave a light on" for Epstein's return, he wasn't just speaking metaphorically.
Epstein will officially return to the job next week, though his exact title, salary and contract terms have yet to be fully resolved. This much, however, is known: Epstein is not returning as some star consultant, someone for whom Jed Hoyer and Ben Cherington, hired as co-general managers in his absence, can use as a sounding board.
Instead, he'll again be in charge of the club's baseball operations, as he was for the last three seasons, when the Red Sox averaged 95 wins, qualified for the postseason three times and, not so incidentally, won the franchise's first World Series in 86 seasons.
It's not out of the realm of possibility that Hoyer and Cherington will retain the GM title. Both would have their responsibilities increased with the departure of former assistant GM Josh Byrnes.
But Epstein will run the show again and be the final authority on trades, free-agent signings and all personnel moves.
From the time Epstein shocked the franchise -- which had readied a press release announcing his contract extension -- and the rest of baseball by abruptly resigning his post, principal owner John Henry has been working to bring Epstein back into the fold, hoping to repair the trust issues that Epstein believed were violated when details of his negotiations were leaked to the media.
He hired outside consultants to examine the organization's corporate culture, rebuffed Lucchino's many attempts to install Jim Beattie as Epstein's permanent replacement and kept the lines of communication open with Epstein.
"Look at it this way," said a person from outside the organization with knowledge of the situation. "It's like there was a controversial call on the field [in football], and Larry has been trying to get to the line of scrimmage and get a play off and John has been calling timeout, trying to get it looked at and reversed."
At the owners' meetings Thursday night in Arizona, Henry emphasized that Lucchino's role as CEO and club president would be unchanged with Epstein's return. But even if Epstein's departure -- and subsequent return -- was more about a clash of personalities rather than power, it's hard not to see Epstein as the winner here.
He returns, after a 10-week hiatus, with a mandate. It's up to him to determine the club's direction, philosophy and long-term plan. No longer will he feel himself being pulled in multiple directions. And in Cherington and Hoyer, he'll have two trusted lieutenants who are eager to work with their mentor once again.
In the short term, Epstein will be the subject of some ridicule. He'll listen to the jokes about his Oct. 31 departure being a mere ploy for a winter vacation or an excuse to go see some Pearl Jam shows.
But the truth is, Epstein was never far away. He offered advice and counsel from a safe distance -- and little the Red Sox did (trading for Josh Beckett, dumping Edgar Renteria) or didn't do (failing to match the Yankees' $52 million contract for Johnny Damon) would have changed had he remained all along.
In their brief announcement, Henry, Epstein, Lucchino and chairman Tom Werner said: "Ironically, Theo's departure has brought us closer together in many respects, and, thanks to these conversations, we now enjoy the bonds of a shared vision for the organization's future that did not exist on Oct. 31."
It may have taken a circuitous route, but the Red Sox's search found its way home Thursday.
"Upon further review ..."
Sean McAdam of The Providence (R.I.) Journal covers baseball for ESPN.com.
EDITORS' PICKS
The BBTN 100 counts down the top 25 players in baseball for 2015.
Rankings »

MLB players weigh in on baseball's best player, PEDs and what they really think about A-Rod's return.
MLB Confidential »

Where does the recently-signed Yoan Moncada land on Keith Law's prospect rankings?
Top 50 update