If healthy, Garciaparra should help Dodgers
Once considered to be among the game's elite players, Nomar Garciaparra will enter 2006 seeking to regain his former status.
Originally Published:
February 1, 2006
By
Sean McAdam
| Special to ESPN.com
It seems hard to believe, but only three seasons ago, Nomar Garciaparra was rightfully considered one of the game's best players, and certainly one of the two or three best shortstops in baseball.
But since the end of the 2003 season, Garciaparra has changed teams and positions twice, rejected a four-year, $60 million deal and been sidelined by injuries.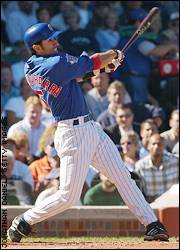 Jonathan Daniel/Getty ImagesNomar Garciaparra batted .283 with nine home runs in 62 games for the Cubs last season.
Traded by the
Boston Red Sox
with two months remaining in the 2004 season, he watched his former teammates celebrate a World Series title while he continued to battle a pesky Achilles tendon injury with the
Chicago Cubs
.
Last year, a ruptured groin muscle forced him to miss exactly 100 games, and despite a strong return in September, his career would seem to be at the crossroads. Garciaparra signed an incentive-laden deal with the Los Angeles Dodgers, for whom he will play mostly first base.
Can Garciaparra, who won two batting titles and averaged almost 200 hits in six of his first seven major-league seasons, reclaim his standing as one of the game's elite players?
Most people surveyed answered with a qualified "yes."
"I would say that Nomar's going to have a good year because I think he's totally recommitted and he understands where he is," said one major-league general manager who attempted to sign Garciaparra this winter. "I don't think we'll ever see the Nomar that we saw in the past. But I think he's happy to be in L.A. -- his wife [soccer standout Mia Hamm] likes it there. And his willingness to change positions means that he's thinking a little differently about himself."
When Garciaparra left the Red Sox, dealt in a complicated four-team deal that landed him with the Cubs, he was intent on maintaining his status as one of baseball's best shortstops, mentioned with Derek Jeter, Alex Rodriguez and Miguel Tejada.
But last year, after he returned from his early-season injury, Garciaparra willingly shifted to third base. Now, he's moving again, this time across the diamond.
"I don't think he's caught up in 'I've got to be a shortstop ... I've got to hit third,'" said another major-league executive. "I think he realizes he's been hurt and he can't do some of the things he used to do. He's got a better understanding of who he is and where he is in his career."
| | | |
| --- | --- | --- |
| | " | Let's face it -- you get that bat and you're getting a pretty good hitter. Basically, his bat is what his bat has always been. He can hit. " |
| | | — A general manager on Garciaparra |
Though Garciaparra may have lost some range and athleticism, he remains a .320 lifetime hitter. He might not range deep into the hole at short and come up firing, but he is still an offensive force.
"Let's face it -- you get that bat and you're getting a pretty good hitter," said a GM. "Basically, his bat is what his bat has always been. He can hit."
One longtime advance scout who watched Garciaparra closely in the final month of 2005 agrees with that assessment.
"He can still hit," asserted the scout. "What kind of power he has, I don't know. I think his best power is going to be right-center. I'm not sure he's going to hit 30-35 homers again."
"Staying healthy is going to be a chore," warned another personnel man. "He had some really productive years, then started breaking down as he got into his 30s. He still [has] a chance to be a really good hitter. He still swung the bat well last September. He'll knock runs in. I think he's more of a No. 5 or No. 6 hitter now, instead of someone you see as a middle-of-the-order [guy]. Either way, this is a big year for him."
NOMAR NOTES
• 1997 AL Rookie of the Year

• Five-time AL All-Star ('97, '99, '00, '02, '03)

• Two-time AL batting champ ('99, '00)

• Four hit streaks of at least 20 games

• Major injuries: Right wrist, right Achilles, groin

Perhaps a return to his native California will be helpful. Garciaparra never quite felt comfortable with the intensity and unforgiving spotlight in Boston. Back closer to home, he should be more relaxed.
"He's a strange cat," said one executive. "He has a lot of idiosyncrasies. I think his wife has a big hand in what happens from now on. She's a driving force in a lot of ways. I've had several people close to him tell me that. Coming from an athletic background, maybe she can help."
Added one major-league general manager: "Remember, he didn't lose anything. He got hurt. I think people remember what kind of player he is. It's not like he's 40 years old, trying to make a comeback."
"I think as much as anything," guessed a scout, "he wants to validate his legacy. He wants to prove that he was more than the Red Sox and Fenway Park. Well, now is his chance."
Sean McAdam of The Providence (R.I.) Journal covers baseball for ESPN.com.
EDITORS' PICKS
The BBTN 100 counts down the top 25 players in baseball for 2015.
Rankings »

MLB players weigh in on baseball's best player, PEDs and what they really think about A-Rod's return.
MLB Confidential »

Where does the recently-signed Yoan Moncada land on Keith Law's prospect rankings?
Top 50 update