Commentary
Rays learned about themselves in three games at Fenway
BOSTON -- When you're part of the Boston Red Sox, sinewy and, for the past four years, almost completely unburdened, challenges such as the one posed by the fresh-faced, untested Tampa Bay Rays over the past three games have often been a welcome affirmation of your hard-won elevation from the old days (a talented club constantly on the verge of a nervous breakdown) to the new (iron-edged champions famous for breaking the will of the club in the other dugout).
It is a psychological advantage that the Red Sox have perfected, a weapon upon which Boston relies nearly as much as Beckett or Ortiz or Papelbon. Take, for example, the opener of the American League Championship Series between the Red Sox and
Cleveland Indians
a year ago, when an hour before the series began,
David Ortiz
, the fearsome slugger, grew weary of hearing about how the Red Sox would be swallowed whole by the twin scourges of Indians starters
CC Sabathia
and
Fausto Carmona
. With a swagger, Ortiz called on that psychology in between taking his hacks in the batting cage, offering a withering prediction: Sabathia and Carmona were great pitchers. Both were talented and both were hungry, certainly, but neither had been where they now stood, at Fenway Park, in the arena, facing not only a championship-level Red Sox club but also their own nerves. "Wait," Ortiz said, pointing to the filling stands with two large hands, "until they see this, with 35,000 crazy [expletives] raining down on them." Ortiz & Co. were vindicated as Cleveland folded under Boston's weight, as did Colorado in the World Series. The Rays, in their own way, are this year's version of Cleveland, a rising, talented club on the foreign soil of playoff-charged baseball, supposedly way over their heads, measured by how they perform at the most Olympian of levels, against Boston, a team that has long been better-financed, better-equipped and more familiar with the September stage. After 5 hours and 2 minutes of baseball Wednesday night capped three games between the first-place Rays and the surging Red Sox, the Rays' equipment truck roared to a stop in front of the visitors clubhouse. In the final two games, the Rays were a combined 0-for-27 with runners in scoring position. They faced
Josh Beckett
on Wednesday night and the 16-2
Daisuke Matsuzaka
on Tuesday and did not beat either of them.
[+] Enlarge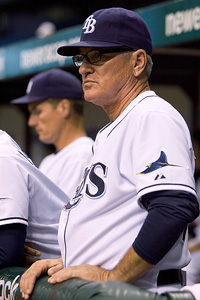 J. Meric/Getty ImagesRays manager Joe Maddon knew his team could compete with the Red Sox. They just needed to prove it, and over three games at Fenway Park, they did.
But … the Rays beat the Red Sox two of three games; Tampa Bay came into vaunted Fenway leading the AL East by 1½ games and left up 2½. The Rays hadn't won a game at Fenway all year and, in September, when expected to be desperate for a life preserver, they took two, the second game Tuesday night by beating
Jonathan Papelbon
in the bottom of the ninth and again 4-2 in 14 innings Wednesday night when starter
Andy Sonnanstine
pitched Sox ace Beckett to a standstill. Not only did the Rays not wilt, but they played on equal footing with the Red Sox in a bullpen game their manager admitted they could not have won a year ago. Maybe losing the series didn't mean anything to the Red Sox, given their résumé and pedigree and long view, as well as the number of times they can drift into their institutional memory to ease whatever sting was inflicted upon them in this short series. The Red Sox are the defending World Series champions, after all, and more than any team in baseball they understand that winning in early September still is not the same as winning in early October or, to get far ahead of ourselves, winning in late October. But if you're the Rays, you learned that you can win in Fenway Park, even as the air thins, even as you'd lost six of seven games and were three outs from losing this series before besting Papelbon on Tuesday night. "To not win that game after the way we played [Wednesday] would have been an absolute crime," said Joe Maddon, the Rays energetic, passionate manager. "I know everyone's been waiting for us to trip … but we know we can win here and they know we can win here." And winning explained why there were high spirits after the game (a beer shower for winning pitcher
Jason Hammel
, who entered the game with a three-run lead in the bottom of the 14th but inherited a bases-loaded, nobody-out mess) that the more austere Yankees and Red Sox may have frowned upon given the distance from the ultimate goal.

I know everyone's been waiting for us to trip … but we know we can win here and they know we can win here.
--Joe Maddon
"We're not intimidated by it. We look at it as a positive," Maddon said. "When I was with Anaheim, we came to Boston once and they came to us once. Here, we come in three times and they come to us three times. We play them, what, 19 times? That prepares you. If you want to be the best, you have to play the best. Until now, we hadn't won up here, but it wasn't because we were scared of it. It was because they were better." And it is with victory that Maddon's two mantras -- which by this time have become the bedrock of his authority -- were reinforced with his team. (1) It's the same game regardless of the date. "When you talk about playing the game, people often misconstrue it. A lot of times they think that only means winning the game," he said. (2) Be fearless offensively and defensively. It is here where Maddon's Anaheim roots begin to show. "I always want to stress, don't ever live in fear of making a mistake. Managers always want to eliminate physical mistakes, but we want to be aggressive offensively and defensively, to put pressure on the other team in every phase of the game." Maddon wanted this game because he understands the peculiar dilemma of the Rays, wavering between the free, unencumbered cheer of September baseball that for once, in a long history of a lost franchise, matters ... and the gnawing reality that unless you are the Red Sox or Yankees, windows close even as they are barely opening. Opportunities to win, especially against the two biggest clubs in the sport, must be seized upon. Just ask the Indians (who blew a 3-1 lead to Boston in last year's ALCS and are in a sudden and jarring rebuilding mode) or the Rockies (yesterday's darlings who are today's nobodies) or the Oakland A's what happens when chances slip away. They did not achieve anything that will be remembered statistically, and the Red Sox certainly know the cards haven't even been dealt for the real game yet. Still, the Rays accomplished something perhaps far more important as the days shorten: They know they can win.
Howard Bryant is a senior writer for ESPN.com and ESPN The Magazine. He is the author of "Juicing the Game: Drugs, Power and the Fight for the Soul of Major League Baseball" and "Shut Out: A Story of Race and Baseball in Boston." He can be reached at Howard.Bryant@espn3.com.
ESPN Senior Writer
Senior Writer, ESPN.com and ESPN The Magazine
Author of "The Last Hero: A Life of Henry Aaron"
Author of "Juicing the Game"
EDITORS' PICKS
The BBTN 100 counts down the top 25 players in baseball for 2015.
Rankings »

MLB players weigh in on baseball's best player, PEDs and what they really think about A-Rod's return.
MLB Confidential »

Where does the recently-signed Yoan Moncada land on Keith Law's prospect rankings?
Top 50 update