Commentary
How the Red Sox roll
What's it take to maintain a steady flow of talent to Fenway? It's simple (and cheap)
Updated:
January 27, 2010, 3:05 PM ET
By
Kevin Goldstein
| Baseball Prospectus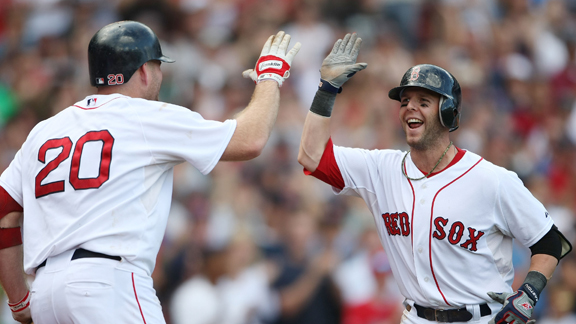 Getty ImagesNeither of these guys was a high-priced free agent. They were developed.
Editor's note: Hot Stove U. is a six-week course devoted to higher learning, a series consisting of 30 need-to-know topics for 2010.
The Set-up
Sure, the Boston Red Sox are one of baseball's Daddy Warbucks teams; they typically have a nine-figure payroll that is consistently among the highest in the game. They're in the running for nearly every top free agent, and this year their roster will have six players making more than $10 million. New York Yankees, New England version, right? No.
Their roster is filled with homegrown talent. Arguably the best right side of the infield in all of pro baseball -- Kevin Youkilis and Dustin Pedroia -- were both draft steals. Three starting pitchers originally signed with the Red Sox, as did most of the bullpen.
Sure, they have the ability to spend freely in the free-agent market -- but at the same time, they've had the most successful player procurement system of the past decade. It comes down to focusing on aggressiveness, intelligence and -- at times -- sheer volume.
Within the first three paragraphs, we've got a Yankees/BoSox comparison. Uh-oh! But seriously, if you're a baseball fan -- especially a fan of small-market teams who need a plan to get competitive -- you should read this. It's enlightening. To do so, you must be an ESPN Insider.
Insider
SERIES SYLLABUS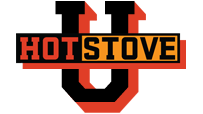 Hot Stove U., which runs from Jan. 11 to Feb. 18, taps into the vast knowledge of ESPN's diverse collection of contributors and presents 30 need-to-know topics for 2010.
MONDAY, JAN. 11
TUESDAY, JAN. 12
WEDNESDAY, JAN. 13
THURSDAY, JAN. 14
FRIDAY, JAN. 15
MONDAY, JAN. 18
TUESDAY, JAN. 19
WEDNESDAY, JAN. 20
THURSDAY, JAN. 21
FRIDAY, JAN. 22
MONDAY, JAN. 25
TUESDAY, JAN. 26
WEDNESDAY, JAN. 27
THURSDAY, JAN. 28
FRIDAY, JAN. 29
COMING MONDAY
16. Why MLB's competitive balance is better than you realize