Commentary
Five worst managing decisions of '10
Some skippers just can't help themselves from making stupid decisions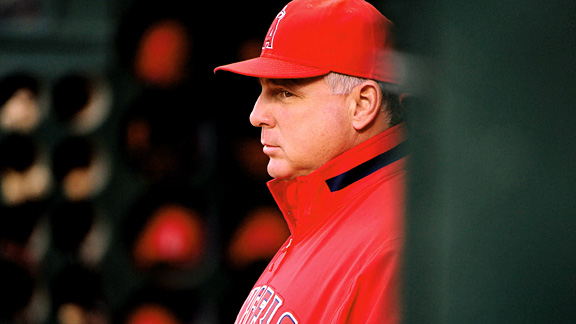 Kyle Terada/US PresswireMike Scioscia's management of Mike Napoli has caused many to scratch their heads.
Being the manager of a major league baseball club is an interesting job, because while the general manager selects the players, there are only a few moments when a major league manager can show his stuff. When he fills out the lineup card, a manager makes his most indelible stamp on the game. In a similar vein, his bullpen usage also provides a record that we can follow. In these moments, we are provided a window into the manager's way of thinking. We know which players he thinks are currently his best options. With these facts in mind, and inspired by Jerry Crasnick's look at managers on the hot seat, let's look at the five worst managerial decisions this year.
5) Mike Scioscia shuns Mike Napoli
Some managers make poor decisions but slide by, perhaps by the grace of their resume. Angels manager Mike Scioscia has consistently run out Jeff Mathis at catcher over Mike Napoli to the frustration of fantasy baseball players alone it seems. This was a curious decision given Napoli's eminently useful batting line (.249/.317/.478) versus the one Mathis has been showing (.196/.218/.294), but catcher defense is notoriously hard to put a number on, so the decision could be justified to a degree. The situation got a little more ridiculous, though, when Kendry Morales went down for the season and Scioscia cited Napoli's performance with runners on base -- which came in an extremely small sample size -- as the reason he wasn't getting regular at-bats at first base. Now even Juan Rivera, who has never played first base in his life and has a .249/.301/.403 line that doesn't stand up to Napoli's, is getting time at the position.
For the full list of the year's worst managerial decisions, you need to be an ESPN Insider.
Insider
Special to ESPN.com
Baseball writer, BBWAA member, fantasy baseball blog manager at Fangraphs
Freelance writer who has written for mlb.com, foxsports.com, ESPN The Mag and others
Helped found Kumon Publishing North America
EDITORS' PICKS
The BBTN 100 counts down the top 25 players in baseball for 2015.
Rankings »

MLB players weigh in on baseball's best player, PEDs and what they really think about A-Rod's return.
MLB Confidential »

Where does the recently-signed Yoan Moncada land on Keith Law's prospect rankings?
Top 50 update