Commentary
Broxton's recurring nightmare
Dodgers closer loses another epic battle with the Phillies' Matt Stairs in NLCS Game 4
PHILADELPHIA -- It's the nature of the closer to forget, or at least to attempt to forget.
In the ensuing year after Jonathan Broxton allowed a game-deciding home run to Matt Stairs in Game 4 of last year's NLCS, not once has the Dodgers' closer stopped to watch a replay of the at-bat for scouting purposes or for simple posterity. The at-bat is something he does not wish to replay in his mind and something he does not care to remember.
On Oct. 22, 2003, in Game 4 of the World Series, Yankees reliever Jeff Weaver gave up a game-winning solo home run to Alex Gonzalez of the Florida Marlins. Since then, Weaver has never gone out of his way to watch a replay. He won't run away if the a replay of the home run appears on TV -- though perhaps he'll change the channel -- but ever since that night, Weaver has come to accept that those moments are bound to happen in baseball, and he just happens to be part of lore he won't ever outrun. Regardless, he won't watch the home run on purpose.
NLCS: PHILLIES VS. DODGERS


Complete coverage of the Phillies-Dodgers matchup. More
"In this game, you can't dwell on the past," Weaver said. "If you do, it will eat you up."
It's human nature to never forget life-altering moments, no matter how much you try. Broxton said he dismissed Stairs' 2008 home run the day after it happened. It would be easy to believe Broxton -- since the 6-foot-4, 294-pound brute with the husky voice, the tough-guy demeanor and the leather boots of a 1900s cowboy hasn't spoken much about the home run since it happened -- but then again, Broxton does not say much anyway.
Logan White, the Dodgers' assistant general manager and director of scouting, went to visit Broxton in his hometown of Augusta, Ga., soon after the team drafted the right-hander in 2002. They went on a fishing expedition, and the affable White did most of the talking while Broxton did not say much. But by the end of the day, Broxton told White that he'd sign with the team, and really what else was there to say? That's what White had gone to Georgia to find out.
Stairs' home run wasn't something Broxton could easily dismiss. Last year, Broxton -- all ego and bravado -- began the at-bat against Stairs with a fastball away. He followed with a slider away and then two more fastballs away. On the next pitch, Broxton challenged Stairs with a fastball toward the middle of the plate, which Stairs crushed for a home run to right field. That sequence would stick in Broxton's mind for the next 365 days.
[+] Enlarge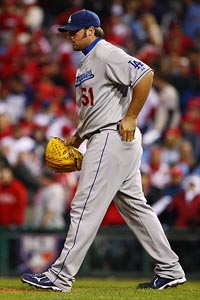 Chris McGrath/Getty ImagesJonathan Broxton and the Dodgers were just one out from evening the series at two games apiece.
It's the nature of a sports hero to cling to those special memories.
Every so often, Stairs will come across a replay of his famous home run against Broxton and he'll stop to watch. He certainly won't punch it up on his computer to watch, but he won't turn away either.
"You have to turn the page, but that's a real big page and I'm not sure I'm eager to turn it," Stairs joked.
In the fifth inning of Monday's NLCS Game 4, soon after Dodgers center fielder Matt Kemp hit a solo home run to give Los Angeles a 3-2 lead, Stairs began to once again replay that home run from last year. Stairs knew the game again could come down to a matchup between him and Broxton. As a power-hitting pinch hitter, Stairs often does not try to think too much about strategy -- "I just see the ball and hit the ball" -- because thinking too much about strategy could affect his approach at the plate.
But Stairs is no dummy, either. When he stepped to the plate against Broxton in the ninth inning of Monday's game, with the Phillies down 4-3 with one out, and saw Dodger infielders shift to the right side of the infield, Stairs knew the Dodgers had rethought their strategy on how to face him. A 99 mph fastball that zoomed inside only confirmed it. The infield shift and the fastball told Stairs -- who can recite in two seconds, without taking a breath, the pitch sequence from last year's postseason at-bat against Broxton -- that the Dodgers wanted him to pull the ball.
"I sat in the batter's box and felt real comfortable," Stairs said.
It's human nature to learn from your mistakes.
Though Broxton didn't watch the video from last year's at-bat against Stairs and had not talked much about it with anyone, he knew he simply could not repeat last year's approach. Confidence wasn't a problem. Broxton, who had a career-high 36 saves this season, had come into Monday's game in the eighth inning and had retired Jayson Werth on a fly ball to right. He started the ninth by forcing an easy groundout from Raul Ibañez. But then came Stairs to pinch hit for Pedro Feliz.
"I just wasn't going to let him hit a pitch over the plate," Broxton said. "If I got him to chase, then I got him to chase. … You never want to give it up to a guy on the bench who is a fastball hitter."
The way Broxton saw it, even if he walked Stairs, the Phillies still had to put together a rally to push a run across, something that wouldn't be easy against him.
"They still needed base hits to get him in," Broxton said.
True to his word, Broxton followed that first inside fastball to Stairs with three fastballs away. So for all the talk from Broxton that he had not thought about Stairs' home run in the past year, about how he had forgotten the moment the next day, he allowed that home run from last year to dictate the ninth inning on Monday.
Right after walking Stairs, Broxton -- pitching more carefully now that pinch runner Eric Bruntlett was on first base -- plunked catcher Carlos Ruiz. Jimmy Rollins followed with a game-winning double to right to give Philadelphia a 5-4 win.
"I was going to stay aggressive and make him beat me with my best pitch," Broxton said.
The whole sequence had been altered because of that walk to Stairs. After the game, Broxton was brief and not very expansive. He said little, but that's no surprise.
It's in his nature.
Jorge Arangure Jr. is a senior writer for ESPN The Magazine.
Senior writer for ESPN The Magazine
Joined ESPN in May 2007
NLCS GAME 4: PHILLIES 5, DODGERS 4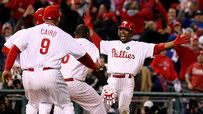 Jimmy Rollins drove home two runs with two outs in the bottom of the ninth to steal a win from the Dodgers and give the Phillies a commanding 3-1 NLCS lead.
STORIES
VIDEO