World Series Game 5 news and notes
Updated:
November 3, 2009, 12:00 PM ET
ESPN.com
WORLD SERIES: PHILLIES VS. YANKEES


Complete coverage of the Phillies-Yankees matchup. More
The Philadelphia Phillies beat the New York Yankees 8-6
in Game 5 of the World Series on Monday night. The Yankee still lead the series three games to two as it moves back to New York for Game 6 on Wednesday. It will be the first Game 6 in the World Series since 2003, when Florida beat the Yankees in six games. The credit for this Game 5 information goes to ESPN's Stats & Information team.
---
NEW YORK YANKEES

Burnett
A.J. Burnett
• Burnett joins
Todd Stottlemyre
of the Blue Jays (Game 4 in 1993) as the only starting pitchers in World Series history to go two innings or less while allowing at least six earned runs and four walks. • On three days' rest, Burnett was ineffective with his offspeed pitches compared to Game 2:
BURNETT'S OFF-SPEED PITCHES
| | Game 2 | Game 5 |
| --- | --- | --- |
| Pitch Pct. | 41.7 | 30.2 |
| Strike Pct. | 55.6 | 37.5 |
| In Zone Pct. | 31.1 | 18.8 |
| Chase Pct. | 35.5 | 23.1 |
| Called Strikes | 8 | 0 |
| Opponent OPS | .300 | 1.250 |
• Only 12 of his 37 fastballs were in the strike zone (32 percent; MLB average is 54 percent). In Game 2, 40 of 62 (64.5 percent) of his fastballs were in the zone. • Only recorded outs on two of six plate appearances that went to two strikes after retiring 12 of 16 (75 percent) in Game 2.
---

Rodriguez
Alex Rodriguez
• Rodriguez had three RBI, setting a Yankees record with 18 RBI in a single postseason. He trails only
David Ortiz
(2004),
Scott Spiezio
(2002) and Sandy Alomar Jr. (1997) for the most RBI in a single postseason; they each had 19.
---
PHILADELPHIA PHILLIES
Ryan Howard
• Howard tied a World Series record with his 12th strikeout of the series, matching the mark set by Willie Wilson in 1980.
---

Lee
Cliff Lee
• Lee picks up his fourth win of the postseason despite allowing five earned runs; that matches
Cole Hamels
in 2008 for the most wins by a Phillies pitcher in a postseason. Lee joins Steve Carlton (1980) as the only Phillie starters to win two games in a single World Series. • Against Lee, 23 of 31 plate appearances (74 percent) lasted four pitches or fewer (MLB average 65 percent). • Lee got 31 called strikes, and only three misses on 39 swings (7.7 percent). During Game 1, he had 21 called strikes and a 27.1 percent miss percentage. • The Yankees were 2-for-16 in two-strike counts against Lee.
---

Utley
Chase Utley
• Utley hit two home runs to tie Reggie Jackson's record of five home runs in a single World Series (1977). • Utley (2-for-3, HR, 3 R, 4 RBI, BB, SB) hit a three-run bomb in the first and a solo shot in the seventh. His first-inning homer, off A.J. Burnett, was his first hit against a right-handed pitcher in the World Series. Utley joins Willie Aikens in 1980 as the only players with multiple multi-HR games in a single WS. Utley has seven home runs in just 10 career WS games. • All six of Utley's World Series hits have gone for extra bases: five home runs and one double. That extra power has come at the expense of Utley's contact rate and eye against opposing fastballs. • Utley's five home runs off left-handed pitching tied Babe Ruth for the second-most in World Series history. Only Mickey Mantle (7) has hit more. • Utley's seven career World Series home runs break the record for the most by a second baseman, previously held by Billy Martin (5). • Utley's multi-homer game was his second of the series (he also homered twice in Game 1) and the 49th in World Series history. • Utley's first home run followed
Shane Victorino
being hit by a pitch. It's the fourth time a player has homered following a HBP. The other three were
Paul Konerko
(2005), Donn Clendenon (1969, after famous "Shoe Polish Play") and Danny Murphy (1910). • Utley stole second base in the third inning and is now 3-for-3 in stolen base attempts this postseason. He was 23-for-23 during the regular season, which was the most stolen bases without being caught since 1951 (when caught stealing became official stat in both leagues). • Utley joins Lenny Dykstra as the only players in World Series history with two homers and a stolen base in the same game. Dykstra also did it Philadelphia for the Phillies, but in a Game 4 loss in 1993 against the Blue Jays.
UTLEY VS. FASTBALLS
| | NLDS/NLCS | World Series |
| --- | --- | --- |
| In Zone Pct. | 56.1 | 47.2 |
| Chase Pct. | 11.1 | 18.4 |
| Miss Pct. | 6.7 | 14.3 |
| Opponent OPS | .768 | *1.723 |
* -- 5-for-14, 4 HR
WORLD SERIES GAME 5: PHILLIES 8, YANKEES 6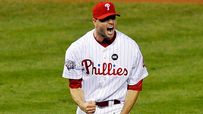 There were definitely some tense moments at the end, but the Phillies held on to win Game 5, forcing this World Series back to New York for a Game 6. World Series page »
STORIES
VIDEO