Commentary
The greatest World Series games, from 1 to 7
Originally Published:
October 21, 2008
By
Rob Neyer
| ESPN.com
It's not easy, picking the greatest World Series games, 1 through 7. There have been a lot of World Series and a lot of great games, and when I first went through all of them I came up with 70 candidates.
You think it's easy, whittling 70 wonderfully dramatic games down to only seven? You try it. In the end, such an exercise is as much about
feel
as anything else, but I was looking for games featuring plenty of tension throughout, followed by an exciting finish. And if there were great players in the thick of things? All the better.
GAME 1 -- 1954: NEW YORK GIANTS 5, CLEVELAND INDIANS 2 (10)
(Sept. 29, 1954, at Polo Grounds, New York)
1
2
3
4
5
6
7
8
9
10
R
H
E
Indians
2
0
0
0
0
0
0
0
0
0
2
8
0
Giants
0
0
2
0
0
0
0
0
0
3
5
9
3
Winning pitcher: Marv Grissom (NYG); Losing pitcher: Bob Lemon (CLE)
Home runs: Dusty Rhodes (NYG)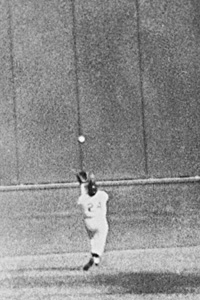 AP Photo

Willie Mays robs Vic Wertz.

Entering the 1954 World Series, the New York Giants were big underdogs. The Indians had just won 111 games (an American League record) and National League teams had lost seven straight World Series. The Giants did have young Willie Mays, along with a secret weapon named Dusty Rhodes. With the score 2-2 in the eighth inning of Game 1, the Indians got runners on first and second with nobody out. Up next: slugger Vic Wertz, who had already singled, doubled and tripled. This time Wertz hit his longest drive yet, a blast clearly destined for the far reaches of the Polo Grounds' massive center-field pasture. If anyone else had been playing out there, Wertz would have wound up on third base. But the center fielder was Mays, whose glove was -- as someone once observed -- "where triples go to die." This would-be triple died roughly 460 feet away from the plate. Wertz's drive was merely a very loud out, and the next two Indians were retired to extinguish the rally. With the score still tied in the bottom of the 10th, Mays walked and stole second. And after another walk, pinch-hitter James "Dusty" Rhodes drove Bob Lemon's first pitch into the right-field stands for a three-run, game-winning homer.
GAME 2 -- 1916: BOSTON RED SOX 2, BROOKLYN ROBINS 1 (14)
(Oct. 9, 1916, at Braves Field, Boston)
1
2
3
4
5
6
7
8
9
10
11
12
13
14
R
H
E
Robins
1
0
0
0
0
0
0
0
0
0
0
0
0
0
1
6
2
Red Sox
0
0
1
0
0
0
0
0
0
0
0
0
0
1
2
7
1
Winning pitcher: Babe Ruth (BOS); Losing pitcher: Sherry Smith (BRO)
Home runs: Hy Myers (BRO)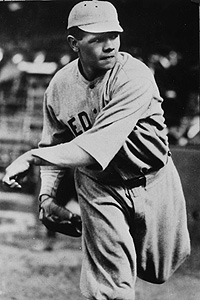 Mark Rucker/Getty Images

Babe Ruth outlasted Brooklyn.

In 1915, a big moon-faced Red Sox rookie named George Ruth went 18-8 with a 2.44 ERA. But the Babe's ERA was just fifth best on the staff. So when the Sox met the Phillies in the World Series that fall, Ruth didn't pitch a single inning. He would get his chance in 1916, though. After posting a league-best 1.75 ERA during the regular season. Ruth got the nod in Game 2. And what a Game 2! Boston rooters set a new record, with more than 41,000 of them showing up at Braves Field (serving as the Red Sox's home park rather than the smaller Fenway Park). Also a new record: Boston and Brooklyn played for 14 innings. In the first inning, Ruth gave up an inside-the-park home run to Hy Myers … but for the next two hours and 13 innings, he held Brooklyn scoreless; meanwhile, in the third inning Ruth drove in Boston's first run with a ground-ball out. Nobody scored again until the bottom of the 14th, when pinch-hitter Del Gainer knocked in the winning run. But not without a little controversy. It was getting dark in Boston, and there was talk that Brooklyn left fielder Zack Wheat might have caught the ball if he'd been able to see it. Hall of Fame umpire Bill Klem wasn't working the game but later said, "I'd never have started it, if I had been callin' 'em that day."
GAME 3 -- 1964: NEW YORK YANKEES 2, ST. LOUIS CARDINALS 1
(Oct. 10, 1964, at Yankee Stadium, New York)
1
2
3
4
5
6
7
8
9
R
H
E
Cardinals
0
0
0
0
1
0
0
0
0
1
6
0
Yankees
0
1
0
0
0
0
0
0
1
2
5
2
Winning pitcher: Jim Bouton (NYY); Losing pitcher: Barney Schultz (STL)
Home runs: Mickey Mantle (NYY)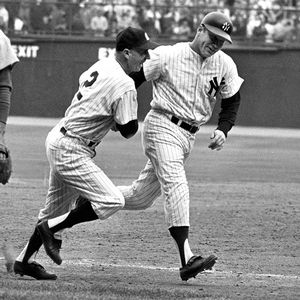 AP Photo

Mickey Mantle still owns the Series' HR mark.

It's not likely that anyone realized that decades later, David Halberstam would write a book about this World Series. Or that Jim Bouton, who started Game 3 for the Yankees, would one day write a bestselling book of his own. Or that Yogi Berra would be fired after nearly leading the Yankees to a world championship in his first season as manager. In retrospect, though, this was one fantastic World Series, and Game 3 a fantastic game. Early on, the Yankees scored their first run on Clete Boyer's two-out double in the second inning. In the fifth, the Cardinals tied the game with a run, thanks in part to right fielder Mickey Mantle's error. In the ninth, Bouton was still on the mound when Bob Skinner, pinch-hitting for St. Louis starter Curt Simmons, hit a fly ball to deep center field that was corralled by center fielder Roger Maris. Tim McCarver moved to third base on the play, but the threat ended when Curt Flood lined out to Mantle in right. In the bottom of the ninth, knuckleballer Barney Schultz took over on the mound. Schultz had been nearly unhittable during the season, and he allowed just one home run in 49 innings. According to Fred Lieb, Schultz "threw just one pitch. Mantle pounced on the knuckler and drove it deep into the right-field stands for a game-winning homer and a new Series record of 16 round-trippers" (breaking Babe Ruth's old record).
GAME 4 -- 1929: PHILADELPHIA ATHLETICS 10, CHICAGO CUBS 8
(Oct. 12, 1929, at Shibe Park, Philadelphia)
1
2
3
4
5
6
7
8
9
R
H
E
Cubs
0
0
0
2
0
5
1
0
0
8
10
2
Athletics
0
0
0
0
0
0
0
10
0
10
15
2
Winning pitcher: Eddie Rommel (PHA); Losing pitcher: Sheriff Blake (CHC)
Home runs: Mule Haas (PHA), Al Simmons (PHA)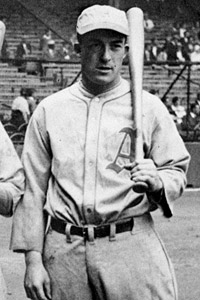 AP Photo

Al Simmons had a home run and a single in the seventh.

Fifty years ago, if you'd asked a serious baseball fan to name a dozen of the greatest, he might have come up with three games from 1929 alone. In the first game, surprise starter Howard Ehmke struck out 13 Cubs to set a Series record that would stand for nearly 25 years. In the decisive fifth game, the A's clinched the Series with three runs in the bottom of the ninth inning. But it's the fourth game that takes the prize here. Going into the bottom of the seventh, the Cubs led 8-0 and seemed assured of evening the Series at two games apiece. Until everything fell apart. Al Simmons led off with a home run. Next: four straight singles, one of them a routine fly ball that center fielder Hack Wilson lost in the sun. Three batters later, Mule Haas hit a fly ball to deep center, and Wilson lost this one in the sun, too, and Haas circled the bases. Now the score was 8-7. After Mickey Cochrane walked, Cubs manager Joe McCarthy made his second pitching change of the inning. It didn't help. Two more singles plated the tying run. And finally, after another pitching change and a hit batter, Jimmy Dykes doubled to drive in two more runs. The next two batters struck out, but the carnage was complete. The score was now 10-8, and that's how it ended.
GAME 5 -- 1956: NEW YORK YANKEES 2, BROOKLYN DODGERS 0
(Oct. 8, 1956, at Yankee Stadium, New York)
1
2
3
4
5
6
7
8
9
R
H
E
Dodgers
0
0
0
0
0
0
0
0
0
0
0
0
Yankees
0
0
0
1
0
1
0
0
X
2
5
0
Winning pitcher: Don Larsen (NYY); Losing pitcher: Sal Maglie (BRO)
Home runs: Mickey Mantle (NYY)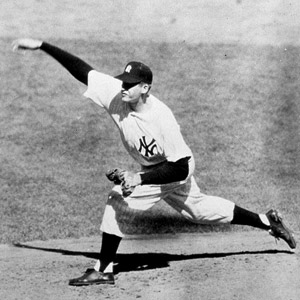 Mark Rucker/Getty Images

Don Larsen's perfect game included seven strikeouts.

In 1955, the Brooklyn Dodgers had finally exorcised their Yankee demons, beating the Bombers for the first time in six tries. In 1956, the Dodgers got the chance to drive a stake through the hearts of those suckers. The two clubs split the first four games, but things looked good for the Dodgers in Game 5. After all, their starter was veteran star Sal Maglie, who'd pitched a complete-game victory in Game 1. And for the Yankees? Journeyman Don Larsen, who just two years earlier had finished 3-21 as a St. Louis Brown, and had been knocked out in the second inning of his Game 2 start. You probably know what happened next. Maglie again pitched well, giving up only two runs in eight innings. But Larsen pitched a perfect game, the first (and still only) no-hitter in postseason history, climaxed by his strikeout of pinch-hitter Dale Mitchell. Cue cheering in the Bronx; cue Yogi jumping into Larsen's arms. (Unfazed, the Dodgers came back to win a Game 6 nail-biter, 1-0 in 10 innings. But Game 7 was all Yankees, who blasted Brooklyn 9-0 behind 22-year-old Johnny Kucks' three-hit shutout.)
GAME 6 -- 1975: BOSTON RED SOX 7, CINCINNATI REDS 6 (12)
(Oct. 21, 1975, at Fenway Park, Boston)
1
2
3
4
5
6
7
8
9
10
11
12
R
H
E
Reds
0
0
0
0
3
0
2
1
0
0
0
0
6
14
0
Red Sox
3
0
0
0
0
0
0
3
0
0
0
1
7
10
1
Winning pitcher: Rick Wise (BOS); Losing pitcher: Pat Darcy (CIN)
Home runs: Cesar Geronimo (CIN), Bernie Carbo (BOS), Carlton Fisk (BOS), Fred Lynn (BOS)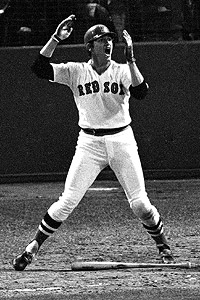 AP Photo

Carlton Fisk's homer ended the 4-hour, 1-minute epic.

It's hard to ignore 1986's Bill Buckner and Mookie Wilson, and 1993's Joe Carter and Mitch Williams. But Game 6 in 1975 produced what TV Guide later selected as the top televised sports moment of the 20th century. First, though: anticipation. Down three games to two, the Red Sox returned home for Game 6. But Boston would have to wait. And wait, and wait. Originally scheduled for Oct. 18, Game 6 was postponed for three days by steady rains. Finally, on the 21st, "all Boston settled in for the most anticipated game in club history." The city's patience was quickly rewarded when Fred Lynn hit a three-run homer in the first inning. The Red Sox bats went quiet after the first, though, and meanwhile the Reds were rapping Luis Tiant for three runs in the fifth, two in the seventh, and one more -- Cesar Geronimo's homer, knocking Tiant out of the game -- in the eighth, leaving the Sox three runs down. But in the bottom of that inning, after a single and a walk and two outs, pinch-hitter Bernie Carbo hit the second-most famous home run in franchise history, tying the game with a blast into the center-field bleachers. You probably know how the game ended, in the bottom of the 12th inning. But that came only after two stirring double plays. In the bottom of the ninth, the Red Sox loaded the bases with nobody out. Lynn lifted a fly to shallow left field, where George Foster made the easy play before throwing home to nail Denny Doyle, inexplicably trying to score from third. In the top of the 11th, Joe Morgan hit a long drive toward the right-field stands that Dwight Evans snagged with a leap just short of the fence. He might not have saved a homer, but he did save a run-scoring double or triple; instead the runner was doubled off first base to end the Cincinnati rally. Which set up Carlton Fisk, and the most famous home run in Red Sox history.
GAME 7 -- 1960: PITTSBURGH PIRATES 10, NEW YORK YANKEES 9
(Oct. 13, 1960, at Forbes Field, Pittsburgh)
1
2
3
4
5
6
7
8
9
R
H
E
Yankees
0
0
0
0
1
4
0
2
2
9
13
1
Pirates
2
2
0
0
0
0
0
5
1
10
11
0
Winning pitcher: Harvey Haddix (PIT); Losing pitcher: Ralph Terry (NYY)
Home runs: Yogi Berra (NYY), Bill Skowron (NYY), Bill Mazeroski (PIT), Rocky Nelson (PIT),
Hal Smith (PIT)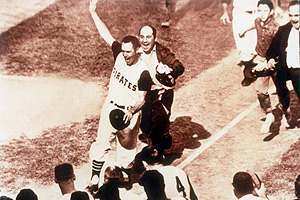 Bruce Bennett/Getty Images

Bill Mazeroski's HR was his second of the Series.

There's nothing in sports better than a terrific Game 7, which makes choosing just one all the more difficult. In 1924, Walter Johnson, nearing the end of his brilliant career, earned his first World Series championship with four innings of relief, his Senators scoring the decisive run in the bottom of the 12th. Two years later, Grover Cleveland Alexander -- also pitching in relief -- struck out Tony Lazzeri in the seventh inning with the bases loaded, then closed out the Yankees in the eighth and ninth, the final out coming when Babe Ruth was nabbed trying to steal second base. And in 1991 -- on the heels of drama-filled Games 3, 4 and 6 -- the Twins and Braves matched zeroes until the bottom of the 10th, when Gene Larkin's bases-loaded fly ball over a drawn-in outfield clinched the Series (and Jack Morris' amazing 10-inning shutout). Tough competition, and there are others (1946, 1962, 1975, 1997, and especially 2001). But I've chosen 1960. For one thing, it was probably the first truly dramatic Game 7 that was seen by millions of fans on television. There's also the surprising fact that there was a Game 7. Entering the World Series, the Yankees were heavily favored, and in the first six games they outscored the Pirates 46-17. And finally, Game 7 itself was a seesaw affair and a second-guesser's delight. The Pirates jumped to an early 4-0 lead, but the Yankees went ahead 5-4 in the sixth, and seemed about to blow the game wide open in the seventh. With two runs already in, they had runners on second and third with two outs. Relief pitcher Bobby Shantz, who'd already tossed five scoreless innings, was due up. On the bench? At least two solid pinch-hitting candidates. Nevertheless, New York manager Casey Stengel stuck with Shantz, who (1) made an out, and (2) got ripped for three straight hits in the bottom of the eighth before Stengel finally yanked him. The Pirates wound up scoring five runs -- the last three coming on ex-Yankee Hal Smith's three-run homer -- to take a 9-7 lead. Safe? Not in this game. In the top of the ninth, Mickey Mantle and Berra both drove in runs to tie the score. But Bill Mazeroski led off the bottom of the ninth, and the stubby second baseman knocked Ralph Terry's second pitch over the bricks of Forbes Field's left-field wall. It was the first and only time in World Series history that a seventh game ended with a home run.
Rob Neyer writes for ESPN Insider and regularly updates his blog for ESPN.com. You can reach him via rob.neyer@dig.com.
EDITORS' PICKS
The BBTN 100 counts down the top 25 players in baseball for 2015.
Rankings »

MLB players weigh in on baseball's best player, PEDs and what they really think about A-Rod's return.
MLB Confidential »

Where does the recently-signed Yoan Moncada land on Keith Law's prospect rankings?
Top 50 update