Power Rankings: The best teams have first-half promises to keep
Originally Published:
July 17, 2017
ESPN.com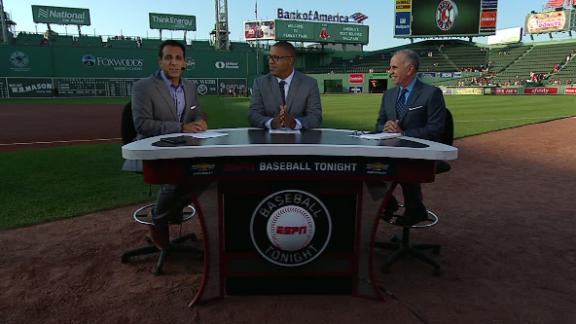 Dodgers, Astros hold serve at top of the rankings
Eduardo Perez and Tim Kurkjian compare their top five teams, showing plenty of similarities.
There wasn't too much movement in the rankings just a series into the second half of the season, but what we did see is significant. The Dodgers and Astros remain the two teams with a claim for No. 1, with the Dodgers again claiming a majority of first-place votes. Will they claim an even larger share of support? Well, consider this: Since Cody Bellinger's debut on April 25, the Dodgers are 55-18, good for a .753 winning percentage. That isn't luck, that's a heaping helping of dominance, with seemingly more to come on tap.
More from ESPN.com

Matchups could bring front-runners back to the pack or expand the leads of red-hot clubs such as the Dodgers. Dan Szymborski projects who needs to keep an eye on the rearview mirror. Story

---
The Cubs made a splash in acquiring Jose Quintana from the South Side. Do fans feel there's a dynasty in the works at Wrigley? Vote now! Story
Which is not to say there aren't other significant disagreements among the voters -- literally the only thing they could agree upon this week is that the Phillies are the worst team in baseball. Between the hapless Phils and our top tandem of teams, there's plenty of disagreement over which clubs are legit, and whose hopes are already fading. But with teams such as the Brewers and Rays making gains within the top 10 while the Braves picked up another spot while returning to .500, some clubs are definitely on the move. And the decline of the Yankees and Rockies within the top 10 reflects a pair of contenders suddenly facing rotation questions that could set them up for even bigger declines.
The largest single jump up was by the Orioles (three rungs), while the Marlins owned the largest decline by dropping three spots.
This week's voters are Bradford Doolittle, Eric Karabell, Tim Kurkjian, David Schoenfield and Mark Simon.
Week 14 rankings | Week 13 | Week 12 | Week 11 | Week 10 | Week 9 | Week 8 | Week 7 | Week 6 | Week 5 | Week 4 | Week 3 | Week 2 | Week 1 | Preseason
Record: 64-29
Week 14 ranking: No. 1
Every week seems to bring a new ream of firsts for the Dodgers. With Saturday's victory, Alex Wood became the first Dodgers starter to win his first 10 decisions since Preacher Roe in 1951. After homering while hitting for his first cycle, Cody Bellinger (26) is now second only to Mike Piazza (35) for homers hit in a rookie season, with more than two months to go. -- Christina Kahrl, ESPN.com
---

Record: 62-30
Week 14 ranking: No. 2
If you were worrying about the Astros' rotation woes, stop, even with the date of Dallas Keuchel's return still TBD. They've gone 7-2 in swingman Brad Peacock's starts, Charlie Morton whiffed 10 Twins in five innings on Friday and Mike Fiers another 11 Sunday, and Collin McHugh made his last rehab start. You also can credit the lineup that generated 6.6 runs per game since June 1 (and a plus-77 run differential) after their rotation problems cropped up to make them less of an issue. -- Christina Kahrl, ESPN.com
---
Record: 55-36
Week 14 ranking: No. 3
Joe Ross' season-ending injury will test the Nationals' pitching depth. The loss is a shame because after trouble early in the season, Ross seemed to have gotten straightened out, posting a 2.18 ERA in a three-start stretch against the Reds, Cubs and Mets. Washington has the luxury of a large division lead, but issues in the rotation could tax the bullpen, even after Sunday's trade with the A's. Getting Tanner Roark back on track (4.98 ERA) would help. -- Mark Simon, ESPN Stats & Information
---

Record: 52-41
Week 14 ranking: No. 4
The Red Sox's lineup is deep, but it has been hard for them to find a third baseman. They designated Pablo Sandoval for assignment last week, and they've gotten next to nothing out anyone else at third. If they could find someone to man the hot corner at the deadline (Mike Moustakas? Jedd Gyorko? Nick Castellanos?), they'll be sitting pretty come October. One thing is for sure: GM Dave Dombrowski will be active. -- Michael Bonzagni, ESPN Stats & Information
---
Record: 53-39
Week 14 ranking: No. 5
Sunday's clobbering lowered the Diamondbacks' record since A.J. Pollock's return from the DL to 1-8 while scoring just 2.5 runs per game. Given that their hitters are just 27th in OPS on the road, it's no surprise that six of those losses came on the road. It's also no surprise they're now rumored to be interested in adding a power bat for an outfield corner at the trade deadline. -- Christina Kahrl, ESPN.com
---
Record: 47-43
Week 14 ranking: No. 6
So much for breaking away. After getting swept by the A's to start their second half, is any first-place team in a more uncertain position than the Indians? Jose Ramirez may have blossomed into a star, but Francisco Lindor is struggling to get on base, with just a .283 OBP since the end of April. Jason Kipnis is back on the shelf with a groin injury and had yet to get on track at the plate, and Carlos Santana's home run rate has been cut in half from last season. -- Christina Kahrl, ESPN.com
---
Record: 52-42
Week 14 ranking: No. 8
The Brewers are one of the hottest teams in baseball, winning 11 of their past 14 contests. But they'll be tested in the next month or so -- 15 of their next 23 games are on the road, including trips to Washington and Minnesota, and their only home games are against the Cubs, Cardinals and Twins. They need Jimmy Nelson to keep throwing well -- he has a 2.59 ERA in 14 starts since the beginning of May. -- John Fisher, ESPN Stats & Information
---
Record: 47-43
Week 14 ranking: No. 7
The Yankees were 38-23 after their win on June 12, the second-best record in the majors behind the Astros. Since then, they've gone 9-20. That .310 win percentage is baseball's worst in that span. Aaron Judge is walking a lot, but he's starting to see his batting average drop. He went 0-for-6 in the Yankees' extra-inning win at Fenway on Saturday, the worst oh-fer of his career. -- Sarah Langs, ESPN Stats & Information
---
Record: 49-44
Week 14 ranking: No. 10
Who has been the MVP of this Rays season? That's not an easy question. The Rays have five players who have delivered 2-3 WAR, with Logan Morrison, Corey Dickerson, Steven Souza and Evan Longoria basically having interchangeable value (Kevin Kiermaier is on the DL, and his 2.3 WAR is a testament to great defense). Their starting pitchers can't match those WAR totals, but Alex Cobb has come around nicely and Chris Archer is capable of being an ace. The surprise MVP has been Jacob Faria, who has a 2.00 ERA in seven starts, in which the Rays are 6-1. -- Mark Simon, ESPN Stats & Information
---
Record: 53-41
Week 14 ranking: No. 9
Even as the Rockies' 6-15 swoon breathes life into the wild-card hopes of the National League pack, they're facing a rotation crunch. They had planned to rest Kyle Freeland after he threw 126 pitches in his failed no-hit bid, but with Tyler Chatwood joining Chad Bettis and Tyler Anderson on the DL, they may need to press him as well as Antonio Senzatela back into action. Rookie starters pitched the Rockies into contention -- now they may have to keep them there. -- Christina Kahrl, ESPN.com
---

Record: 46-45
Week 14 ranking: 11
Trading for Jose Quintana at the All-Star break to shore up their rotation should help turn around the champs, starting with his overpowering Cubs debut on Sunday. Though he wasn't having a banner year for the White Sox before the deal (4.49 ERA), Quintana is among the game's most effective innings eaters, was striking out a career-best 24.6 percent of opposing batters this season and he's under team control through 2020. -- Paul Hembekides, ESPN Stats & Information
---
Record: 45-46
Week 14 ranking: No. 13
With a career-best 11 homers already this season, Elvis Andrus has gotten in on The Year of the Home Run, but after three down seasons on defense, the formerly premium defender also has moved back into the black in defensive runs saved this season. Given that he's still just 28 years old, the Rangers may yet get reasonable value on that eight-year, $120 million deal they gave him in spring 2013. -- Christina Kahrl, ESPN.com
---
Record: 44-47
Week 14 ranking: No. 15
The Cardinals will likely hold out to the very end to determine whether they are buyers or (more likely) sellers at the trade deadline. They continue along on this 10-game road trip against the Mets and Cubs, then head home for seven games with the Rockies and Diamondbacks. If they went 10-4 in that 14-game stretch, perhaps they would take a run at the Brewers by making a move. Coincidentally, their first series after deadline day is against Milwaukee. -- Mark Simon, ESPN Stats & Information
---
Record: 45-45
Week 14 ranking: No. 12
After a red-hot June, the Royals are hovering around .500 in July thanks in large part to their starting pitchers cooling off. The AL Central or a wild card are both very winnable, so adding some pieces at the deadline makes sense for a team that could get hot again. On the other hand, many of their key players are free agents after this season. How the next two weeks play out makes for a very interesting deadline in K.C. -- Michael Bonzagni, ESPN Stats & Information
---
Record: 46-45
Week 14 ranking: No. 14
Bartolo Colon will make his Twins debut Tuesday, but will he help improve their rotation? Twins starters other than Jose Berríos and Ervin Santana have a 6.13 ERA this season, while that duo has combined for a 3.25 ERA. Batters are hitting .215 against Berrios and Santana, but .301 against all other Twins starters. Colon posted an 8.14 ERA in 13 starts with the Braves this season. -- Sarah Langs, ESPN Stats & Information
---
Record: 46-47
Week 13 ranking: No. 17
As the Mariners try to figure out if they can keep pace in the wild-card race, one player who has been key to their rally is Jarrod Dyson. His 10 defensive runs saved between center and left fields add up to a big impact on defense, and from June 1 on he has posted an .839 OPS. Less happily, he can't catch fly balls in the cheap seats -- the Mariners' rotation has surrendered the most homers in the American League in that same span. -- Christina Kahrl, ESPN.com
---
Record: 46-49
Week 14 ranking: No. 16
Mike Trout returned from the DL on Friday, which will provide an obvious pick-me-up to an Angels team that dropped seven of 10 entering the All-Star break. They'll need him to keep their hopes alive, because their schedule isn't going to do them any favors -- their next eight games are against division-leading teams (Nationals, Red Sox, Indians). -- Paul Hembekides, ESPN Stats & Information
---
Record: 45-45
Week 14 ranking: No. 19
Since taking two of three from the Nationals in the middle of June, the Braves have been one of the best teams in baseball. They've averaged about five runs per game during this hot stretch, relying on timely hitting to cover for a struggling bullpen. Can they sustain that? They face a big test with their next 10 games, facing the Cubs, Dodgers and Diamondbacks. -- John Fisher, ESPN Stats & Information
---
Record: 44-48
Week 14 ranking: No. 20
Gerrit Cole has chopped a little more than a half a run off his ERA in a little more than a month. That's the good news. The bad news is that it's still 4.35 and he has allowed a home run in five straight starts. Perhaps no pitcher has been as adversely impacted by The Year of the Home Run than Cole. He has allowed 20 home runs in 113 ⅔ innings and surpassed his career high in home runs on May 27. For those considering a trade, this isn't the pitcher who had a 2.60 ERA two seasons ago. -- Mark Simon, ESPN Stats & Information
---

Record: 42-49
Week 14 ranking: No. 18
The Blue Jays are 0-9 this season in games in which they've had a chance to reach .500. Josh Donaldson has missed time, but he also hasn't looked nearly like the same player who won the 2015 American League MVP award and finished fourth in the voting in 2016. He's hitting .254 in 48 games with an .836 OPS; he hit .291 with a .946 OPS in 2015 and 2016 combined. -- Sarah Langs, ESPN Stats & Information
---
Record: 42-49
Week 14 ranking: No. 24
Manny Machado has picked up the pace. He hit .205 in April and May with just a .691 OPS in 50 games, but in 36 games in June and July, he's hitting .270 with a .815 OPS. He's striking out a lot less, too -- just a 16 percent strikeout rate, compared to 22 percent of the time in those first two months. -- Sarah Langs, ESPN Stats & Information
---

Record: 41-49
Week 14 ranking: No. 23
Michael Fulmer pitched well again on Saturday and he should be the only player deemed untouchable by GM Al Avila. J.D. Martinez is a free agent after this year and has been hot since he came back from a foot injury in mid-May, and Nick Castellanos and Justin Upton also have been hot over the past month and a half. They could definitely help some contenders, and should net some prospects to help rebuild a depleted farm system. -- Michael Bonzagni, ESPN Stats & Information
---

Record: 41-48
Week 14 ranking: No. 22
Jacob deGrom has a 1.53 ERA in his past six starts, allowing one earned run or fewer in five of them. He has 35 strikeouts and three walks in his past four turns, but deGrom is winning with his arm and his bat. His 12 hits this season are both the most in the majors for a pitcher and a career high, and his four RBIs tie a career best. He's hitting .353 since April 28. -- Mark Simon, ESPN Stats & Information
---
Record: 41-49
Week 14 ranking: No. 21
The Marlins have the second-easiest schedule in the second half as they chase their first winning season in eight years. They hosted the Dodgers right out of the break and that didn't go well, but their next 14 games are against the Phillies, Reds and Rangers. They need some consistency in the rotation after using seven starters in their past 31 games alone, with very mixed results. -- John Fisher, ESPN Stats & Information
---
Record: 38-52
Week 14 ranking: No. 25
White Sox GM Rick Hahn already has swapped Jose Quintana, Chris Sale and Adam Eaton to collect some of the game's top prospects, and Todd Frazier and David Robertson may be next to go. Despite a fast start, the White Sox own the worst record in the American League since May 1 (25-42) and will likely be among the most active sellers at the trade deadline. -- Paul Hembekides, ESPN Stats & Information
---

Record: 39-52
Week 14 ranking: No. 26
Zack Cozart earned his All-Star donkey, a story that has somehow overshadowed his first-half performance. Cozart became the first Reds shortstop to start the All-Star Game since Barry Larkin, and is reportedly open to considering an extension with the team, as he reaches free agency after this season. -- Paul Hembekides, ESPN Stats & Information
---
Record: 42-50
Week 14 ranking: No. 27
The A's are open for business well before the deadline, and after the Quintana deal, Sonny Gray may be the most valuable starting pitcher on the market. His six shutout innings Saturday gave him four straight quality starts while chucking his changeup and going with a simpler repertoire. The timing couldn't be more perfect to goose Gray's value in addition to his light contract ($3.58 million this year) and being under club control through 2019. -- Christina Kahrl, ESPN.com
---
Record: 35-58
Week 14 ranking: No. 28
Madison Bumgarner is back ... and the Giants still can't win when he starts. Bumgarner has thrown at least six innings in each of his five starts this season and hasn't allowed more than three earned runs in any of them, but the Giants are 0-5 in those games. To add a gut-punch, the Giants lost Bumgarner's Saturday return from the DL on the first career walk-off home run by former Giants catcher Hector Sanchez. -- Sarah Langs, ESPN Stats & Information
---
Record: 40-51
Week 14 ranking: No. 29
The Padres are in a very advantageous position. They're a clear-cut seller, and there aren't as many of those as there used to be before the addition of the second wild-card spot. It's a seller's market, and the Padres should not hesitate to peddle Brad Hand, Yangervis Solarte, Trevor Cahill and anything or anyone not tied down beyond the next year or two. -- Michael Bonzagni, ESPN Stats & Information
---
Record: 30-60
Week 14 ranking: No. 30
Aaron Nola continues to shine, with a 2.65 ERA in eight starts since the beginning of June. He has been the lone bright spot in a rotation that needs help, and has seen nine pitchers make a start already. This could be a long second half in Philly unless their top prospects start making their way to the majors. -- John Fisher, ESPN Stats & Information
EDITORS' PICKS
The BBTN 100 counts down the top 25 players in baseball for 2015.
Rankings »

MLB players weigh in on baseball's best player, PEDs and what they really think about A-Rod's return.
MLB Confidential »

Where does the recently-signed Yoan Moncada land on Keith Law's prospect rankings?
Top 50 update