UFC on Fox 10: Must-see main event
Major shakeup at 155 expected after Benson Henderson-Josh Thomson fight
Originally Published:
January 22, 2014
ESPN.com
A UFC lightweight fight between Benson Henderson and Josh Thomson should produce some very watchable mixed martial arts this weekend in Chicago.
Quietly, it also has potential to shake up two divisions, depending on the outcome.
As deep as the lightweight division is, the pieces don't really fit with one another right now if you look at the rankings.
Fight of the Night pick: Alex Caceres vs. Sergio Pettis, bantamweight.
KO of the Night pick: Gabriel Gonzaga over Stipe Miocic.
Don't miss ... : Walter Harris. He's on the prelims of the prelims but if you have access to Fight Pass, I recommend seeing this guy. Heavyweight who can move like a middleweight and unafraid to take a few risks.
Check the complete card in our FightCenter. Click here
Anthony Pettis is hurt. TJ Grant still can't do contact, six months after his concussion. Henderson is 0-2 to the only man ranked ahead of him. Gilbert Melendez is willing to risk his rank to a lesser-known opponent, but only if he's paid more. Michael Chandler and Eddie Alvarez seem destined to fight each other 15 times in Bellator.
Then you have one of the key players in this division, who isn't even in it yet: Jose Aldo. When Aldo looks to defend the featherweight belt against Ricardo Lamas next month in Newark, he's going to get a lot of Pettis questions, which he'll respond to.
That right there tells you what is at stake Saturday between Henderson and Thomson. It's most likely up to Thomson. Even though the No. 1 contender status sort of fell in his lap previously, it's a hard thing to take away from him now.
If he wins in Chicago, expect the UFC to eventually book him to a title fight against Pettis, which would keep Aldo at 145 pounds for at least one more fight. If Thomson loses, the Aldo-Pettis storyline will be nearly impossible to ignore.
---
Henderson discusses why he's better than Thomson

Thomson discusses Anthony Pettis'injury and fighting Henderson

Odds: Henderson -280; Thomson +220
Breakdown: This fight is favored 2-1 to go the full five rounds. Keep that in mind.
Thomson has lost four times in the past eight years to Clay Guida, Tatsuya Kawajiri and Melendez twice. All were by decision and three were five-round fights.
[+] Enlarge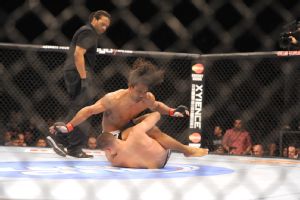 Rod Mar for ESPN.comBenson Henderson is a force to be reckoned with when he goes to the mat.
In those losses, Thomson was outperformed in takedowns 22-4. One stat almost never tells the full story in MMA, but that's fairly staggering. Pressure, power wrestlers have had success against Thomson, taking him down and outpointing him.
Henderson isn't going to win this fight by holding Thomson down for 25 minutes, but history suggests he'll score a few points here and there doing that. That could be huge in a fight likely to go the distance and feature close rounds.
Thomson is going to move, switch stances, counter punch. He's going to want to stay off the fence and generally avoid long exchanges in the pocket. He's good working knees and elbows in the clinch, but he'll want to do so quickly and break.
Henderson isn't impossible to hit, but it's definitely difficult to hurt him. His leg kicks might be significant, as Thomson really needs mobility to win rounds.
Prediction: Could get off to a slow start as they try to figure the other out, but I expect it to pick up late. The trend of close decision losses to athletic wrestlers continues for Thomson. HENDERSON BY DECISION.
---
Odds: Miocic -260; Gonzaga +200
Breakdown: A tough fight to read between two very different heavyweights.
Gonzaga is 34, but probably older in fight years. He has been knocked out seven times -- and those are heavyweight-caliber knockouts. That said, he doesn't look old. He's still taking punches and moving pretty well.
[+] Enlarge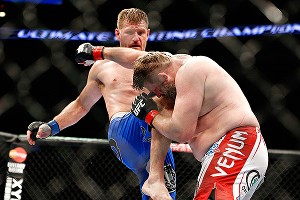 Ric Fogel for ESPNStipe Miocic displayed a dynamic striking game while pummeling Roy Nelson last June.
Miocic is coming off that high-profile win over Roy Nelson. To me, that was a win that said, "Miocic is definitely coming along," more than it said, "Miocic has arrived." I'm actually looking at this bout more in terms of a "Miocic arrival" party.
Both heavies will be confident standing, considering their most recent wins. It's possible Miocic boxes Gonzaga's ears off, but he'll have a tougher time doing it here than against Nelson. I expect Gonzaga to test with takedowns early. If he gets his hands on Miocic and decides it's not happening, he'll change course, but he'll want to answer that question in his own mind before he agrees to stand.
Prediction: One of two things: The speed of Miocic really stands out and Gonzaga just can't keep up or Gonzaga plays the cagey veteran role to perfection and gets a knockout within the first two rounds. WHY NOT? GONZAGA BY TKO.
EDITORS' PICKS
UFC featherweight challenger Conor McGregor grabs Jose Aldo's belt in front of McGregor's hometown fans in Dublin, Ireland, during the UFC 189 world tour press conference.
Watch

Alexander Gustafsson and Glover Teixeira meet on June 20.
Story »

Ronda Rousey proved she owns it in all fronts.
SportsNation »