Commentary
Skills Challenge is great show
Updated:
February 20, 2005, 1:32 PM ET
By
Greg Anthony
| ESPN Insider
Well, here we are at the NBA's premiere event, All-Star Weekend in Denver. It's a showcase of some of the best athletes in the world, getting together to display their incredible talents collectively.
We not only have the very best of this year, but also those who you, the fans, specifically wanted to see perform. It doesn't get any better, as this is a non-stop party that continues Saturday with the Slam Dunk Contest and Skills Challenge. Finally, the big daddy (no, not Shaq) is the game on Sunday where these great talents play with the freedom that's rarely displayed throughout the regular season. The moves and acrobatic dunks come at a rapid-fire pace and these guys show why many consider them at the head of the class because of their athleticism combined with a tremendously high skill level.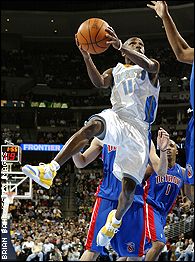 Brian Bahr/Getty ImagesBoykins will have the Denver fans behind him and that might help win the Skills Challenge.
Which brings me to the Skills Challenge, which isn't as hyped as the other events of the weekend, but I think gives the best perspective on how talented NBA players must be to survive.
To continue reading this article you must be an Insider
Insider
Former NBA guard Greg Anthony covers basketball for ESPN.com Insider. He joined ESPN in November 2002 as a studio analyst for the network's NBA coverage. He appears on all of ESPN and ESPN2's NBA studio shows.