Commentary
All-Star dunk contest predictions
Updated:
February 13, 2010, 12:03 PM ET
By
Tim Legler
| ESPN
Legler's Previews: Rookie-Sophs | 3-Point Shootout | Slam Dunk Contest | All-Star Game
There is strong sentiment making the rounds that the NBA dunk contest just isn't what it used to be. A lot of people feel that the game's biggest names need to take center stage in Dallas on Feb. 13 for the event to really compel us to be on the edge of our seats waiting to see what's going to happen next.
The people who think along those lines are analyzing the event along the wrong lines. Sure, a dunkfest featuring LeBron James, Kobe Bryant, Dwyane Wade and Kevin Durant would be memorable, but what makes or breaks the amount of drama we witness are the dunks themselves. The memories that Julius Erving, Michael Jordan, and Dominique Wilkins etched into our collective subconscious were put there because the dunks they performed were ground-breaking. In the years between the "glory days" and the dunk contests of the past few years, there have been awe-inspiring events and there have been anticlimactic duds. But, it's always been about the dunks, so this year will be no different.
When Nate Robinson, Gerald Wallace, Shannon Brown, and DeMar DeRozan take the court Saturday night, they all could give us a great show if they can give us something original and flawless. That's what we all want to see. I don't need props, and I sure don't want to see the same dunk attempted five times to get it right. Just come up with your best dunk, then execute it. How well they can do that will determine how we remember the event the next day. With that in mind, here is what you can expect to see from the contestants.

DeRozan is a highflier without question. Being a rookie for a team in Toronto hasn't given him a ton of exposure to NBA fans, but he is developing nicely in his first season. He will bring a ton of energy to the event, but his rookie nerves ultimately might get the best of him, causing a miss or two that could be fatal to his chances. There will also be very little connection to the crowd because of his relative anonymity.
---

Wallace should have won the dunk contest almost a decade ago when he lost to
Jason Richardson
in Philadelphia in 2001 after Richardson missed a critical dunk but was allowed to try it again. It's been a long time between appearances, and Wallace's game certainly has aged well. His outstanding all-around play and versatility have earned him a spot as an Eastern Conference All-Star on Sunday. The question is whether he can provide enough fireworks on Saturday to take home the dunk contest. He prefers to jump off of one foot and is capable of taking off from various runways. He is the veteran in the group, and I am expecting him to come up with something creative using props or teammates, and he certainly will know how to work the crowd with his flair and showmanship. Wallace, however, is the tallest competitor, and that can work against him in an event that always seems to tug at the hearts of the crowd rooting for the little guys. All in all, I expect him to have a solid showing that will improve the longer he is in the contest.
---

The little guy has already won a pair of these events and has to be considered a favorite to win it again. His past performances and spectacular flair have shown us all that, at 5-8, the man simply defies gravity. He generates a tremendous amount of power for a guy his size, and he has proved that he knows how to work the crowd. When you add the fact that earlier this season he had an awful lot of time on his hands to come up with new material while he collected dust on Mike D'Antoni's bench, you have to believe that Robinson will come to Dallas with a little extra motivation. If he delivers another "I can't believe what I just saw" moment or two, he will be very hard to beat because he clearly will be the crowd favorite.
---

It is all coming together at the right time for Brown to win this contest. He finally has cemented himself in the Lakers' rotation and is providing exactly the type of offensive production and youthful energy they need from their backcourt reserves. As a result, he has been showing up with regularity in the nightly "Top 10" plays. His confidence is soaring as we head into the All-Star break, and he has the exact type of physical qualities to put on a great show in Dallas. His combination of hang time, power and explosiveness can be awe-inspiring at times. The only thing that can prevent him from winning is his unfamiliarity with the contest. He must be sure to save something for each round, yet give the judges a glimpse of something special he has in his bag for later. He also must be able to stand up to the popularity of Robinson and create his own "buzz." Playing for the Lakers gives him an advantage in that he is on national television so regularly he will be known by most of the fans in the building. The bottom line is that this guy has the whole package and has been waiting for a moment like this his whole life.
Legler's Previews: Rookie-Sophs | 3-Point Shootout | Slam Dunk Contest | All-Star Game
NBA studio analyst
Former NBA player Tim Legler joined ESPN in 2000 as a studio analyst for ESPNEWS. Legler also appears regularly as an analyst of ESPN2's NBA Fastbreak. Legler played for five NBA teams -- the Suns, Jazz, Warriors, Mavericks and Wizards.
2010 NBA All-Star Weekend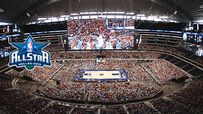 Follow ESPN's NBA coverage on Twitter
ALL-STAR CONTENT
DUNK CONTEST, 3-POINT SHOOTOUT
ROOKIE CHALLENGE
VOTING, SNUBS