Commentary
Rockets must get with the program
Cuttino Mobley, Eddie Griffin and Mo Taylor must relish their new roles as role players for Houston to make the playoffs.
Updated:
October 22, 2003, 11:10 AM ET
By
Ric Bucher
| ESPN The Magazine
Editor's note: Here's a glimpse of the good -- and the bad -- that could happen to the 2003-04 Houston Rockets.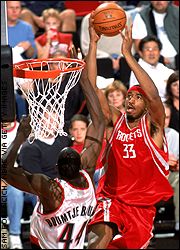 If he does get to play again, Eddie Griffin must accept a complementary role.
Best Case Scenario
These three things have to happen for the Rockets to make the playoffs and take their first step toward the title-contending future owner Les Alexander envisioned with the acquisition of
Yao Ming
.
1.
Get comfortable with the program.
Jeff Van Gundy's level of accountability on every front has a team that's used to rolling free and easy now feeling a little locked up.
Cuttino Mobley
,
Eddie Griffin
and
Maurice Taylor
all must grasp -- and quickly -- that the team now consists of a two-man showcase and their role is to polish the brass, take tickets and man the velvet ropes. In short,
Steve Francis
and Yao Ming are the decision makers and everyone else is expected to get them the ball, play defense and make shots when left open. It sounds easy and all three have demonstrated the ability to play such a role -- but only occasionally. Doing it, and doing it well, night after night, is a matter of discipline, not talent. Don't be surprised if one, or all three, are gone by next season should they struggle getting with the new program. Van Gundy believes in this quote he got from Lou Piniella: "Patience is a good thing. Too much patience is utter stupidity."
To continue reading this article you must be an Insider
Insider
NBA Reporter, ESPN The Magazine Senior Writer
Senior writer for ESPN The Magazine
Co-authored "Yao: A Life in Two Worlds"
Full-time beat writer/NBA analyst since 1992