Commentary
Lakers facing 'Day After Tomorrow'
Updated:
June 17, 2004, 8:50 PM ET
By
Chad Ford
| ESPN Insider
It's over.
The Los Angeles Lakers were outplayed, outhustled, out-hearted every game by a team few believed could even make it to Game 5 of the NBA Finals, much less close out the series. Instead, it was the Lakers who hung on barely long enough to be humiliated by the Detroit Pistons, 100-87, Tuesday night.
L.A.'s dream team is dead. Now GM Mitch Kupchak faces a real nightmare this summer. Coach Phil Jackson claimed Tuesday night there was only a "slim chance" he'll return to L.A. Kobe Bryant still plans to opt out of his contract and become a free agent. Gary Payton and Karl Malone also can opt out.
Shaquille O'Neal, the one guy stuck on the Lakers for at least two more seasons, sounds like he wants out, too.
"This summer is going to be a different summer for a lot of people," O'Neal said. "Everyone's going to take care of their own business; everyone's going to do what's best for them, including me. So we haven't made any of those decisions yet. But once those decisions are made, you will be well informed."
The Pistons were hungry, under-paid and under-appreciated. They shared, played nice with one another and worked together toward a common goal.
The Lakers, as we found out, are everything NBA champions are not. They're spoiled, overpaid, selfish and, like O'Neal said, essentially businessmen in jerseys, looking out for No. 1.
"A team always beats a group of individuals," L.A.'s Rick Fox said. "We picked a poor time to be a group of individuals."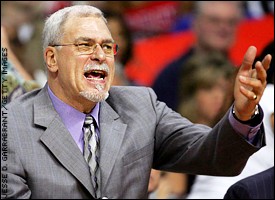 Getty Images"It's a pretty slim chance that I'll be back," Jackson said after the decisive Game 5 loss.
Something has to give.
"Now it's decision time for this team and what direction they are going to move," Jackson said at the news conference. "Obviously, it's going to be a big statement that's going to be made in July. And Mitch Kupchak has done a very good job. They will make a move in August to rebuild this basketball club. I think they will be fine."
They? You mean "we," right?
"Well," he said, "that's yet to be determined, OK?"
Can Kupchak keep it together? Or is it time to start fresh in L.A.? Here's a look at what to expect, as Insider continues its summer blueprint series.
To continue reading this article you must be an Insider
Insider