Commentary
The purple-and-orange blueprint
Updated:
January 17, 2005, 7:44 AM ET
By
Chad Ford
| ESPN Insider
Chad Ford's Thursday Chat Wrap
PHOENIX – Mark down July 1, 2004, as the day Suns GM Bryan Colangelo and new owner Robert Sarver changed the NBA as we know it.
On that day, a huge contingent from the Suns' organization – including Colangelo, Sarver, chairman Jerry Colangelo, head coach Mike D'Antoni, Amare Stoudemire, Suns scout Rex Chapman and minority owner Steve Kerr – sat down with Mavericks free agent Steve Nash and made him a stunning six-year, $66 million offer to come back to Phoenix.
Signing Nash was the most important of a number of calculated risks made by Colangelo that have turned the once cellar-dwelling Suns into the most exciting team to hit the NBA in the last decade.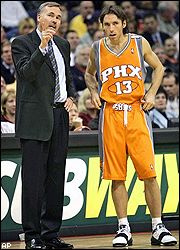 In Nash, D'Antoni (left) has a coach on the floor.

At 31-6, the Suns are on a pace to win 71 games this season. They are doing it in stunning fashion, averaging 110 points per game and beating teams by a whopping 11.5 points per game. It has been 10 years since a team averaged more than 105 points per game over a full season.

In the past week, the Suns have destroyed two of the top three contenders for the Eastern Conference crown, the Pacers and Heat.

"Nobody's even playing them close. They're just kicking the crap out of everyone," Heat coach Stan Van Gundy said Tuesday night, just before the Suns kicked the crap out of Miami.

How did a team that was 12-26 exactly one year ago turn into the most important team in the NBA?

Insider spent the last week in Phoenix getting the inside story on Colangelo's plan to make the Suns and the NBA fun again.

To continue reading this article you must be an Insider
Insider