Commentary
Knicks need winners, not stars
Updated:
January 27, 2005, 2:52 PM ET
By
Chad Ford
| ESPN Insider
Is
Stephon Marbury
a loser?
Let's just get it out on the table now, because Tuesday night, after Steve Nash and the Suns showed up at Madison Square Garden and defeated the Knicks 133-118, this debate is going to happen … again.
The perception is that Tuesday's matchup represents the tale of two point guards.
The Suns are led by the NBA's most selfless point guard – a guy who leads the league in assists and only takes shots when there's no one on the floor with a better one.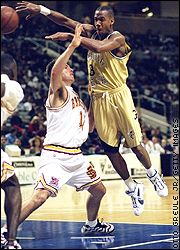 In 1995, Nash (left) helped Santa Clara to victory over Marbury's Georgia Tech.
The
Knicks
are led by the NBA's self-proclaimed best point guard – a guy who fills up a stat sheet everywhere but where it counts: in the victory column.
But is the perception rooted in fact? Marbury has been one of the most consistent and productive players in the NBA the past seven years. Is he really to blame?
The debate about Marbury and the "L-word" will continue to rage in Minneapolis, East Rutherford, N.J., Phoenix, New York City and any of his other potential NBA stops until a Marbury-led team either wins more than 50 games and a playoff series (or two) or falls apart after he leaves.
Unfortunately for Steph, a 50-victory season and sustained playoff success have not been hallmarks of his seven-year career.
The tale of the tape is tough to ignore. Marbury has never led a team to more than 45 victories in a season or a playoff series victory. The other side of the coin is even more unsavory.
To continue reading this article you must be an Insider
Insider