Commentary
Future still bright in Denver
Updated:
February 17, 2005, 7:29 AM ET
By
Chad Ford
| ESPN Insider
Editor's note: Denver defeated the Hawks 100-96 Tuesday night, the first time the Nuggets won in Atlanta since 1988.)
Best-laid plans are just that: Plans. Hopes. Aspirations. Dreams.
You can draw up the blueprints. Lay the foundation. Build the frame. But all it takes is one strong wind to blow the whole thing down.
With the NBA world descending upon Denver this weekend, this year's Nuggets are the archetype of just how cruel this league can be.
Last year, the Nuggets were a glorious underdog. They jumped from 17 wins to 43 wins in a single season and made a miraculous playoff appearance in the crowded West.
This summer, the addition of Kenyon Martin, on paper, gave them one of the best and deepest front lines in the league.
Insider predicted they'd finish sixth in the West this season. Others had them as high as fourth.
When it was time to actually play the games, however, the Nuggets ran out of gold. Voshon Lenard went down on opening night with a torn Achilles tendon, leaving a gaping hole in Denver's backcourt.
Without a skilled shooter on the roster to stretch the defense, teams began packing it in on the Nuggets. Injuries to Nene (14 games), Marcus Camby (seven games) and Carmelo Anthony (seven games) and an off year for Martin mean that the Nuggets' menacing front line has never materialized.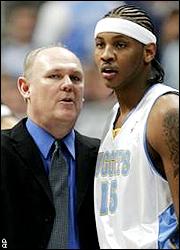 George Karl has won seven of his first 10 games.
Head coach Jeff Bzdelik was fired in December, and interim head coach Michael Cooper was replaced by George Karl a month later (Cooper remains an assistant). At the time, the Nuggets were 17-25 and seemed destined to return to the lottery.
"It's been a tough year," Nuggets GM Kiki Vandeweghe admitted in a candid interview with Insider. "It's been tough to watch. The most difficult thing for me was not being able to see the team we put together in the summer get a chance to play together.
"We thought we had the pieces to take the next step here. But as soon as Voshon went out, it was tough. Nene really hasn't been healthy all year and Carmelo has played part of the season hurt. Injuries are part of the game, but it doesn't make the losses sting less."
Vandeweghe could have written off the season and looked for a high lottery pick to help close a hole or two. Instead, he remained resolute. When the team hired Karl, they were sending a clear message that they weren't flying the white flag.
To continue reading this article you must be an Insider
Insider