Commentary
Many of Weisbrod's moves have fizzled
Updated:
March 17, 2005, 8:17 PM ET
By
Chad Ford
| ESPN Insider
Did Orlando recapture its long-lost
Magic
this season, or was the whole thing an illusion?
After starting the season with a pretty miraculous turnaround (a 14-9 start), the Magic have lost nine of their last 12 and are in danger of missing the playoffs.
Early Thursday morning, any luster that was left on the season faded when GM John Weisbrod fired head coach Johnny Davis and assistant Ron Ekker (who was in charge of the team's defense), claiming that the team needed a "new voice and direction."
"We work in a bottom-line business," said Weisbrod. "It is our responsibility to do everything possible to create the best opportunity for success."
Davis said he was "surprised and disappointed" by the firing and felt like it was premature.
"I think it was obvious I was on a short leash," Davis told the Orlando Sentinel. "Teams go through tough stretches, and this was the first time we had gone through one. It's not like we bottomed out. It's not like we fell out of the picture and weren't going to make it.
"We gave it an honest shot. I think maybe the expectations had changed along the way."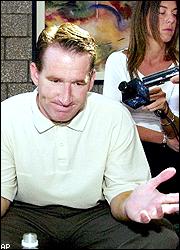 Many of Weisbrod's moves have backfired. Will he be the next Magic man to disappear?
They sure have. Last season, the Magic finished with the worst record in the NBA.
Weisbrod, who took over the team during the 2003-04 season, went for an extreme team makeover in the summer, trading the Magic's best player, Tracy McGrady, selecting a raw high school player with the first pick in the draft and then bringing in what Weisbrod described as "sore losers" – tough, team-first players who would play a more rugged style of basketball.
The only thing from the old regime that Weisbrod stood by going into training camp was Davis, whom he insisted was the right guy for the job.
"I think Johnny is the right guy for what we're trying to do here," Weisbrod told Insider in October. "He's proven to me that he has the mind and the attitude to turn us into a winner."
What changed?
To continue reading this article you must be an Insider
Insider