Commentary
As a shooter, Okafor brings Bobcats down
Criticize Magic GM John Weisbrod all you want. Last summer, he opted for the riskier – but more productive – draft choice in Dwight Howard.
Updated:
March 31, 2005, 1:11 PM ET
By
John Hollinger
| ESPN Insider
Editor's note: This article, originally published on March 21, is up-to-date through games of March 30.
Step right up! Get in line to take a potshot at John Weisbrod; everybody else is doing it. Since the
Orlando Magic
's general manager deposed coach Johnny Davis and whiffed on the trade of
Cuttino Mobley
for
Doug Christie
, he's become a lightning rod for criticism.
He's given the critics plenty of ammunition. I pointed out the lopsided Drew Gooden trade in a recent column, but a few other Weisbrod moves also seemed to be dubious propositions: trading Tracy McGrady, signing DeShawn Stevenson and protecting Pat Garrity instead of Zaza Pachulia in the expansion draft. In fairness, today I want to focus on one Weisbrod decision that was unequivocally the right call: Drafting Dwight Howard.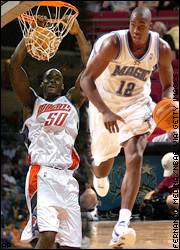 Who's better, Okafor (left) or Howard?
Coming into the draft in June, Weisbrod had the top pick and faced a decision between the consensus top two players, Howard and Emeka Okafor. Okafor was the bigger name after he led Connecticut to the national championship with his post play and defensive intensity. He also came with a spotless pedigree – he was smart, graduated in three years, always played hard and never got in trouble.
Howard, on the other hand, was a less-finished product. He's three years younger than Okafor and turned pro straight out of high school. While some casual fans hear "high schooler turning pro" and reflexively think "sketchy," Howard had a similarly spotless resumé. The scouts' only question was whether he was too nice to dominate.
In the short term, Okafor – selected second overall by the Charlotte Bobcats – would have been the safe choice. All the pundits, especially those who only watch basketball in March and June, would have congratulated Weisbrod on selecting such a fine, upstanding young man from a good program. Of course, they said the same things when the Bulls took Jay Williams.
Weisbrod opted for the riskier but more productive choice in Howard.
To continue reading this article you must be an Insider
Insider