Commentary
PER Diem: March 13, 2009
Lopez, Gasol the more deserving pair for Rookie of the Year consideration
Originally Published:
March 12, 2009
By
John Hollinger
| ESPN.com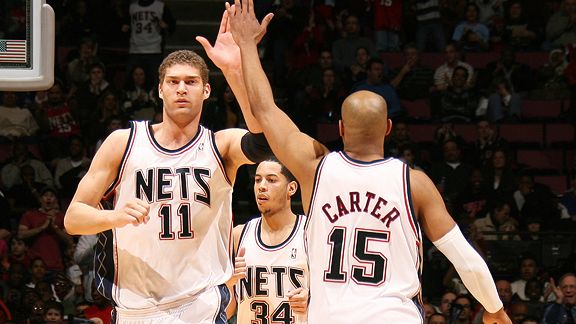 Nathaniel S. Butler/NBAE/Getty ImagesHe may not have the hype, but Brook Lopez has John Hollinger's Rookie of the Year vote.
This is a weird, weird year for Rookie of the Year candidates.
From the beginning, we've been sold two names: Derrick Rose and O.J. Mayo. Throughout the first half of the season, that made perfect sense, since they were playing a lot more than most of their rookie cohorts and each got off to a very strong start.
But of late, a funny thing has happened. Rose and Mayo still are the two hot names, with two other up-and-comers (Russell Westbrook, Eric Gordon) also earning mentions recently. Yet the performance of Rose and Mayo has tailed off as the year has gone on, while the play of other rookies has been unusually good.
Daily Gems
Here are John Hollinger's top five NBA observations for Friday. Insider

Duncan looks off after minor injury
A new starter inserted into L.A.'s lineup
Carlos Delfino to the Knicks?
Reader reactions to Thursday's column
Time to put a fork in the Suns
Not just one or two rookies, either -- more like 10 or 20. This season has been an amazing one, arguably the best rookie class of all time in terms of the number of quality players it has produced. Fourteen rookies have a PER above the league average, and by my count, 28 have established themselves as NBA rotation players, and another five or six seem likely to break into a rotation next season.
Several of them, in fact, have surpassed Mayo and Rose in a number of categories. Which gives rise to the interesting question: Are we going to vote Rose and Mayo solely because they've played more minutes than the other rookies? Because right now, that's about the only reason left to vote for either.
They're still the top two rookies in terms of scoring average -- but in terms of Player Efficiency Rating, Rose ranks 10th among rookies and Mayo 15th. I'd be hard-pressed to name any season in recent history where the Rookie of the Year wasn't, at the very least, in the top five.
And while a few of the players ahead of them in PER have only played sporadically (Marreese Speights, JaVale McGee, Roy Hibbert), it gets progressively harder to defend the Rose-Mayo combo against the others.
Certainly, you can make the case they're more deserving than injury-plagued Greg Oden. Perhaps you can extend yourself to say that they're also more valid ROY picks than defensively deficient peers Michael Beasley and Kevin Love. And perhaps you can say the margin between Westbrook and Rose is so small that Rose's major season-long role on a playoff contender overcomes that.
But where Rose and Mayo become impossible to support is when you put them up against the big guys. Mayo, for instance, isn't even the best rookie on his own team -- that would be center Marc Gasol, who ranks fourth among rookies in PER at 17.15 and at 30.5 minutes per game can't be dismissed as a part-timer.
Rookie PER Leaders
(min. 1,000 minutes)
| Player | PER | Min/Gm |
| --- | --- | --- |
| Kevin Love, Min. | 18.00 | 24.6 |
| Greg Oden, Por. | 17.78 | 22.9 |
| Brook Lopez, NJ | 17.47 | 30.1 |
| Marc Gasol, Mem. | 17.15 | 30.5 |
| Michael Beasley, Mia. | 16.08 | 24.4 |
| Russell Westbrook, OKC | 15.83 | 32.5 |
| Derrick Rose, Chi. | 15.46 | 36.7 |
| R. Fernandez, Por. | 15.41 | 25.6 |
| Eric Gordon, LAC | 15.17 | 33.4 |
| O.J. Mayo, Mem. | 14.62 | 37.8 |
It's not just that Gasol is a more efficient scorer than Mayo, shooting 53.9 percent to Mayo's 43.5 percent. The real shocker is in the passing game. Gasol has a higher assist ratio than Mayo, meaning that, compared to Mayo, Gasol creates more assists per possession used. And his assists per minute are close to Mayo's, even though Mayo is often the one initiating the Memphis offense. Throw in the rather obvious edge Gasol has on the boards and it's a no-brainer. The only reason to support Mayo over his teammate is if you're so blinded by scoring averages that you ignore every other column on the stat sheet.
Yet Gasol is only second on my Rookie of the Year ballot. Because while his advantage over Mayo is clear, I'd argue there's an even greater disparity between Brook Lopez and Derrick Rose.
Lopez has received none of the hype of his competitors, perhaps because we're always going to be more allured by dazzling guards than competent big men, but he's been better. Per minute, he scores nearly as much as Rose (16.8 points per 40 minutes compared to 18.0), and does so with vastly more efficiency. Lopez shoots 52.3 percent from the floor and 82.1 percent from the line, for a 55.8 true shooting percentage. Rose is at 46.2 percent and 79.3 percent, for a 50.7 TS percentage.
Rose has a big edge in assists, as you might expect, but actually his assist ratio is pretty low for a point guard at 24.6 -- this is Steve Francis territory, basically. And oddly, Lopez averages nearly as many steals per minute as Rose.
On the flip side, Lopez has huge advantages in rebounds and blocks. He wasn't supposed to be much of a defensive force, but he's sending back nearly two shots per game and ranks in the top half of centers in rebound rate.
That's why his PER (17.47) outdistances Rose's (15.46) by such a wide margin; he's also on a team that's just as much a part of the so-called "race" for No. 8 in the East as Rose's Bulls squad, so I don't think Rose should gain an advantage there either.
All that's left to hold against Lopez, in fact, is that Rose plays 36.7 minutes a game while Lopez plays 30.1. But that's mostly an artifact of their positions -- there isn't a single center who plays more minutes per game than Rose. Al Jefferson played just as many before he was hurt, and Dwight Howard is close, but otherwise look at the top centers: Yao Ming plays 33.0 minutes per game, Al Horford 33.0, Andris Biedrins 30.6, Shaquille O'Neal 30.4 and Andrew Bynum 29.1. That's what centers do.
So we're left in the odd situation where Rose is the consensus favorite to win, and Mayo is a strong favorite to come in second … even though at least two other players are clearly more qualified than both of them.
I realize I'm swimming against the tide here, but look past the hype machine and just check facts. Lopez and Gasol have been the two best rookies this year, and Lopez in particular is a very deserving Rookie of the Year winner. If he doesn't get it, it says more about us than it does about him.
John Hollinger writes for ESPN Insider. To e-mail him, click here.