Commentary
PER Diem: Dec. 24, 2008
What makes the Lakers go this season? No, it's not who you think, it's Andrew Bynum.
Updated:
December 24, 2008, 12:51 PM ET
By
John Hollinger
| ESPN.com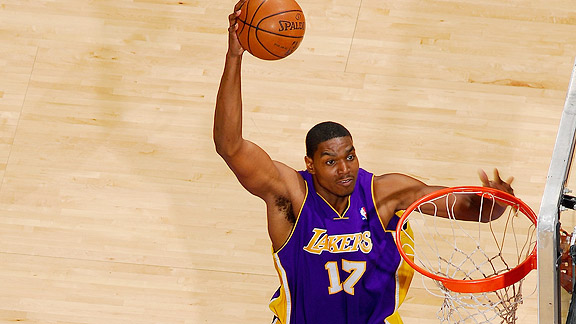 Rocky Widner/NBAE/Getty ImagesThe Lakers are hoping the Good Bynum shows up against the Celtics on Christmas Day.
Now that's more like the Lakers we saw in the opening days of the season. L.A. jumped out to a beastly start in November, but recently a series of unimpressive wins and a couple of indefensible losses left their supporters with less ammo. Heading into Tuesday's game in New Orleans, it appeared one of the Lakers' Western rivals might soon pass L.A. in the Power Rankings … and that at some point down the line, they might in the real standings as well.
Daily Gems
Here are John Hollinger's top five NBA observations for Wednesday. Insider



• Passing of the torch in New Jersey
• Miami with an ugly win
• Thunder's lack of a shooting guard
• Why is Boston's streak so impressive?
• Cavs-Celtics showdown in January

Not so fast. In beating the Hornets 100-87, they looked like the Lakers I saw in New Orleans on Nov. 12 -- when their swarming defense shut down the Hornets in the first half en route to building a massive lead and cruising the rest of the way, winning 93-86. Tuesday night was nearly a carbon copy of that effort and, combined with the recent vulnerabilities shown by Houston, San Antonio and Utah, it re-establishes the Lakers as the prohibitive favorite in the conference.
The real interesting part is the Lakers' fortunes seem to hinge almost entirely on one player. No, not the one you're thinking of. I'm talking about Andrew Bynum -- you can watch him and pretty much tell what you're getting from the Lakers that night. Bynum had three blocks and seven boards Tuesday and his activity saw him rewarded with 28 minutes -- much as he dominated inside in the first win in New Orleans, when he had four swats.
In fact, here's a crazy stat to chew on -- the Lakers are 19-1 when Bynum blocks a shot, but 1-4 when he doesn't. Shifting from 95 percent odds of winning to 20 percent based on the fortunes of one player seems pretty huge, and obviously there's an element of randomness here.
But I think that stat also picks up on something -- this is a vastly different team when Bynum is engaged and active than it is when he's lollygagging on D or piling up soft fouls. The Good Bynum has shown up on most nights this season, and that's the reason the Lakers are 23-5 and own a five-game advantage on the rest of their foes in the race for the top seed in the West.
However, when Bad Bynum shows up, it's a serious problem -- the Lakers don't have any other big, physical players at the defensive end, so they turn into the soft, offensive-minded club the Celtics brushed aside in last year's Finals.
This is noteworthy, of course, because the Lakers and Celtics are scheduled for their first meeting tomorrow, and the Lakers are counting on Bynum to help reverse the outcome of a year ago. Keep an eye on his activity for an early clue, especially at the defensive end. For all the talk about Kobe Bryant and Kevin Garnett and Paul Pierce, Bynum might be the decider.
John Hollinger writes for ESPN Insider. To e-mail him, click here.
Hollinger's PER Diem

Want a deeper look into all of the latest NBA action? Check out John Hollinger's new daily column -- full of analysis, observations and more -- every Monday through Friday.



Jan. 13, 2009
•
PER Diem: Lakers-Rockets injury battle
•
Insider: OKC's problems
Jan. 12, 2009
•
PER Diem: Magic join top ranks
•
Insider: Portland travel problems
Jan. 9, 2009
•
PER Diem: Billups stealing the spotlight
•
Insider: A can't miss game
Jan. 8, 2009
•
PER Diem: Sixers young spark
•
Insider: Wolves continue to sizzle
Jan. 7, 2009
•
PER Diem: Boston's bench problem
•
Insider: Miles won't wait too long
Jan. 6, 2009
•
PER Diem: Nuggets under luxury-tax line
•
Insider: Tense few days for some teams
Jan. 5, 2009
•
PER Diem: Bucks, Pistons Ranking debate
•
Insider: T-Mac's blatant mail-in job
Dec. 31, 2008
•
PER Diem: Spurs' playoff forecast
•
Insider: Calderon's free-throw feat?
Dec. 30, 2008
•
PER Diem: The Year of the Great Divide
•
Insider: Rip with a new role?
Dec. 29, 2008
•
PER Diem: Battle for top spot
•
Insider: Portland's top offense
Dec. 24, 2008
•
PER Diem: The Good Bynum
•
Insider: Passing of torch
Dec. 23, 2008
•
PER Diem: Magic near top crust
•
Insider: O.J. making run at Rose
Dec. 22, 2008
•
PER Diem: Tough Sunday for Pistons
•
Insider: Crisis mode for Raptors
Dec. 19, 2008
•
PER Diem: Orlando's lack of credit on D
•
Insider: A big story up north
Archive
December
1
|
2
|
3
|
4
|
5
|
8
|
9
|
10
|
11
|
12
|
15
|
16
|
17
18
November
3
|
4
|
5
|
6
|
7
|
10
|
11
|
12
|
13
|
14
|
17
|
18
|
19
|
20
|
21
|
24
|
25
|
26
October
28
|
29
|
30
|
31