Commentary
Prospects, look before leaping into NBA draft
Our scout breaks down the seasons of the record eight high school prospects selected in the first round of the 2004 draft.
Updated:
March 30, 2005, 2:29 PM ET
By
Brian James
| ESPN Insider
As we head into the final month of the NBA season, let's look at the eight players who made the jump to the league directly from the high school ranks this season.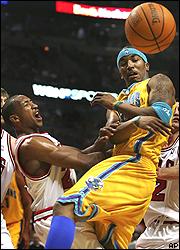 The Hornets' Smith, right, needs to improve his work ethic and intensity.
All eight were selected in the first round of the 2004 NBA draft – a record number for prep picks in the opening stanza. Each has a guaranteed contract for at least three years. At 18 or 19 years old, each became an instant millionaire before playing one minute.
But did the sudden prosperity take away the young players' competitive nature and love of the game? Most of the players will say themselves that they still love the game, although some observers feel that they definitely are motivated by the money as well. It also takes time to learn how to play the pro game, live on your own, and get acclimated to competing against athletes this skilled.
When Tracy McGrady was a rookie with the Toronto Raptors in 1997-98 (he was selected ninth overall out of Mount Zion Christian Academy in North Carolina.), it took him about 50 games to get strong enough to compete against his teammates, according to former Raptors head coach Butch Carter. T-Mac also had to learn that you have to get your rest at night.
Let's break down this season's players. They are listed in the order in which they were selected last summer.
To continue reading this article you must be an Insider
Insider