Commentary
Curry could be quite a dish
Can Eddy Curry pass out of double teams? The answer may determine whether the Bulls make the playoffs.
Updated:
October 21, 2003, 10:26 AM ET
By
Sam Smith
| Special to ESPN.com
Editor's note: Here's a glimpse of the good -- and the bad -- that could happen to the 2003-04 Chicago Bulls.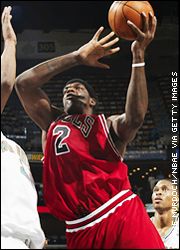 Best Case Scenario
The Bulls will make the playoffs for the first time in six years if these three things happen.
1.
Eddy Curry gets an assist.
OK, maybe more than that. But the point is,
Curry
needs to think more like a point center on occasion. The 6-foot-11, 300-pounder is one of the rare, true low-post centers to come into the NBA lately. Barely being noticed last season after the Bulls fell 2,000 games out of first place, Curry ended up leading the NBA in field-goal percentage. The NBA will notice this season. Curry is going to see a steady diet of double teams and various junk defenses, and he better be prepared to find teammates after averaging fewer than a half assist per game last season. Curry has exceptionally soft hands and quick feet and is a natural scorer. The Bulls' triangle offense puts the ball in the center's hands first, and he has to make decisions for the offense. Curry needs to be unselfish.
To continue reading this article you must be an Insider
Insider