Commentary
If Shaq's back, L.A. will return to Finals
If Shaquille O'Neal remains physically fit, the Lakers will be in great shape to win it all.
Updated:
October 6, 2003, 11:56 AM ET
By
Marc Stein
| ESPN.com
Editor's note: Here's a glimpse of the good -- and the bad -- that could happen to the 2003-04 Los Angeles Lakers.
Best Case Scenario
To win their fourth championship in the past five seasons -- and maybe even make a run at 70 wins -- these three things need to happen.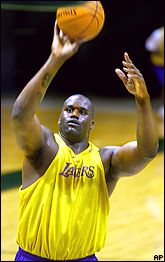 Shaquille O'Neal has 'slimmed down' from 380 to 345 pounds.
1.
Shaq takes his anger out on the rest of the league.
Step 1 was an undeniable success. Stung by criticism about his conditioning,
Shaquille O'Neal
kept his offseason promise to hire a trainer and get fit. He reported to training camp at about 345 pounds, after reportedly playing at around 380 at various points last season. O'Neal didn't like all the blame he received for the Lakers' inability to four-peat, and he's also not pleased that L.A. is hesitant to give him another maximum contract extension. This regular season, Shaq shouldn't lack for motivation.
To continue reading this article you must be an Insider
Insider
ESPN Senior Writer
• Senior NBA writer for ESPN.com
• Began covering the NBA in 1993-94
• Also covered soccer, tennis and the Olympics