Commentary
Running teams break from pack
Originally Published:
January 19, 2005
By
Marc Stein
| ESPN.com
The fans in Phoenix have noticed, as have the fans embracing the Suns as their favorite or second-favorite team no matter where they live.
Magic Johnson breaks into a smile you can spot all the way from L.A. when someone mentions the trend, and it's starting to make Doug Moe feel nostalgic in Denver, too.
Even Ray Allen's fiancée can tell the difference. She thinks Ray is sweating more than ever in postgame interviews, and the Seattle star thinks he knows why.
"We're running more," Allen says.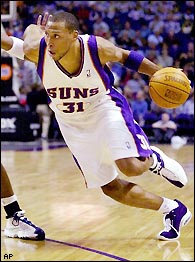 Versatile, talented forwards like Shawn Marion are a main reason teams can score more quickly these days.
A lot of teams are, actually.
Eight teams, through Monday's play, were averaging at least 100 points per game, which hasn't happened in the NBA since the 1996-97 season. The pacesetters of the new-millennium fast break are averaging 108.4 points in Phoenix, good for a nightly output unseen in the league since 1994-95, when three teams scored in the 110s.
Which is why you can also see David Stern's smile all the way from Manhattan.
Objective observers will point out that teams are getting nearly three more free-throw attempts per game than they did last season, which has helped spike scoring as much as anything. "If free throws are up because fouls are up," said Houston coach Jeff Van Gundy, "to me that's not always pace."
But sometimes?
Sometimes, in today's NBA, you'll even see Van Gundy's Rockets running.
One of those times occurred a week ago in Dallas, where the Rockets won a 124-114 shootout. "Neither team guarded," Van Gundy quipped to his post-game audience. "Just what the NBA likes."
Yet Stern can live with those kinds of cracks in exchange for the numbers he's seeing lately. NBA teams, through Monday, were averaging 96.1 points on 44.4-percent shooting from the field, compared to 92.7 points on 43.5-percent shooting last season through Jan. 17, 2004.
The most tangible difference, as Van Gundy mentioned, is at the free-throw line, where teams are averaging 25.9 attempts per game ... compared with 23.5 per game through the 11th Sunday of the 2003-04 season. It's not all free throws, though.
| | | |
| --- | --- | --- |
| | " | I love watching Phoenix because it reminds me of the ['80s] Lakers, just dominating as far as the fast break is concerned, and they're forcing everyone else to try to be up-tempo. " |
| | | — Former Laker Magic Johnson, now a TNT commentator |
Stern decreed before the season that referees would be more diligent than ever enforcing the existing rules against hand-checking and other forms of arm contact on the perimeter. And the response from teams to push the ball and attack impresses even some of the run-and-gun devotees who know the league can probably never be as up-and-down as it was in the glory days of the 1980s.
"To be perfectly honest, coaching is better now overall, and defenses are better," said Moe, now a Nuggets consultant to general manager Kiki Vandeweghe. "And there's so much more money in the game that nobody is really going to go out on a limb and try to run and be at risk of not being perceived as a coach who knows defense. If you're going to coach [in the modern game], you have to be able to say, 'We play defense.'
"But the pace is picking up a little bit," Moe continued. "I like a faster pace myself. Maybe not everybody is into that, but I just didn't like it when it was a total half-court game. It just seemed like everyone was grabbing and holding and it took the skill away."
Not anymore. There is a handful of clubs steadily moving away from the one-pick-then-shoot philosophy to instead push the ball and send shooters to the wings to let fly. It's not merely the Suns and Sonics; Washington and Orlando are two more upstarts winning with a perimeter-based approach.
"Without a doubt the pace has picked up," Magic says. "A lot of teams in the West were already doing it, but now even the most successful teams in the East are the ones trying to get up and down the court.
"I love watching Phoenix because it reminds me of the ['80s] Lakers, just dominating as far as the fast break is concerned, and they're forcing everyone else to try to be up-tempo. Even [today's] Lakers are trying to run. The question is whether [the Suns] can do it like [the Showtime Lakers] did it in the playoffs. Will they let teams slow them down in the playoffs? We never let that happen. I hope that they [keep running] because a lot of fans enjoy their style."
The skepticism isn't restricted to media types. No less a fast-break authority than Jason Kidd, who prodded New Jersey into back-to-back NBA Finals appearances before the running game resurfaced as it has this season, questions whether Phoenix and Seattle can free-wheel in the post-season.
"First of all, you have to have the personnel to do that," Kidd said. "But even if you do, when the playoffs start, everything slows down."
There will be plenty of time, with some three months to go before the NBA tournament starts, to address that debate and assess the playoff chances of the up-tempo teams. In the interim, here are three more not-so-obvious sparks that have resuscitated the fast break.
1. THE NEED FOR SPEED
The Suns weren't trying to establish a template for teams to follow when they committed $60 million guaranteed to Steve Nash in their bid to pry the 30-year-old away from his Dallas comfort zone.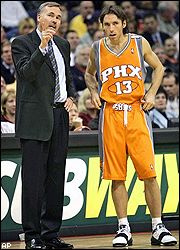 The partnership of Phoenix coach Mike D'Antoni and point guard Steve Nash has put a charge in the league.
It's just the opposite.
"I was actually hoping most people wouldn't want to run as much as they are," Suns coach Mike D'Antoni said with a laugh. "Because then I think we'd have a better chance [to win]."
Fact is, though, that speed and athleticism have never been more in demand in NBA front offices, and it's not because of the Phoenix approach. The greater factors of influence are the worldwide shortage of go-to post players and the legalization of zone defenses in the American pro game.
This is the NBA's third season of zoning. It's not the all-out zoning allowed internationally -- Stern has shown no interest in abolishing the three-second defense rule in the key -- but it has changed the way personnel experts everywhere evaluate talent.
"With no illegal defense, there are more ways to cover up a lack of size," Van Gundy said. "There's no way to cover up the lack of speed."
The way clubs are drafting and trading these days backs up the theory.
When new Nets owner Bruce Ratner realized the mistake he made by letting Kenyon Martin go to Denver in free agency, Ratner listened to his basketball people when they told him that, with no quality power forwards available to replace Martin, gambling on the expensive acquisition of Vince Carter was a worthy investment. Nets president Rod Thorn and his top aide Ed Stefanski, reasoned that the only way to counter size -- and get Nets fans excited again -- was to focus on speed. New Jersey will eventually need some dependable size to reclaim its status among the East's elite, but a trio of Kidd, Carter and Richard Jefferson certainly piques curiosity and gives the Nets potential to model themselves after Phoenix and Seattle.
Van Gundy's Rockets have also made changes in hopes of catching up with the league's pacesetters. Jim Jackson and Bostjan Nachbar were jettisoned to bring in better shooters, if not speedsters. Just having David Wesley and Jon Barry on the floor -- guys who have to be respected on the perimeter -- has opened up the court for Van Gundy's best athlete, Tracy McGrady.
"Whenever you make [personnel] decisions, you make it based on you and on your competition," Van Gundy said. "All we had were [small forwards]. We had no [shooting guards], and quickness at the two is a whole different level than at the three. It's the same reason why we have some trouble at the point -- Bob Sura is a two playing the one, and that's a harder coverage.
"So we just had to get quicker. And we have to continue to try to get quicker, because if Yao is a focal point of this team, his lack of quickness has to be offset by quickness around him."
The best team in Texas also has a growing quickness fetish, because it's seeing immediate benefits. Longtime observers of the San Antonio Spurs will tell you that this is the most athletic team since moving to the NBA. Combine that with the Spurs' staples -- withering defense and copious doses of Tim Duncan -- and it's little wonder San Antonio is the consensus favorite to win the championship as the season approaches its midpoint.
"I happen to think San Antonio is way in front of everyone else," Moe said. "They are so good. They do everything well -- they run, play half-court, they're good defensively. They've got it all."
So how can a young team like Moe's Nuggets close the gap?
"Kiki understands in Denver that you have an advantage if you run," Moe said. "Whether it's perceived or real.
"I'm not sure which it is. I knew it was perceived [because of the high altitude in Denver], but I was never sure how real it was. Teams used to come to Denver and [the altitude] was an excuse for them to take the night off, so you had an advantage. I think that's what Kiki would like to get it back to. We'd like to run and establish a home-court [edge]."
The acquisition of Martin clarified those intentions. What the Nuggets really need now is the push-it floor leader you see on all of this season's top teams, be it a point guard or a swingman supreme in the T-Mac/LeBron James mold.
"It's just good for basketball," Sonics general manager Rick Sund said of the quickened pace leaguewide and the movement to eradicate clutching and grabbing on the perimeter.
"You've got to play defense with your feet -- that's the way it was in the '70s and 80s. What we were seeing [in the late 1990s] turned fans off, and I don't think players want to play that way, either. Are we one of the beneficiaries in Seattle? Sure. But it's good for the whole game."
2. THE REAL REVOLUTION
Kind as Magic is to compare the current Suns to a group of Showtime Lakers that couldn't make room for the likes of Bob McAdoo, Michael Cooper or Mychal Thompson in their starting lineup over the years, it's difficult to draw parallels between teams then and now. Because of expansion, the virtual extinction of back-to-basket post men and the steady depletion of NBA-ready talent in the draft every June, it's such a different league today.
That said ...
In lieu of deep rosters and traditional centers, this century has introduced a new kind of big man -- power forwards with length and skill and versatility. The modern four can run, shoot, rebound, pass and bang inside when he needs to. The teams blessed with those power forwards, not coincidentally, are the teams hurting opponents most with their running game.
Dirk Nowitzki. Andrei Kirilenko. Lamar Odom. Vladimir Radmanovic. Shawn Marion and Amare Stoudemire on the same team. Dwight Howard in the future.
Those are some of the multitalented four-runners who have helped [and will continue to] trigger the fast break's renaissance.
"I think Nellie [Mavericks coach Don Nelson] was the forerunner on a lot of this," Van Gundy said, "but I think the whole key is how you play at the four spot. If you're quick at the four, and you can still rebound, you have the advantage at both ends.
"It's not Small Ball. See, everyone talks about Small Ball, but Phoenix doesn't play Small Ball. They play quick, but they don't downsize because Marion still rebounds."
D'Antoni concurs. He has always been a coach who wants to run, after his years as a player and his coaching success on the break in Italy, so he must be heeded when he says that Stoudemire and Marion are just as key to the Suns' run success as Nash, the fast-rising MVP candidate.
"For a lot of teams, the four man has become a speed guy," D'Antoni said. "And that's helped tremendously."
Said Dallas president of basketball operations Donnie Nelson, who orchestrated Nowitzki's arrival from Germany via the 1998 draft: "Multiposition players have always been a valued commodity. But the package of length and skill is more valued than ever. What we're all looking for now is basketball players, not guys who play one position.
"The real revolution is at the four spot. It's such a wide-open position -- this is the position that creative coaches are having fun with. On any given night you can see long two-guards to power-fours manning that spot.
"Non-shooting fours are becoming dinosaurs. You can't really have any more than one non-shooter on the court at a time and not expect it to have an impact. Versatility at that position isn't a luxury as it was in the past. It's a necessity."
3. THE RETURN OF THE QUARTERBACK
There is nothing in basketball I like better than a good pass, which usually leads to the all other good stuff -- the best dunks, the best layups, the best everything.
So when readers or friends ask what worries me most about the modern game, I always bring up passing. The dearth of natural passers. The seemingly lost art of looking for your teammates instead of your shot. The (ugh) shoot-first point guard.
Nothing pains me more than seeing game after game after NBA game without even one flashy pass to savor. It has happened too often in recent seasons and has bothered me even more than the alarming and unforgivable shortage of dead-eye shooters in this country, as Team USA confirmed last summer when it failed to field one zone-buster on an Olympic roster of 12.
But maybe it's changing.
The passing, that is.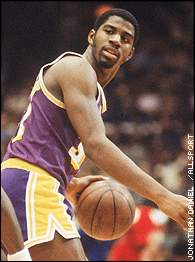 Magic Johnson was always looking to get the ball to a scorer.
If you listen to Magic Johnson, it's definitely changing. A few minutes on the phone with the Magic Man, while he's at work in his role as a TNT studio analyst, can make even the biggest point pessimists feel optimistic about the future of the position.
"Point guards are back into the game," Magic insists. "You're seeing guard play back to being guard play.
"This season [passing is] a lot better. Now, Jason Kidd is not sitting there by himself [as a floor leader]. The game is just a lot more enjoyable to watch."
Nash and Kidd are the obvious standouts, but Magic quickly names a few more of his favorites: Chicago's Kirk Hinrich, Seattle's Luke Ridnour and Indiana's Jamaal Tinsley as pass-first points, and Miami's Dwyane Wade as an obvious scoring-or-setup threat.
Magic also contends that the playmaking from a few big-name swingmen -- namely LeBron James, Tracy McGrady and a healthy-again Grant Hill -- has helped trigger the increases in scoring.
"The best thing that's ever happened to Steve Francis was Grant," Magic said. "With Grant and LeBron and Tracy, now we have some point forwards like we used to have when Dr. J brought [the ball] down, when Larry Bird brought it down, when Scottie Pippen could get it off the glass and bring it down."
He'll argue, furthermore, that more good point guards are coming. He speaks excitedly about four or five draftable point prospects in the ACC, headlined by Wake Forest's Chris Paul and North Carolina's Raymond Felton. He gets even more excited talking about lanky Clippers rookie Shaun Livingston, revealing that Mike Dunleavy -- who coached Magic with the Lakers -- has asked Magic to meet with Livingston for some one-on-one tutoring once the 19-year-old returns from a knee injury later this month.
"We went through some years there where guards were [only] scoring point guards," Magic said. "And to me that's what hurt basketball. That's when the scoring dropped, because other guys were not getting involved in the game."
Now?
You have Nash threatening to average 11 assists per game in Phoenix -- that's the Magic-John Stockton stratosphere.
You have a handful of teams scoring so freely that, for the first time since 1971-72, there's a chance two teams (San Antonio and Phoenix) will post a per-game point margin of 10 or more.
You have, in a word, hope.
Real hope that the next game you watch won't be in the '70s, '80s or even the '90s.
"The biggest thing is, our fans really love our style," D'Antoni said. "We hear it all the time, and in the end that's what we're here for. We're all in it to win, obviously, but when you're entertaining people and turning kids onto basketball that's the biggest satisfaction I get."
Said Moe: "How can people even tell [Phoenix or Seattle] that running is not going to work in the playoffs? Shoot, some people didn't even think [those teams] were going to make the playoffs before the season started. So now they get something good going and people have to look for something negative.
"When you say a team that runs doesn't have a chance in the playoffs, you forget that usually there's only two teams that get to the Finals. Back in the old days, teams like Boston and the Lakers, even though they could play half-court [basketball], they ran. It wasn't like they walked it up the court.
"I don't think people in Phoenix are complaining about the way they're playing. I know I'm a fan. They'll have a chance in the playoffs. Teams won't want to play them, that's for sure."
Marc Stein is the senior NBA writer for ESPN.com. To e-mail him, click here. Also, click here to send a question for possible use on ESPNEWS.
ESPN Senior Writer
• Senior NBA writer for ESPN.com
• Began covering the NBA in 1993-94
• Also covered soccer, tennis and the Olympics