Commentary
Hailing Van Gundy's job in the Heat seat
In a year of great coaching jobs, Stan Van Gundy's stands above them all because he accomplished what even Phil Jackson could not.
Updated:
March 30, 2005, 11:56 AM ET
By
Bill Walton
| ESPN Insider
After the upheaval, turmoil, beheadings and dismissals of far too many head coaches in the NBA this season, it would be hard to come to the conclusion that being a coach is a desirable or viable employment opportunity. While some of the deposed leaders certainly deserved their fate, a far greater number simply have been victims of times that are changing. Coaching is teaching – making students better at what they do – and where else can you find such splendid company? But like anything else, some are far better at it than others.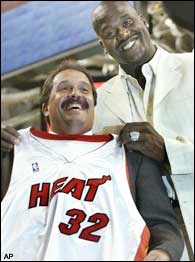 The Heat might get a championship thanks to Van Gundy's excellent coaching and Shaq's strong play.
Many NBA coaches have done exemplary jobs this season, including but not limited to: the
Seattle SuperSonics
' Nate McMillan, who has shattered the theory that the revolving coaching door and long-term contracts are the paths to the Promised Land; the
Chicago Bulls
' Scott Skiles, whose tough-love approach with the Baby Bulls has paid off not only with an exciting present but with an even brighter future; the
Boston Celtics
' Doc Rivers, who has demanded more of
Paul Pierce
while getting
Antoine Walker
to play the best team basketball of his career. The
Washington Wizards
' Eddie Jordan has created a positive work environment that encourages freedom, creativity and work ethic.
Memphis Grizzlies
' Mike Fratello has finally got another chance to display his overall brilliance.
And then there have been the jobs performed by the Phoenix Suns' Mike D'Antoni and San Antonio Spurs' Gregg Popovich. D'Antoni has reinvigorated a dormant franchise overnight with daring insight and the most aesthetic style in the league, while Popovich has built the most successful franchise model of the NBA's modern era.
At the end of the day, people who have the privilege of learning under these master teachers can all say they are better off because of the experience and opportunity.
The best of the best coaching jobs this season has been delivered by the Miami Heat's Stan Van Gundy. He has made the recently moribund Heat the NBA's title favorites in less than two seasons. The Heat's level of professionalism, team play, physical fitness and skill development are all directly attributable to coach Van Gundy. While most of the Heat's players have made remarkable progress on many fronts, no one player has come further this year than Shaquille O'Neal. Van Gundy has been able to do what even the legend, Phil Jackson, could not accomplish the last couple of years: get the big man in shape and playing to his capabilities on a consistent basis.
To continue reading this article you must be an Insider
Insider
NBA analyst
ESPN.com NBA Insider and Basketball Hall of Famer Bill Walton will again serve as a game analyst for ESPN's NBA telecasts. He joined ESPN and ABC Sports' in their inaugural season of NBA coverage in 2002.