Commentary
Seattle's best needed on defense
Before the Sonics can start thinking playoffs, they must stop teams on defense for a change.
Updated:
October 6, 2003, 1:02 AM ET
By
Chad Ford
| ESPN.com
Editor's note: Here's a glimpse of the good -- and the bad -- that could happen to the 2003-04 Seattle SuperSonics.
Best Case Scenario
Three things need to happen for the Sonics to win 44 games and slip into a seventh or eighth seed in the Western Conference this year.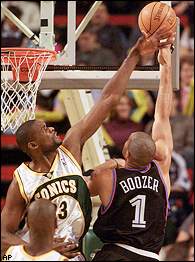 Jerome James, left, has a clean slate with Sonics head coach Nate McMillan.
1.
This team has to learn how to defend.
Hopefully, some of Nate McMillian's defensive intensity from his playing days runs off on his cast of Seattle matadors. While the team boasts tons of offensive firepower, the Sonics are hardpressed to find a defensive stopper on this team. Free-agent pickup
Antonio Daniels
will help. Look for him to be the first guy off the bench for the Sonics this year. His ability to play both backcourt positions will give McMillan the flexibility he needs to lock down backcourt stars. Moving
Vladimir Radmanovic
exclusively to the four will also help. Radmanovic did a decent job stopping some of the bigger fours in the West last season. The small forwards are the ones who really lit him up.
To continue reading this article you must be an Insider
Insider