Commentary
Wanted: Chairman of the boards
If the Grizzlies want to compete with the big boys, they'll have to crash the boards like them.
Originally Published:
October 7, 2003
By
Chad Ford
| ESPN.com
Editor's note: Here's a glimpse of the good -- and the bad -- that could happen to the 2003-04 Memphis Grizzlies.
Best Case Scenario
Three things need to happen for the Grizzlies to win 42 games and slip into an eighth seed in the Western Conference this season.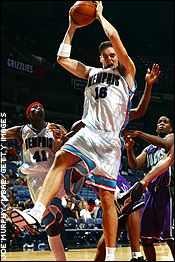 Pau Gasol needs a little help from his friends on the boards.
1.
Someone has to rebound.
The Grizzlies ranked 28th in the league in defensive rebounding last season. With five bigs on their roster, there's no excuse for poor rebounding this season.
Lorenzen Wright
,
Pau Gasol
and
Stromile Swift
all have the potential to be solid on the boards.
Bo Outlaw
is the type of scrappy player that will also help in the paint and
James Posey
is a capable rebounder for a swingman. The Grizzlies can score all they want, but if they don't protect the glass, Hubie Brown's defensive philosophy of holding teams to one shot just won't fly.
To continue reading this article you must be an Insider
Insider