Commentary
Hornets need healthy dose of Jamal, Baron
A healthy dose of Jamal Mashburn and Baron Davis would do wonders for the Hornets' East title hopes.
Updated:
October 21, 2003, 10:47 AM ET
By
Chad Ford
| ESPN.com
Editor's note: Here's a glimpse of the good -- and the bad -- that could happen to the 2003-04 New Orleans Hornets.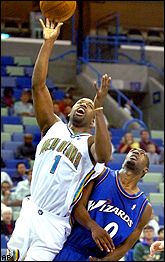 Baron Davis averaged a team-best 18.6 points in his first five preseason games.
Best Case Scenario
Three things need to happen for the Hornets to compete for the top seed in the East this season.
1.
Jamal Mashburn and Baron Davis stay healthy.
It was nice to see
Mashburn
play a full 82 games last season. Can
Davis
, who played just 50, do the same? The Hornets seem to get snake bit every year by a major injury. Right now, Davis claims he's as healthy as he's ever been and he looks very sharp in the preseason. Mashburn, on the other hand, has yet to play in the preseason due to a sprained knee. If just those two had stayed healthy last season, the Hornets would've easily won 52 games. If they stay injury-free this year, there's no reason the Hornets couldn't compete with the Nets and Pistons for the top seed in the East.
To continue reading this article you must be an Insider
Insider