Commentary
Trade review? Win-win-win
Yes, Cuttino Mobley is with his third team in less than a year. Let's evaluate the trades made by those three teams.
Updated:
January 21, 2005, 1:15 AM ET
By
George Karl
| ESPN Insider
Editor's Note – The Kings and Magic completed a trade on Jan. 10 that sent guard Cuttino Mobley and reserve Michael Bradley to Sacramento in exchange for guard Doug Christie.
Last June, the Magic and Rockets engaged in a seven-player deal that featured Tracy McGrady (to Houston) and Steve Francis and Mobley (to Orlando). ESPN Insider George Karl, a former NBA head coach, analyzes those blockbuster trades that have the Magic as their nexus.
I'll play coach for these three franchises.
First, let's consider the Kings (27-11), who have been close to the top of the Western Conference for half a dozen years. Management realizes the team is getting older, and most observers are saying they don't have enough to stay at that level.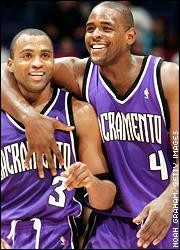 GettyIn less than a year, Cuttino Mobley (3) has moved from Houston to Orlando to Sacramento ... and he's found a new friend in Chris Webber.
The
Cuttino Mobley
trade gives them a young guy who's a better player than
Doug Christie
. A defensive role player, the 34-year-old Christie is approaching the end of his career. And the truth is that Mobley, 29, might be as good as Christie defensively (or better).
I saw Mobley in the playoffs last year against the Lakers, and he defended Kobe Bryant about as well as you can defend him.
The Kings want to stay at the top of the mountain and maintain their role as a contender. The Mobley trade means they have a better and younger player than Christie. Mobley will be a free agent at the end of the season, so the Kings should have more than 40 games to observe him and make a decision about whether they want him long-term.
To continue reading this article you must be an Insider
Insider