Commentary
Supporting cast key for Cavs
Originally Published:
February 23, 2005
By
Brian James
| ESPN Insider
As we start the post All-Star portion of the schedule, players and coaches are starting to check out the standings more and more – to evaluate playoff chances and seedings. The
Cavaliers
are no different.
If you read the Cleveland papers, you see that the Cavs have set a goal to make the playoffs and gain home-court advantage in the first round. The team's 30 wins before the break was the first time they won that many since 1992-93. Cleveland, which lost 106-82 at Indiana on Friday night, has 16 home games and 13 on the road remaining. The Cavs are 10-17 on the road, while their 21-5 home record is the East's second best.
But questions remain. Are they a serious contender to win the East? If they aren't contenders, what's missing? Is the supporting cast good enough to get them through the tough times? Obviously, LeBron James' second season is well documented. He has improved so dramatically from his exceptional rookie year that many feel he is now the best 20-year-old to ever play the game – especially with his size, strength and quickness. Before Friday's game at Indiana (in which he had 21 points, 7 rebounds and 5 assists and 2 steals in 41 minutes), James is in the top seven in the NBA in scoring (25.4), assists (7.7), steals (2.3), and minutes played (41.4). He also is getting 7.1 rebounds per game. In every statistical category, LeBron has improved over last season.
He creates many problems for opposing coaches, who must decide how best to defend him after he catches the ball in isolation. His teammates get to certain spots on the floor, preparing for the kick-out after James penetrates. In one recent game I witnessed, LeBron got 10 isolation opportunities: six on the right wing, two on the left wing and two on top of the floor.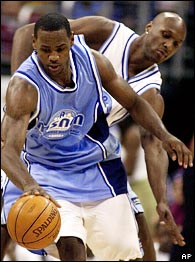 AP PhotoLeBron James, left, is the Cavs' best option at many positions.
Opponents have to get into LeBron's body defensively to prevent an easy catch and shoot, while another defender must go to the elbow of the free throw line with a big man positioning himself on the strong-side block. This discourages the dribble-drive penetration.
Drew Gooden
has had many big nights just being active, cutting into the lane from the weak side, and moving while the defense waits for LeBron's individual moves – his fade-away jump shots on post-ups remind me of a player I used to coach named Jordan.
To continue reading this article you must be an Insider
Insider