Gilbert Arenas is back in the news and likely bound for a suspension from the NBA after the Wizards confirmed on Christmas Eve that their star guard is being investigated for storing multiple guns in his locker in violation of league rules pertaining to gun possession.
The Wizards, though, don't appear to be treating this as any sort of last straw. And trading Arenas would be incredibly difficult for the Wiz even if the $111 million man was having a spotless season because of the four years remaining on his mammoth contract and his history of knee troubles. It's a misnomer, according to one source close to the situation, to say that Washington has been shopping Arenas beyond some exploratory talks with Houston about an Arenas-for-Tracy McGrady swap that would naturally appeal to the Wiz because of McGrady's huge expiring contract but was never going to tempt the Rockets.
The two Wizards who continue to draw the most interest from rival teams are forwards Caron Butler (who will have an array of Western Conference suitors when Washington decides that it's finally ready to break up its core) and Antawn Jamison (who is fiercely loyal but quite frustrated, as I hear it, by the ongoing disarray with the Wiz).
Jamison has been on the Cavaliers' radar for some time, as the ever-reliable Brian Windhorst of the Cleveland Plain-Dealer reminded us in his column last weekend, but it's believed that Cleveland would only do a Zydrunas Ilgauskas-for-Jamison deal if it knew that the Wizards were prepared to release Ilgauskas after consummating the trade. Big Z could then re-sign with the Cavs after a 30-day wait, as seen last season, when Antonio McDyess was dealt from Detroit to Denver in the Allen Iverson deal and later rejoined the Pistons.
Yet I'm told that the Wizards (A) would insist on at least one more asset because they are not prepared to part with Butler or Jamison merely for cap relief and (B) would do everything they could to avoid sending Jamison to Cleveland because of the tension that has built up in recent years between those teams.
---
Some numbers of note in the East this week:
26: LeBron James recorded his 26th career triple-double Wednesday night in Sacramento with 34 points, 16 rebounds and 10 assists. Fifteen of those triple-doubles came on the road and Cleveland is 21-5 in those games. Of the 12 other players in NBA history with at least 25 triple-doubles, Larry Bird (24 at home, 35 away) is the only other player with more on the road than at home.
636: Zydrunas Ilgauskas made only one 3-pointer in 636 minutes before Wednesday … and then sank three triples in five overtime minutes as the Cavs became just the ninth team in league history to hold the opposition scoreless in OT.
21: With 21 rebounds each on Monday night, Chicago's Joakim Noah and New York's David Lee became the first opposing centers with more than 20 rebounds in the same game since Feb. 28, 2000, when Atlanta's Dikembe Mutombo had 22 boards and Golden State's Donyell Marshall had 21. The last time two starting centers had at least 21 rebounds in a non-overtime game was Nov. 17, 1978, when New Orleans' Rich Kelley had 25 and the Lakers' Kareem Abdul-Jabbar had 23.
1: In a 109-97 win Wednesday at Milwaukee, Washington somehow managed only one offensive rebound. That's the Wizards' single-game low since the NBA began keeping track of offensive boards in 1973.
25: Friday was the 25th anniversary of my beloved Bernard King's 60-point game for the Knicks in a 120-114 loss to the Nets on Dec. 25, 1984.
6.

Last (Big) Man Standing?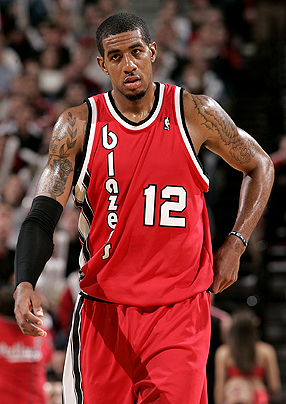 (Photo by Sam Forencich/NBAE via Getty)
With another teammate hitting the ground, Blazers big man LaMarcus Aldridge sometimes can't believe what he's seeing. (See Box 8.)

Paul
The chat with Chris Paul wasn't long, because catching him after an L is the wrong time for any sort of in-depth discussion with one of the game's self-confessed worst losers.
But he did field a few questions about the future, dismissing the rumblings that he'll be pushing for a trade sooner rather than later in the wake of good friend Tyson Chandler's trade to Charlotte, New Orleans' salary-shedding summer giveaway of Rasual Butler in a trade with the Los Angeles Clippers and the recent firing of coach and mentor Byron Scott without a heads-up from management.
"I'm good," Paul said. "I love the city. I love New Orleans."
Asked specifically about the summer of 2012, when he can opt out of the final year of his new four-year, $62.6 million contract extension to have the right to pick a new team in free agency like his Team USA pal LeBron will have this summer, Paul said: "That's so far away, man. 2012? I'm worried about that movie that came out [called] '2012.'"
Sources with knowledge of the Hornets' thinking maintain that the club won't even consider trade inquiries for Paul, even though New Orleans remains $3.3 million over the luxury-tax threshold and despite the fact that big spenders in the league such as the Dallas Mavericks are believed to be eager to offer the Hornets major payroll relief by volunteering to take on an unsavory contract -- such as Peja Stojakovic's deal and/or Emeka Okafor's -- for the privilege of pilfering Paul.
The reality, though, is that teams are bound to keep trying to pry Paul away from the Hornets, no matter how determined they are to keep the backcourt dynamo. It's the ultimate quandary. The Hornets don't appear to have the financial flexibility or the trade assets to significantly upgrade Paul's supporting cast, but trading him is the last thing that they want to do, not only because of his status as one of the league's revolutionary point guards but also given his popularity in town. Paul almost exclusively made the Hornets viable business-wise after Hurricane Katrina and continues to be the club's No. 1 connection to the city.

Aldridge
"Have YOU ever seen anything like this?"
Portland's LaMarcus Aldridge, answering a question with a question after the Trail Blazers suffered their fifth major injury of the season Tuesday night, when center Joel Przybilla was lost for the season with a ruptured patella tendon in his right knee.
The Blazers had previously lost Greg Oden to a season-ending knee and won't have Travis Outlaw (foot) or Nicolas Batum (shoulder) back before March.
Rudy Fernandez (back) will try to come back in January, but you can understand why Blazers coach Nate McMillan -- who happens to be hobbling around on crutches these days thanks to his own Achilles tear -- says it's "nerve-wracking to take the floor whether it's a practice or a game."

Bryant
Elias Sports Bureau and ESPN Stats & Information don't get holidays off. Instead they spent Friday, with one-third of the league's 30 teams at work, gathering every morsel of historical data about the NBA on Christmas Day that they could find … which comes to you now with an assist from Alok Pattani even if we're forced to admit that the five choppy games served up on this Christmas were often painful viewing:
MOST CAREER POINTS
| Player | Pts |
| --- | --- |
| Oscar Robertson | 377 |
| Kobe Bryant | 304 |
| Shaquille O'Neal | 270 |
| Dolph Schayes | 239 |
MOST CAREER REBOUNDS
| Player | Rebs |
| --- | --- |
| Bill Russell | 176 |
| Wes Unseld | 163 |
| Shaquille O'Neal | 154 |
| Wilt Chamberlain | 152 |
| Dolph Schayes | 144 |
HIGHEST CAREER PPG, MIN. FIVE GAMES
| Player | PPG |
| --- | --- |
| Jerry West | 32.2 |
| Wilt Chamberlain | 31.7 |
| Oscar Robertson | 31.4 |
| Michael Jordan | 28.3 |
| Billy Cunningham | 28.0 |
| Bernard King | 28.0 |
| Dwyane Wade | 27.8 |
MOST GAMES COACHED
| Coach | Tot. | Rec. |
| --- | --- | --- |
| Phil Jackson | 17 | 11-6 |
| Red Auerbach | 15 | 9-6 |
| Red Holzman | 15 | 8-7 |
| Jack Ramsay | 14 | 11-3 |
| Gene Shue | 13 | 9-4 |
MOST CAREER COACHING WINS
| Coach | W-L | Pct |
| --- | --- | --- |
| Jack Ramsay | 11-3 | .786 |
| Phil Jackson | 11-6 | .647 |
| Gene Shue | 9-4 | .692 |
| Red Auerbach | 9-6 | .600 |
| Red Holzman | 8-7 | .533 |
MOST GAMES PLAYED, ACTIVE NBA PLAYERS
| Player | GP |
| --- | --- |
| Kobe Bryant | 12 |
| Shaquille O'Neal | 12 |
| Derek Fisher | 8 |
BEST RECORD, ACTIVE PLAYERS
| Player | W-L | Pct |
| --- | --- | --- |
| Rasheed Wallace | 4-0 | 1.000 |
| Anderson Varejao | 3-0 | 1.000 |
| Udonis Haslem | 4-1 | .800 |
| Dwyane Wade | 4-1 | .800 |
| Zydrunas Ilgauskas | 3-1 | .750 |
| LeBron James | 3-1 | .750 |
| Min. three games played | | |
BEST RECORD, ALL NBA PLAYERS
| Player | W-L | Pct |
| --- | --- | --- |
| Mike Riordan | 8-0 | 1.000 |
| Scottie Pippen | 7-0 | 1.000 |
| Bob Davies | 7-0 | 1.000 |
| Oldie Spears | 6-0 | 1.000 |
| Phil Chenier | 6-0 | 1.000 |
| Neal Walk | 6-0 | 1.000 |
| Jim Parson | 6-0 | 1.000 |
| Min. 6 games played | | |
BEST W-L ON CHRISTMAS, ACTIVE FRANCHISES
| Team | W-L | Pct |
| --- | --- | --- |
| Dallas Mavericks | 2-0 | 1.000 |
| Portland Trail Blazers | 14-2 | .875 |
| Washington Wizards | 14-7 | .667 |
| Phoenix Suns | 12-6 | .667 |
| Miami Heat | 4-2 | .667 |
| Utah Jazz | 4-2 | .667 |
| Chicago Bulls | 9-5 | .643 |
| Sacramento Kings | 18-11 | .621 |
| Cleveland Cavaliers | 6-4 | .600 |
| Orlando Magic | 4-3 | .571 |
| New Jersey Nets | 4-3 | .571 |
| San Antonio Spurs | 4-3 | .571 |
| Los Angeles Lakers | 20-16 | .556 |
| Philadelphia 76ers | 16 13 | .551 |
| Indiana Pacers | 2-2 | .500 |
| Milwaukee Bucks | 2-2 | .500 |
| Atlanta Hawks | 9-11 | .450 |
| New York Knicks | 20-25 | .444 |
| Boston Celtics | 11-15 | .423 |
| Golden State Warriors | 8-12 | .400 |
| Houston Rockets | 2-4 | .333 |
| Denver Nuggets | 1-2 | .333 |
| Detroit Pistons | 10-22 | .313 |
| Los Angeles Clippers | 2-7 | .222 |
| New Orleans Hornets | 0-1 | .000 |
| Toronto Raptors | 0-1 | .000 |
| Oklahoma City Thunder | 0-11 | .000 |