By Maurice Brooks
ESPN.com
TUESDAY'S BEST

Brown

Shannon Brown, Lakers: Kobe Bryant missed his fourth straight game with an ankle injury, but the Lakers were still able to pull out a 10-point win against the Warriors thanks to Brown, who scored a career-high 27 points and pulled down 10 rebounds for his first career double-double.

TUESDAY'S WORST

Davis

Baron Davis, Clippers: Five turnovers, just two assists and eight misses on 11 attempts from the floor. It was a night to forget for Davis in the Clippers' 22-point loss to the Blazers.

QUOTE OF THE NIGHT

"A classic, classic butt-kicking. No doubt about it. Mostly, I wanted our guys to keep competing and keep encouraging each other during the times we were down. It was hard to do that."

-- Sixers coach Eddie Jordan after Philadelphia was routed 105-78 by visiting Miami
6.

Welcome Back, B-Roy ... Sort Of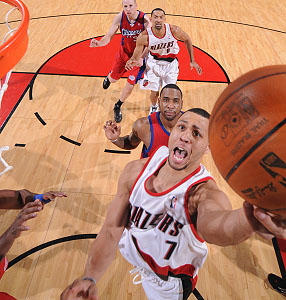 (Sam Forencich /NBAE via Getty)
Brandon Roy scored four points in his first action in 15 games (pulled right hamstring), but he was forced to shut it down at halftime after tweaking the injury. The Trail Blazers defeated the Clippers 109-87.
8.

Nets Get It Done On Road
The Nets never trailed in their 103-94 win against the Bobcats in Charlotte. It was New Jersey's first road win in almost three years in which it never played from behind. That had last happened on March 13, 2007, in a 112-108 victory over the Hornets in Oklahoma City.
• Steve Nash had 16 assists in Phoenix's win at Memphis. Nash has reached double-figure assists in each of his last seven games, tying the longest streak in the NBA this season. Chris Paul had two separate streaks of seven games with 10 or more assists earlier this season.
9.

Rose Looks Healthy Against N.Y.
By Nick Friedell
ESPNChicago.com

Rose
The Bulls' 118-85 throttling of the Knicks on Tuesday night only reinforced two things we already knew.
The Knicks are really bad.
And Derrick Rose is really, really good.
The All-Star point guard shook off the soreness from his bruised hip and scored 29 points in just 30 minutes of play. A great sign on two fronts for the Bulls, considering he completely dominated play when he was on the floor -- and he sat out the entire fourth quarter because the game was out of hand.
"They just overwhelmed us physically," Knicks coach Mike D'Antoni said. "To every ball, to every rebound, to every shot. Every fast break. They clobbered us."
D'Antoni's comments were spot-on. His team definitely was not.
That's because Rose broke their will. He was 14-for-18 from the floor and dished out six assists in the process.
"I'm sore a little bit," the 21-year-old guard conceded after the game. "But I just had to play through it and make sure we were all right."
To read the entire blog entry, click here.