Joe Murphy/Getty Images
Q & A: The Pau Gasol Trade

There are still 20 days left in the NBA's trading season, but you can feel pretty safe saying on the first day of February that we've already seen our big deadline winner.
No one is going to top the Los Angeles Lakers' grand theft Friday of Pau Gasol from Memphis. That's right: Not even if the Dallas Mavericks do wind up scoring Jason Kidd between now and the Feb. 21 trade buzzer. Without coming close to parting with anyone from its long-term core, L.A. has suddenly flanked Kobe Bryant, at 29, with two blue-chip, younger 7-footers: Gasol at 27 and 20-year-old darling Andrew Bynum.
How could this happen? What happens next? Your questions are answered from here:
Will this make Kobe happy?
If this doesn't make him happy to stay a Laker, folks, nothing will.
Neither Kobe nor anyone else can claim that Lakers GM Mitch Kupchak -- who just flung himself into Danny Ainge's range in the NBA Executive of the Year race -- isn't doing everything he can to get the Lakers back to title contention. There simply aren't many teams out there making moves like this one, taking on a third big salary (to go with Kobe and Lamar Odom) when they know they'll have to spend some bucks to lock up Bynum in the near future and also have a coach who happens to be making $10 million annually.
So credit the Lakers for being willing to add to their next few luxury-tax bills to seize yet another purple-and-golden opportunity, as history says they always do during their rare and brief downturns. It happened in 1975 when they found a way to trade for Kareem Abdur-Jabbar. It happened some two decades later when they maneuvered to score Shaq and Kobe within a matter of weeks in the summer of 1996. Other teams always rescue them.
This time? The Grizzlies are in full salary-dumping mode and the Lakers were more ready than anyone else to pounce, using Kwame Brown's $9.1 million expiring contract as the trigger to undo their real misstep after losing to Detroit in the 2004 NBA Finals. Not the Shaq trade itself, remember, but trading Caron Butler for Kwame after getting Butler and Lamar Odom from Miami for O'Neal.
This move, by contrast, is fantastic for them short-term and long-term, even if they still must prove that Odom has a future with the Lakers as an expensive fourth wheel and even though Bryant can still opt out of his contract and become a free agent after next season if he chooses. But why would he flirt with leaving now? Gasol should prevent L.A. from losing any more momentum in the West while Bynum recuperates and sets Kobe up with a front line teeming with length and versatility when he, Bynum and Odom are all available.
And if it turns out those three can't play together or keeping all three is too expensive? They can shop both Gasol and Odom in the offseason and decide which one to keep, depending on what sort of deals come in, conceivably doubling their chances of finding another good deal.
Did the Lakers get Gasol to keep him ... or perhaps trade him for, say, Kidd?
Keeper all the way. The Lakers are eligible to move Gasol before the Feb. 21 trading deadline as long as they don't package him with another player. But NBA front-office sources insist that they got Gasol for this season and beyond, irrespective of Bryant's well-chronicled interest in seeing his team trade for Kidd at the '07 deadline.
Bynum's breakout season has been interrupted by a knee injury that is expected to keep him sidelined beyond the trading deadline. The Lakers thus need Gasol way more than Kidd at the moment, especially when Derek Fisher and Jordan Farmar have L.A. covered at the point just fine. Gasol's arrival should actually enable the Lakers to be even more cautious with Bynum's recovery and hold him out into April if necessary.
As for Odom? I suppose it's not inconceivable that Odom could be offered up in a Kidd trade scenario. But team sources say that's unlikely before the deadline after a move this big. It's more likely that the Lakers will focus on integrating Gasol ... assuming they eventually take a break from celebrating the fact that they were finally able to complete a blockbuster trade (after the failed attempts to acquire Kevin Garnett, Jermaine O'Neal, et al.) without parting with any of their top 10 (yes, TEN) players.
How does Pau fit alongside Kobe?
Except for the part where he has to leave behind best friend Juan Carlos Navarro in Memphis -- Navarro's future with the Grizz is one of the many interesting sidebars here after all the money Navarro surrendered in Spain to come play with Gasol -- Pau should be thrilled to be Kobe's No. 2. Or co-No. 2 once Bynum is healed.
Although Memphis' motivations were mostly financial, obviously, doubts about Gasol's ability to carry a team removed any lingering reluctance that the cash-strapped Grizz might have felt in surrendering the face of their franchise for salary cap-flexibility and two future first-round picks. Gasol has never even won a playoff game, don't forget.
In Hollywood, however, Gasol won't have to bang so much, especially when Bynum gets back. He really won't have to lead, either. He doesn't have to sell tickets or carry anyone. He just has to focus on his specialties and produce.
"He's skilled, he can pass and he'd rather face up and play off the elbows than grind it out down low," one Western Conference executive said of Gasol. "He'll be better in the triangle offense than he was in Memphis."
What does this do to the rest of the West?
The Lakers already had teams nervous before Bynum's injury with their speed, length and depth. They had West rivals more nervous than the other surprise teams like New Orleans and Portland, which have no collective playoff experience.
The reaction was thus widespread shock (and disgust) when word began to circulate that the Lakers, without warning, were able to add Gasol for seemingly nothing. "There's not a lot of happy campers out here," said one West exec, echoing the sort of surprise I heard from pretty much every team I spoke to Friday night.
Yet he was mostly referring to the teams from the same tier of newer challengers like the Lakers, such as the Hornets, Nuggets and Rockets. The established power trio of San Antonio, Phoenix and Dallas -- while just as stunned as the rest of us -- isn't going to change course now in response to something L.A. did, impressive as it was.
San Antonio doesn't have the ability to make a major change without breaking up its Big Three of Tim Duncan, Manu Ginobili and Tony Parker, which naturally won't be happening any time soon. And sources with knowledge of the team's thinking echo the recent proclamations by Suns owner Robert Sarver that Amare Stoudemire and Shawn Marion are going nowhere, regardless of any speculation to the contrary that's been rumbling all season.
Dallas? The Mavericks were discussing Kidd trade scenarios before the Lakers completed their Pau heist and plugged-in sources maintain that they were planning to continue along that path regardless.
Sources insist, furthermore, that the Mavs' concern is not that the Lakers look so formidable on paper now but whether they can find a way to acquire Kidd without decimating their team. Dallas is resigned to the fact that it will have to part with Devin Harris if it wants Kidd. Harder for them to accept is the notion that getting Kidd might also mean parting with Jerry Stackhouse and one or two key big men: Brandon Bass and/or DeSegana Diop.
What in the world is going on in Memphis?
The Grizzlies did get a good young prospect in Crittenton, two future first-rounders from the Lakers as well as the expiring contracts that will create significant salary-cap room this offseason.
However ...
The Grizz are already stocked at Crittenton's position and those picks aren't likely to be lottery picks, given the Lakers' new stature. And does anyone really expect Memphis to (a) spend that money this summer or (b) convince a major free agent like Gilbert Arenas or even Luol Deng to show legit interest in coming to Memphis (as opposed to leverage-creating interest) when its arena is half-empty and the long-term outlook is so uncertain?
Chances are we'll see summertime action from the Grizz only if owner Michael Heisley has sold the team by then ... and then who knows if new owners would even be keeping it in Memphis? In the interim, it's hard not to feel for the new braintrust tandem of coach Marc Iavaroni and general manager Chris Wallace, who you have to believe have been forced to take charge of a fire sale to make it easier for Heisley to sell the club.
Marc Stein is the senior NBA writer for ESPN.com. To e-mail him, click here.
Dimes Past: January 26-27 | 28 | 29 | 30 | 31 | February 1
Interesting that there are currently two teams in the midst of a
nine
-game road trip. Thanks to some excellent digging from our man Michael Jackson of ESPN Research, we discovered that there had only been 12 such trips before this season, dating to the NBA/ABA merger for the 1976-77 season.
Of those 12 trips, only four teams managed to post a winning record. The most recent example is San Antonio in 2003, when the Spurs used an incredible 8-1 surge as the springboard for halting the Los Angeles Lakers' three-peat run in what wound up as the club's second of four championships since 1999.
In the present, San Antonio is 1-2 so far on its nine-gamer after winning in Phoenix without Tony Parker (and Brent Barry) on Thursday night. The Lakers narrowly lost their trip's opener Thursday in Detroit, but they might be banged up worse than the Spurs with Andrew Bynum and Luke Walton and Trevor Ariza out.
No one's feeling sorry for the Lakers now after the Gasol robbery, but I did ask Kobe Bryant recently about a week before anyone had a clue that Pau would be arriving to fill the Bynum void -- whom the Lakers possibly could have upset in the scheduling office to get banished to the road for 15 straight days. Kobe's reply: "It's better to say you have to be gone that long because of the Grammys [taking over Staples Center] than because of a rodeo."
---
When Damon Stoudamire formally signs with San Antonio on Saturday, he will secure a salary of $545,228 for the final 76 days of the regular season, pro-rated from the NBA veteran minimum of $1.2 million.
Stoudamire's salary-cap figure will actually be a mere $344,508 -- because the league pays a portion of the salary on veterans with at least three seasons of service time who sign at the minimum rate -- but that small amount is still enough to potentially cost San Antonio some $2 million at season's end.
The Spurs, at present, are about $275,000 under the luxury-tax line. They need Stoudamire even more now than when they started pursuing him with Parker out indefinitely thanks to a heel injury, but bringing him in will prevent the Spurs from collecting the estimated rebate in the $2 million range afforded to all teams at season's end that stayed under the tax line ... unless San Antonio makes a trade between now and the Feb. 21 trading deadline that takes its payroll back below the line.
---
Some tidbits tied to the Warriors' signing of Chris Webber:
• The Warriors had to get special clearance to let Webber reclaim his old No. 4 jersey. Rookie guard CJ Watson had been wearing No. 4 while playing out two 10-day contracts and the league typically doesn't allow players to switch jersey numbers during a season. But Watson was cleared to hand No. 4 to Webber and move into Jason Richardson's old No. 23 because of the temporary nature of his first two contracts. Like Webber, Watson was technically a free agent again before signing for the rest of the season.
• Webber is one of only three players in history to win NBA Rookie of the Year honors and then never play for his original team again. But I confess that I'm trotting out this factoid mainly because it gives me yet another chance to rail against my beloved Buffalo Braves for one of the many sinful personnel decisions made in the club's final few years of existence, squandering the likes of Bob McAdoo, Moses Malone and Adrian Dantley.
Dantley won 1977's Rookie of the Year award and found himself in Indiana by the start of the next season in a deal for current Hawks general manager Billy Knight ... although Knight's rep as a player, to be fair, was nothing like his rep as a GM. The only other ROY who never played another game for his original team is Ray Felix, who moved from the Baltimore Bullets to New York in 1954. No Rookie of the Year in the NFL, Major League Baseball or the NHL has ever switched teams after one season.
• All the rewinding folks are doing these days to Webber's departure from the Warriors in November 1994 should make teams feel grateful all over again that the NBA and the players' union agreed to implement a rookie salary scale starting with the 1995-96 season. Ever since that monumental change, rookies have been forced to wait four or five seasons before they can even think of forcing a trade like Webber did after his first season.
Before the salary scale, remember, rookies could hold out for h-u-g-e contracts that angered veterans and left the league's less glamorous teams in constant fear that they wouldn't be able to keep the young saviors bestowed upon them by the draft. In the draft after Webber's, for example, Milwaukee had legit fears that Glenn Robinson was going to hold out for $100 million before eventually signing Big Dog for $68 million over 10 seasons.
Webber's original contract from the Warriors was a stunning 15-year deal worth about $75 million ... so stunning that it also contained an opt-out clause after his rookie season. The system was such a mess in those days that teams still had to create salary-cap space to sign their rookies, which forced Golden State to trade away Tyrone Hill first and meant that Webber's rookie salary was a mere $1.6 million that first season, which led to a deal strung out over 15 years and included the opt-out clause to compensate. Even though he was a restricted free agent after opting out, Webber still had enough leverage to force his exit, leading to the trade to Washington for Tom Gugliotta and three first-year picks.
As if Clevelanders aren't edgy enough when someone even dares to suggest that LeBron James might leave his hometown Cavs someday, imagine what it would have been like if LeBron would have held the right to become a free agent after Year 1.
You might be surprised to hear that a nine-game road trip is
not
the longest in the modern game. Three times since the NBA/ABA merger in 1976-77, there have been three trips spanning at least 10 games, with Boston exiled to the road for a whopping 11 straight games in the 1977-78 season.
Here's a look at the longest road trips since the merger, with San Antonio and the Los Angeles Lakers soon to be added to the club after completing their current nine-gamers:
Longest road trips since the NBA/ABA merger in 1976-77
Games
Team
Dates
Record
Winning Percentage
11
Boston
02/07/1978 to 03/01/1978
5-6
.455
10
Seattle
03/05/1977 to 03/22/1977
6-4
.600
10
Boston
12/18/1976 to 01/08/1977
4-6
.400
9
Los Angeles Clippers
02/03/2005 to 02/23/2005
1-8
.111
9
Los Angeles Clippers
01/30/2004 to 02/18/2004
3-6
.333
9
San Antonio*
01/27/2003 to 02/16/2003
8-1
.889
9
Utah
02/04/2002 to 02/26/2002
6-3
.667
9
Boston
02/06/1997 to 02/23/1997
0-9
.000
9
Chicago*
01/24/1993 to 02/10/1993
6-3
.667
9
Atlanta
02/01/1986 to 02/19/1986
4-5
.444
9
Chicago
11/24/1985 to 12/07/1985
2-7
.222
9
Cleveland
02/24/1978 to 03/12/1978
3-6
.333
*Won the championship that season
If
Jason Kidd
gets traded to Dallas -- or any team in the West -- before the All-Star Game, it'll be certifiably historic.
That's because the NBA will have an unprecedented decision to make.
League officials say that a player voted in by the fans as an All-Star starter has never been traded to the other conference before the midseason classic was actually played. Which is also why the league is not prepared to say exactly what will happen if it has to deal with that scenario. It won't make a decision until it has to.
But the safe assumption, I'm told, is that Kidd would definitely still play in the game in those circumstances even if it meant allowing the West to carry a 13-man roster. You can't punish a player who's voted in as a starter by the fans.
The brain-teaser part for Commissioner Stern would be whether to make Kidd a starter in the West since his vote total (1,246,386) is higher than the total amassed (1,203,152) by Denver's Allen Iverson. In the East, longstanding rules in place dictate that Stern would pick the player that takes Kidd's roster spot and East coach Doc Rivers would have the right to pick the starter who replaces Kidd ... but then someone would have to decide whether the East should get a 13th man as well.
---
Hypothetical Conundrum No. 2 connected to a potential Kidd trade with Dallas: What happens to Jerry Stackhouse if the Nets indeed get him from the Mavs as part of the swap and then buy him out as expected?
As long as Stackhouse is freed from the Nets by March 1, he'd be eligible to play in the playoffs for his next employer.
Yet if Stackhouse were to return to the Mavericks -- an invitation Dallas would surely extend Stack given that his experience, aggressiveness and toughness off the bench are all still valued commodities in Mavsland -- he'd have to sit out 30 days before he could rejoin them.
That's unofficially known as The Gary Payton Rule, which was instituted after Payton was dealt by Boston to Atlanta at the trade deadline in 2005, only to rejoin the Celtics three days later after the Hawks agreed to release him in a pre-arranged deal. Since the summer of 2005, players who are traded and then waived by their new team are forced to wait 30 days before re-signing (only 20 in the offseason) with the team that just traded them.
The irony here, though, is that Dallas also got at a player back in Payton-like circumstances at the '05 deadline when Alan Henderson was sent to Milwaukee as part of a deal for Keith Van Horn before the Bucks set Henderson free so he could return to the Mavs. Not that anyone ever suggested that we refer to the new regulation as The Alan Henderson Rule.
---
The latest measure of how far Miami has fallen comes from the Elias Sports Bureau. Pat Riley won't want to read any further.
The 40-point home humiliation absorbed by the Heat on Tuesday against a Boston team missing Kevin Garnett and Ray Allen gave Riles two losses at home of 30 points or more in a span of about two weeks. The other was a 126-96 loss to Chicago on Jan. 16.
The significance? Before this season, Riley had experienced only two home losses by 30 or more in his first 23 seasons of coaching.
The biggest All-Star snub in each conference? The latest on Jason Kidd? Marc Stein joins host Jon Stashower on the NBA on ESPN Radio pre-game show to discuss.
• Listen to the interview

In one of his regular visits with Galloway and Company on ESPN Radio in Dallas (103.3 FM), Marc Stein is asked about Jason Kidd, John Hollinger and the usual questions about the Mavericks and Spurs.
Galloway & Co.

Five questions with Nuggets center
Marcus Camby:
Q: It's been another season filled with the injuries for the Nuggets. How do you guys avoid the temptation to say, "Why us?"
A: We do say that. Amongst ourselves we always talk about how snake-bit we are. We get a guy back and another guy goes down. It's been trying around here for the last couple years, but this year with Nene having the [testicular] cancer and where it was at and him just being back from his thumb injury and having to be diagnosed with that ... [and] Chucky Atkins has been out, Eddie [Najera] has been in and out of the lineup, K-Mart also. But you try to weather the storm. We're just hoping that in the second half of the season we don't keep having buzzard's luck and we can finally have our full allotment of players.
Q: But on the flip side, you guys still have two All-Star starters on either side of you. So how much pressure are the Nuggets feeling to live up to some pretty high expectations, injuries or not?
A: We definitely look great on paper. But we've never had those guys [Carmelo Anthony and Allen Iverson] playing together for an extended period of time. It's definitely frustrating because we feel like if we had our whole allotment of players, we think our record would be a whole lot better than what it is. Every NBA team goes through injuries. It just seems to be that ours are so magnified.
Q: So what are your expectations for this team and the playoffs?
A: We're definitely frustrated and tired of being bounced out in the first round. So hopefully we don't draw San Antonio in the first round this year. One of our goals is to try to get home-court advantage in the first round and see where it takes us.
Q: Not so easy in the West, though, is it?
A: It's been real dominant out here for a while. But if we're not winning our division now, we could end up being the sixth, seventh or eighth seed. I think a team is really going to have to win 47, 48, 49 games just to get into the playoffs.
Q: Have to ask you about making the All-Star team for the first time. Is this the year?
A: It really doesn't matter. Everyone in here is chasing that championship. Don't get me wrong, it's a great honor. A lot of people have told me what you've been saying [about Camby deserving to start at center for the West] and I appreciate that. But I'm trying to win a championship more than I'm trying to go to the All-Star Game. If it finally happens, if happens. If not, I always welcome the time off.

"How is he gonna run with THEM?"
Nuggets guard Allen Iverson, responding loudly and incredulously in the visitors' locker room in Dallas last Sunday when a teammate skipped in to announce that Chris Webber was on the verge of going back to Golden State.
And Iverson, remember, is a Webber sympathizer after their time together in Philadelphia. So the skepticism on this issue is clearly rampant, despite Golden State's repeated claims that Don Nelson's offensive ingenuity -- and the Warriors' clear need for another passer and halfcourt savvy to bail them out when the game slows down -- will create a Webber niche.
But it's skepticism that Webber, to his credit, isn't ducking. As he said on Golden State's team website (www.warriors.com) after his hard-to-believe return to the Bay Area was made official: "Now that's a fair criticism. I'm older. I've had problems with my knee. I'll have to prove that with time. You can always be in shape, though. After a couple of games, we'll be able to tell."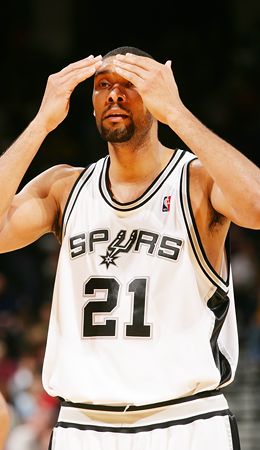 Rocky Widner/NBAE via Getty Images
Headaches have been frequent for the defending champs with Tony Parker slowed by a heel injury and a sub-.500 record since a 17-3 start. But a gritty win in Phoenix reminds us that Tim Duncan's Spurs always tend to feel better after their annual "Rodeo Road Trip."
Adam (Dallas, TX): As a Mavs fan, I've been somewhat concerned by the latest J-Kidd trade talk. Why would the Mavs even think about giving up a young Devin Harris for an aging Kidd? Chemistry aside, Kidd's old and only has a few years left. And even Harris has a better outside shot these days. I keep on hearing you say pull the trigger. Why?
Marc Stein: For starters, I have said since last spring that I think Dallas has to make a bigger change to the current group to (mentally) get over the last two playoff exits and that opinion hasn't changed. And you're not going to get someone like Kidd without giving up something good. Dirk is obviously untouchable. So when teams call Dallas, they ask for Josh Howard and Devin Harris. Josh is closer to untouchable/irreplaceable in the Mavs' scheme than Harris. That's why Devin would have to be the guy. Not because they want to move him.
Marc Stein: Furthermore . . .
Marc Stein: If you're the Mavs, you have to make a decision. Go for it all now. Or give the Dirk-Josh-Devin core more time to develop. But with the way teams like the Lakers and Portland and New Orleans have already closed the gap, I think Dallas is better off going for it now. Who's to say that the West will be any easier to win with the way those teams are coming on? The real reservations for the Mavs would be how much in addition to Harris they'd have to give up. If it's Stackhouse, Brandon Bass and/or Diop, then OK. I get it. That's a lot to part with. But a Kidd-Nowitzki combination puts a whole new spin on the top of the West in my estimation. Nowitzki, Kidd, Josh and Jason Terry? Not a bad foursome.
AJ: We Warrior fans will NEVER forget what C-Webb did to our franchise. Why bring him back?
Marc Stein: I don't buy that. Don Nelson seems to have been welcomed back pretty warmly and my hazy memory tells me that Warriors fans were just as mad at Nellie initially for driving Webber away. Weigh in, Warriors Nation. But I suspect it'll be a warm welcome for Webb from the We Believers.
Lorenz (Zurich): Thabo Sefalosha or Gelson Fernandes. Which young gun do you like better?
Marc Stein: I'm sure you already know the answer, Lorenz. Fernandes is the only City man in the discussion. So Sefalosha never had a chance. But I'm not too pleased that the kit man at City let Gelson have No. 28. That shirt ONLY belongs to my beloved Uwe Rosler ... the only German who gets more lavish treatment at Stein Line HQ than Nowitzki.
• Read Stein's full chat