Barry Gossage/Getty Images
The Suns had plenty of reasons to laugh and joke around while pounding the Clippers on Tuesday.

Fernando Medina/Getty Images
Dwight Howard tied Shaquille O'Neal for the franchise record with his 18th straight double-double.

Chris McGrath/Getty Images
Nate Robinson posted 32 points and 10 rebounds to lead the Knicks to an OT win against the Spurs.

Allen Einstein/Getty Images
Ramon Sessions and the Bucks handed the Pistons their ninth loss in their past 11 home games.
The Run-and-Gun Suns Have Returned

PHOENIX -- The Suns said they'd need an adjustment period before they could reinstate their former "Seven Seconds or Less" playing style.
It lasted one possession.
After running a half-court set for Shaquille O'Neal off the opening tip, the Suns scored in seven seconds or less on their second trip … and the third … and the fourth … and then, after a turnover, the sixth. As they did, a sensation started sweeping over the crowd:
Holy &@#!$ … we're back!
Four times in five trips the Suns went down and scored in under seven seconds -- their previous pastime under former coach Mike D'Antoni -- and they didn't stop there. With new coach Alvin Gentry reinstating the team's old system, Phoenix ran after makes, ran after misses and ran past the hapless Clippers for a torrent of layups en route to a 140-100 rout. Only four teams have scored more points in regulation in the past 10 years.
Most points in regulation game the past 10 seasons
| | | |
| --- | --- | --- |
| Team | Date | Points |
| Nuggets | March 16, 2008 | 168 |
| Bulls | April 14, 2008 | 151 |
| Warriors | Feb. 10, 2009 | 144 |
| Grizzlies | Jan. 3, 2007 | 144 |
| Suns | Feb. 17, 2009 | 140 |
| Warriors | April 8, 2008 | 140 |
| Nuggets | Nov. 24, 2006 | 140 |
| Suns | March 31, 2006 | 140 |
| Pacers | March 23, 2003 | 140 |
Their routine under
Terry Porter
of milking all 24 seconds to get post-ups for Shaq? Forget it. Those first four transition scores tonight took them 21 seconds … combined.
By the end of the first quarter, they had a season-high 41 points. In the second, they had four straight trips in which they scored in under five seconds, highlighted by a spectacular Nash-to-Louis Amundson alley-oop. After that sequence the home crowd broke out in a delirious ovation; half shock that this was really happening, half ecstasy that their old team was back. The players' reactions were similar, with the entire bench running out to half court during timeouts to share elated high-fives.
"We just ran and played free" said Amare Stoudemire. "It felt totally different."
And your halftime score: Suns 81, Clippers 49. Phoenix shot 75.9 percent in the first half, had 27 fast-break points, had 21 assists on 31 field goals (seven by Steve Nash), and had more points in the paint (50) than their opponent had altogether (49).
It was the first time in nearly a year that a team had consecutive 40-point quarters, and the two 40-point quarters matched the Suns' previous season total.
Wait; it gets better. They didn't have Jason Richardson, only had Stoudemire for nine of those first-half minutes due to fouls and gave Nash a nice long six-minute rest. But even when Goran Dragic, Alando Tucker and Jared Dudley were running the show, the run-and-gun Suns got whatever shot they wanted, and got it with shocking speed.
Remind me again why they didn't want to play this way?
"Alvin wanted us to play loose and up-tempo, and I think that was contagious," said Nash, who a day earlier said his team had "the weight of the world on its shoulders."
"We got out and ran more. You could see guys enjoyed it a little more."
OK, now for the caveats. It was only the Clippers, at home, without Marcus Camby (home in L.A. with an inner-ear infection). L.A. clearly had no interest in playing this game, although it did show some interest in boxing. Zach Randolph was ejected in the first quarter when he knocked down Amundson underneath, kneed him, taunted him and then punched him in the face: a quartet of infractions that likely will result in a multigame suspension. Conveniently for Phoenix, the two teams play again Wednesday.
"I don't know what he was trying to do," Amundson said.
"Zach's crazy," Matt Barnes added. "At least we don't have to deal with him tomorrow."
And while the Suns were running the Clips off the court, some scuttlebutt remained that Stoudemire could be had for the right price. Of course, that was before the game. After this explosion, they might want to stand pat no matter what offers they get.
Moreover, the offense wasn't the only thing that stood out on this night. Phoenix actually seemed more stoked about defending than they've looked in some time, Stoudemire included. The Suns held the Clips to 100 points -- a feat, given the game's torrid pace -- and limited L.A. to just three offensive rebounds and 43.4 percent shooting.
"We did a good job in our rotations tonight," Gentry said. "We battled in the inside and tried to keep the ball out of their hands."
Yes, there will be sterner tests for Gentry's Suns than this back-to-back set against the Clips, and Phoenix ended the night still in ninth place in the Western Conference. And for all the Suns accomplished Tuesday, they said to a man that they still had plenty of work to do on their spacing and conditioning if they were going to re-hash the glory days of the D'Antoni era for more than 48 minutes.
"It's one game, and we still have a lot of work to do," Gentry said. "We're not ready to crown ourselves NBA champs yet, OK?"
Yet you could tell by the mood in the locker room that something had changed very much for the better. The standings might say they're 29-23 and ninth in the West. Tuesday said something very different: The Suns are back, baby, and they're going to be hell on wheels from here on out.
John Hollinger writes for ESPN Insider. To e-mail him, click here.
Dimes past:
Jan. 31-Feb. 1
|
Feb. 2
|
3
|
4
|
5
|
6
|
7-8
|
9
|
10
|
11
|
12
|
13
Happy 46th Birthday, Michael
NBA Statistics and Information Research

In honor of Michael Jordan's 46th birthday Tuesday, here's everything you would want to know about MJ, by the numbers:
1. Won one NCAA title (1982) in which he scored the game-winning points
2. Won two Olympic gold medals (1984, '92)
3 Selected third overall in the 1984 NBA draft after Hakeem Olajuwon and Sam Bowie
4. Had four 60-point games in his career
5. Won MVP award five times (1988, '91, '92, '96, '98)
6. Won six NBA titles (1991, '92, '93, '96, '97, '98)
7. Led the NBA in scoring in seven consecutive seasons (tied NBA record)
8. Led UNC to the Elite 8 in the 1982-83 season, after which UNC lost to Georgia
9. Named to the NBA All-Defensive first team nine times
10. Led NBA in scoring 10 times in his career (NBA record)
11. Made the All-NBA team 11 times, including 10 times on the first team
12. Once wore No. 12 in a game against the Magic on Feb. 14, 1990, after someone stole his No. 23 jersey
13. Made the postseason 13 times (won 6 NBA titles)
14. Selected to 14 NBA All-Star games in his career
15. Played 15 NBA seasons (13 with Bulls, 2 with Wizards)
16. Had 16 points in the 1982 NCAA championship game, in which he made the game-winning basket
17. Career high in assists was 17, done March 24, 1989 at Portland
18. Played only 18 games in his second season (broken foot)
19. Jordan returned to the NBA as an executive with the Wizards on Jan. 19, 2000
20. Hit a 20-foot shot over Bryon Russell of the Jazz on April 6, 1998 to win Game 6 of the Finals
21. Age at NBA debut (Oct. 26, 1984)
22. Made 22 field goals and added 19 free throws for a postseason-record 63 points against Boston on April 20, 1986
23. Wore No. 23 for most of his career
24. Athletes on Nike's Team Jordan, including Chris Paul, Ray Allen and Carmelo Anthony
25. On Sept. 25, 2001, Jordan announced his return to the NBA as a Washington Wizards player
26 In 26 minutes in the 1997 All-Star Game, MJ had 14 points, 11 rebounds and 11 assists (first triple-double in the game's history)
27. On March 27, 1995, only a few games into his return, MJ scored 55 points on the Knicks at MSG
28. Had 28 career triple-doubles in his NBA career
29. On Oct. 29, 1996, the NBA released its 50 Greatest Players, one of which was Michael Jordan
30. Actually 30.1, which is Jordan's career scoring average in the regular season (NBA record)
31. Had 31 50-point games in his NBA career
32. Retired from baseball at age 32, and eventually returned to the NBA
33. Actually 33.4, which is Jordan's career scoring average in the playoffs (NBA record)
34. Played 34 games in his freshman season at North Carolina
35. Had 35 first-half points and six 3-pointers in a 1992 Finals game against the Blazers (gave the famous shrug)
36. Had 36 points in his first NBA Finals game (June 2, 1991 vs. Lakers)
37. Had 37 steals in his All-Star Game career (13 games)
38. Had 38 points in the "flu game" in the 1997 Finals against the Jazz
39. Age at the start of his final playing season (2002-03)
40. Age at which Jordan played his final game, on April 16, 2003 at Philadelphia
41. Jordan averages a Finals-record 41.0 ppg as the Bulls beat the Suns in Game 6 (June 20, 1993) to win the NBA title
42. Jordan and Charles Barkley each scored 42 points in Game 2 (1993 Finals), the first time opposing players scored 40-plus points
43. Age at which Jordan became a part-owner of the Charlotte Bobcats
44. Had 44 points in Game 5 (May 7, 1989) culminated with a game-winning buzzer-beater over Craig Ehlo of the Cavs
45. Wore No. 45 in his comeback with the Bulls until returning to No. 23
46. Feb. 17 was his 46th birthday
By Maurice Brooks
ESPN.com

TUESDAY'S BEST
Dwight Howard, Magic
: He placed second to the Knicks' Nate Robinson in the dunk contest over the weekend, but on this night nobody was better than Howard, who tallied 45 points, 19 rebounds and eight blocks in an OT win.
---

TUESDAY'S WORST
Los Angeles Clippers
: Even for the Clippers, this was bad. Los Angeles gave up a whopping 140 points and allowed the Suns to covert 62 percent of their shots from the floor in a 40-point loss.
---
QUOTE OF THE NIGHT
"The last couple of games, I've regressed. I've felt pain."
-- Rockets forward Tracy McGrady, who will miss the rest of the season to have surgery on his troublesome left knee
Paul Shows His Finishing Move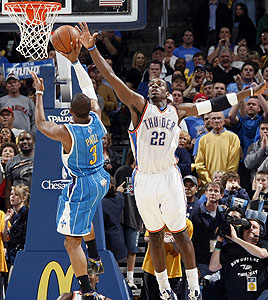 Layne Murdoch/NBAE/Getty Images
Chris Paul hit this game-winning shot with 2.7 seconds left to help the Hornets edge the Thunder, who received a career-high 47 points from second-year forward Kevin Durant.
By Elias Sports Bureau

Lamar Odom had 20 rebounds in the Lakers' win over the Hawks, his fourth consecutive game with at least 17 rebounds. The last Lakers player with 17 or more rebounds in four straight games was Kareem Abdul-Jabbar in 1975-76.
• The Suns annihilated the Clippers 140-100 in Alvin Gentry's debut as coach of the team. The 40-point margin of victory is the largest for a coach in his first game with a new team. The previous record of 39 points was held by Walt Budko, who replaced Buddy Jeannette as coach of the Baltimore Bullets during the 1950-51 season and won his debut 102-63 over the Indianapolis Olympians.
The 140 points are the fifth-highest scored in the NBA in the past 10 seasons, and matched the Suns' highest point total during the Mike D'Antoni era.
Trying To Fix Detroit's Rotation
By John Hollinger
ESPN.com

Speaking of Detroit, I heartily applaud the decision to put Antonio McDyess in the starting lineup ahead of Amir Johnson. With a 15.32 player efficiency rating, 50.5 percent shooting and solid defense, McDyess has been the best Pistons frontcourt player after Rasheed Wallace. Johnson, meanwhile, has struggled with fouls the entire season and has been surprisingly invisible on offense. And Kwame Brown … seriously, don't get me started.
Now, if the Pistons would just let Jason Maxiell onto the court once in a while, they'd have all their rotation problems solved. Mad Max's 16.05 PER is nearly the same as last season's, but despite the struggles of Johnson and Brown, and the fact that McDyess was gone for over a month, he's averaging only 16 minutes a game. He hasn't played more than 20 minutes since Jan. 21, and received single-figure minutes in four of Detroit's eight games leading into the break.
As much heat as Michael Curry has taken this season for his approach, personnel selection has been just as big an issue. It shouldn't take a guy two-thirds of the season to figure out who his best players are.
It Wasn't All Porter's Fault

Hubie Brown thinks the biggest problem with the Suns is their bench, because they can't replace the guys they got rid of. He also feels that Terry Porter was the scapegoat.
Tirico & Van Pelt