Commentary
Andriuskevicius may pull out of draft
Updated:
May 31, 2004, 9:55 AM ET
By
Chad Ford
| ESPN Insider
Ford's Mock Draft
TREVISO, Italy -- It looks like Insider's top-ranked international player might not be in the NBA draft after all. Lithuanian big man Martynas Andriuskevicius shocked people by declaring for the draft at the last minute after claiming earlier that he'd wait another year before testing his draft stock.
Why the sudden change? Andriuskevicius' agent, Herb Rudoy, told Insider that they wanted to pursue a revolutionary course of action. Rudoy has told every NBA team that he'll leave Andriuskevicius in the draft if he's a top-five pick and allowed to return to Lithuania (to work with Arvydas Sabonis) for one more season.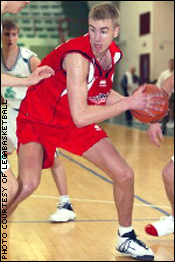 Martynas Andriuskevicius was a surprise late entry into the NBA draft. But will he stay in?

That's pretty revolutionary. Teams have drafted players later in the first round with an eye for keeping them in Europe for another year before. But that's never happened with a lottery pick. Could it happen this year?

Rudoy acknowledges that right now no one is biting. However, representatives from 20 NBA teams are here in Treviso, Italy this week to watch Andriuskevicius at the Reebok Big Man camp.

To continue reading this article you must be an Insider
Insider