Commentary
Pavel's upside is unmatched
Updated:
June 2, 2004, 11:59 AM ET
By
Chad Ford
| ESPN Insider
Chad Ford's mock draft: Standard version | Slideshow version
TREVISO, Italy -- Two-and-a-half years ago, Pavel Podkolzine was a big oaf stumbling through the frozen tundra of Siberia in shoes three sizes too small, squeezing basketballs like grapefruits, wasting his life away in the middle of nowhere.
One year ago, Podkolzine appeared virtually out of nowhere to take the NBA world by storm at the NBA pre-draft camp in Chicago.
Then he just as abruptly dropped out of the draft after he was diagnosed with a rare growth-hormone disorder called acromegalia.
Monday, he was here, at the Reebok Eurocamp, and after two days of workouts with NBA coaches in front of a plethora of NBA scouts and GMs, Pavel once again has risen from obscurity into the upper echelons of the NBA draft.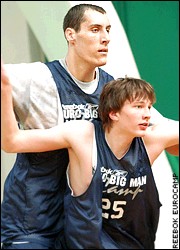 Reebok EurocampPavel Podkolzine (left) towers over 6-foot-11 Anton Dudukinhas at the Eurocamp.

Emeka Okafor may be more battle tested. Dwight Howard is certainly more athletic and skilled at the same age. But there is no one in the draft with a bigger upside than Pavel. At 7-foot-5 and 300 pounds (his measurements in Treviso), Pavel has the potential to dominate physically in the league some day. He is huge, strong, fairly athletic for a player his size and bursting with energy.

"The camp lit up the second he walked in," Warriors scout Ron Michaels told Insider. "The guys were feeding off his energy. I've never seen anything quite like it, or quite like him."

To continue reading this article you must be an Insider
Insider