Commentary
Gherardini offers his take
Updated:
June 3, 2004, 9:57 AM ET
By
Chad Ford
| ESPN Insider
Chad Ford's mock draft: Standard version | Slideshow version
TREVISO, Italy -- In ancient times, mariners claimed that all important trades routes ran through Venice, Italy. For hundreds of years the ancient city, literally built on the ocean, with wooden pillars and a series of canals serving as streets, was the center of maritime commerce in Europe. Now, it's sinking back into the ocean.
Nowadays, scouts claim that all roads in international scouting run through Treviso, a smaller city about 30 kilometers north of Venice and home to international clothing giant the United Colours of Benetton. Here, Benetton GM Maurizio Gherardini -- possibly the most powerful GM in the world outside the United States -- has built the most modern and innovative basketball franchise not in the NBA.
Gherardini, a former banker, caught a vision, as an exchange student in St. Louis, of how a good basketball team should be run. A few years later, he returned to Italy with a passion for the game and began transforming European basketball as we know it.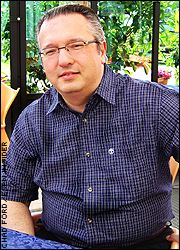 Maurizio Gherardini is one of the most respected talent evaluators in Europe.

Gherardini translated important books on basketball and coaching into Italian and passed them out to coaches around the country. He began organizing basketball camps and clinics, including the first-ever coaches clinic in Europe -- an affair that brought the likes of Hubie Brown, Bill Walton, Detlef Schrempf and Bob McAdoo to Italy.

In 1992, he took over the most coveted basketball job in Europe -- GM of Benetton. The Benetton family already had sunk enormous resources into creating the most impressive basketball infrastructure on the continent. La Ghirada, their sport complex, is the most beautiful and modern practice facility in the country. Their arena is stunning.

Armed with unprecedented resources from the Benetton family, Gherardini set out to do more than just build a championship basketball team in Treviso -- he set out to change the way European teams ran their operations.

"The big plus of this place is you can dream," Gherardini told Insider. "You can have ideas and you have the resources to turn those ideas into realities. I wanted to do more than win. I wanted to give back to the community."

Over the past decade, Benetton has become the standard-bearer for European basketball. NBA scouts are here almost on a weekly basis. Every summer, Benetton holds an enormous array of extra curricular activities that draw people from around the NBA and the world. They include the Reebok Big Man camp and the Reebok Eurocamp, where top European young players learn and compete; a summer league where international free agents compete for jobs in front of just about every GM and coach in Europe; Basketball without Borders, a program that brings young basketball players from war torn areas together and teaches them life lessons as well as basketball skills; and an international coaches clinic that sometimes draws upwards of a 1,000 participants.

In the process, Gherardini has built a powerful alliance with the NBA and many of the teams in the league. In addition to his expertise running the franchise, he has developed the most sophisticated scouting system in the Euroleague. He gives many teams advice concerning NBA prospects and is one of the few GMs in Europe who doesn't soak a team or player when he gets drafted in the NBA.

"You do things that make sense," Gherardini said. "Players have dreams, and we should help them achieve it. This is not a one-way business. We are involved in a common project."

Gherardini has become so well respected that he was interviewed and seriously considered for the vacant GM job in Charlotte last year. It was the first time a non-U.S. executive ever had been interviewed for a top job in the NBA. Gherardini didn't get the job, but many people in the league think that within the next five years he'll be running an NBA team.

"Maurizio is one of the best GMs in the world," Nuggets GM Kiki Vandeweghe told Insider. "He really runs a first class organization here. I don't think there's anything in Europe that rivals it. I think there's no question he'll be a great GM in the league. No question."

"You have to have that dream," Gherardini said when asked about his interest in leaving Benetton for the NBA. "It would have to be the right time and the right system, but yes I would want that. I think I could bring a global vision to the NBA and provide a very deep evaluation of players both in America and around the world."

Given Gherardini's reputation and his intimate knowledge of international players (he attended every camp session this week), Insider asked him to provide his take on the top international players in this year's draft. Here's the way he sees it:

To continue reading this article you must be an Insider
Insider