Commentary
Is he next KG or next Kwame?
Updated:
June 24, 2004, 12:31 PM ET
By
Chad Ford
| ESPN Insider
Ford's NEW mock draft: Standard version | Slideshow version
CHICAGO -- In a draft most GMs believe will be the most unpredictable in NBA history, Dwight Howard is a rare commodity. He's a true believer.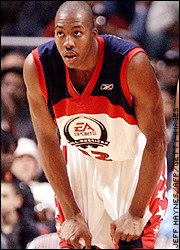 Howard could become the second consecutive high schooler taken No. 1 overall.

"I know I'll be the No. 1 pick," Howard told Insider on Friday morning. "Teams want the next KG. You're looking at him."

Are we?

For the past six months, NBA scouts have claimed this year's draft is a two horse race between Howard and Emeka Okafor.

By now you know what Okafor can do. The burly, 6-foot-10 power player carried UConn to a national championship on a weary back in front of millions of college basketball fans.

Okafor represents everything the NBA draft used to be. He's mature, physically strong, and he's not afraid of a little contact. He's a tireless worker with intense focus. He's a warrior. And, most importantly, he's a winner.

Who is Howard? Insider spent Friday morning in Hoops the Gym and got an exclusive look at Howard working out with trainer Tim Grover.

Howard represents everything the NBA draft has become -- for better and for worse.

To continue reading this article you must be an Insider
Insider