Commentary
'Team-first' All-Stars hard to find
Updated:
October 8, 2004, 12:03 PM ET
By
Terry Brown
| ESPN Insider
Where's Jeff Hornacek when you really need him?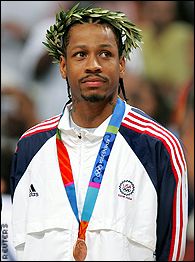 Allen Iverson & Co. were criticized for their inability to adapt to the international style.
Where's the guy who can pass and dribble and shoot and take off his game shorts one leg at a time without tripping over his platinum medallion?
Maybe we finally get the point after watching our star-studded Olympic team get drubbed in Athens on the heels of the glamorous Los Angeles Lakers being dismantled in the playoffs by the blue-collar Pistons. So we've gathered a few scouts from around the NBA to help us put together a list of players who, in the words of Pistons and Team USA coach Larry Brown, play basketball the "right" way.
Instead of vertical leaps and wind sprints, we used such categories as court sense, chemistry, coachability, fundamentals and work ethic.
Originally, we wanted to rank each position player-by-player from 1 to 30, but our scouts balked. If they couldn't say anything nice, they weren't going to say anything at all, and there simply weren't enough praises to go around in these categories, which pretty much sums up the state of our national team.
Instead, we asked the scouts to give us their top 10 at each position.
Couldn't do it.
Top five?
Couldn't do it.
Remember, commercial endorsements don't count, nor do all-star credentials or highlight reels that blur out the scoreboard. We were looking for guys who could dribble with both hands -- without having to go between their legs while smiling at the camera with a bassline thumping in the background. We would settle for a layup if it came with a mid-range jumper. And we wanted as little ego as possible.
So we made it as simple as we could: Let's find 12 guys, one team, from among the 400 or so players in the NBA that best fit our criteria. Let's go with five guards, five forwards and two centers. And that would be our team that played the "right" way.
Forget the multi-karat earrings. We want a gold medal.
Today we'll look at the guards, with forwards Thursday and centers and a summary Friday. The numbers in each player's chart reflect the average of a 1-10 rating by our panel of scouts.
To continue reading this article you must be an Insider
Insider