Commentary
Play it forward
Updated:
September 17, 2004, 4:35 PM ET
By
Terry Brown
| ESPN Insider
We've found the perfect player.
He passes, he dribbles, he shoots the three and dunks while playing, perhaps, the best defense in the NBA. All that anyone could ask for in our current search for our "real" basketball team.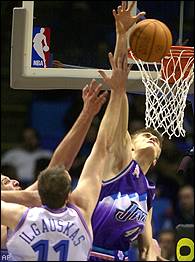 From Russia with game, Kirilenko plays the right way.
He is also honest, true, chaste, eats all his vegetables, helps little old ladies across the street and doesn't use swear words.
The only problem, for our list anyway, is that he doesn't use many English words, either.
His name is Andrei Kirilenko of the Utah Jazz and many scoffed, including Carmelo Anthony, when the small forward was named to his first all-star squad last year. And all he did was lead his team in scoring, rebounding, steals, blocks, three-pointers made and free throws made.
There is a new statistical category for him called the 5x5 when Kirilenko tallies five or more in five different columns (points, rebounds, assists, steals and blocks). Well, he did it twice last year.
To continue reading this article you must be an Insider
Insider