Sources say Brand will spurn Clippers, sign with 76ers
Updated:
July 10, 2008, 1:58 AM ET
By
Marc Stein
| ESPN.com
The highly anticipated Hollywood marriage hooking up Elton Brand and Baron Davis is over before it started.
The Philadelphia 76ers swiftly and stunningly managed to break it up after a week of bliss (in theory only) by convincing Brand to jump to the Eastern Conference and spurn what was widely presumed to be his slam-dunk return to the Los Angeles Clippers to play alongside Davis.
NBA front-office sources told ESPN.com on Tuesday that Brand has verbally agreed to a five-year deal worth an estimated $82 million with the Sixers, who feared as recently as late last week that they wouldn't be able to financially compete for Brand with the Clippers and Golden State Warriors.
The Sixers have called a 5 p.m. ET news conference Wednesday, when it is expected they will introduce the two-time All-Star.
Philadelphia first reached agreement with the Minnesota Timberwolves on a trade that sent Sixers forward Rodney Carney, center Calvin Booth and a future first-round pick to the Wolves, with Philadelphia required to take back only a future second-round pick and no additional salary. The trade shaves nearly $3 million off the Sixers' payroll next season and increases what was already substantial salary-cap space, positioning Philadelphia to secure a verbal commitment from Brand on a five-year agreement believed to be starting in the $14 million to $15 million range.
The deal can't be finalized until Wednesday, which is the first day NBA teams can officially complete signings and trades following the annual leaguewide moratorium on roster changes, which began July 1. The Sixers must submit their trade with Minnesota for league approval before signing Brand, which isn't likely to happen until the league office opens for business Wednesday morning.
But Brand was already in Philadelphia on Tuesday night, sources said, preparing to join his new team just seven days after Davis verbally committed to sign with his hometown Clippers and seemingly ensure that the bruising power forward would be going nowhere.
Brand could not be reached for comment, but one source close to the process said: "Elton wants to go East."
His motivation must have been strong given the criticism Brand is sure to face back in L.A. after he and agent David Falk announced last week that Brand was opting out of the final year of his previous contract -- worth $16.4 million -- to give the Clippers more payroll flexibility to strengthen the team around Brand. Within 24 hours of those declarations, Clippers management responded on the first day of free agency by agreeing to terms with Davis in what easily ranks as the biggest free-agent coup in team history.
One source familiar with the negotiations, furthermore, insisted Tuesday that the Clippers increased their final offer to Brand to a virtual match of Philadelphia's at an estimated $81 million over five seasons. The Clippers were also the only team in the running with the ability to offer a no-trade clause to Brand, something that only one other player in the league -- Staples Center co-tenant Kobe Bryant -- has in his contract.
20-10 Vision
Elton Brand is one of five NBA players in the past 20 years to average 20 points and 10 rebounds per game for his career. He's in some pretty exclusive company:
20-10 career averages,
last 20 years

| | | |
| --- | --- | --- |
| Player | PPG | RPG |
| Elton Brand | 20.3 | 10.2 |
| Tim Duncan | 21.6 | 11.8 |
| Shaquille O'Neal | 25.2 | 11.5 |
| Kevin Garnett | 20.4 | 11.2 |
| David Robinson | 21.1 | 10.6 |
But the Clippers' confidence that delivering Davis would guarantee Brand's return -- even with the Warriors responding to Davis' defection by trying to tempt Brand with a five-year offer in the $90 million range -- gradually crumbled as Philadelphia made its late charge. The Sixers' shedding of two salaries just to set up a major free-agent signing is reminiscent of the gambit made by Bryant's Los Angeles Lakers in the summer of 1996, when then-Lakers personnel chief Jerry West sent Anthony Peeler and George Lynch to the then-Vancouver Grizzlies, creating the cap space that made it possible for L.A. to sign Shaquille O'Neal away from Orlando.
Getting Brand away from the Clippers might not quite have a Shaq-sized impact on the Sixers -- who likely will need more perimeter shooting, depth and experience as a group to challenge the league's elite -- but it's an undeniable coup for Philadelphia on a variety of levels. The move also continues a recent trend of offseason revival for teams in the East, after last summer's Rashard Lewis-to-Orlando signing and the trade acquisitions of Kevin Garnett and Ray Allen that helped the Boston Celtics win their first championship since 1986.
The Celtics certainly could not have returned to prominence without the deal for Garnett, and Wolves front-office head Kevin McHale will get another assist here. Minnesota's willingness to take on Carney and Booth has helped another long-suffering traditional powerhouse from the Northeast fill a major void with a marquee name.
Although he was limited to only eight games last season after an Achilles tear, Brand is the proven power player and interior force Philadelphia clearly lacks on an otherwise promising roster that won many admirers as last season progressed. The Sixers extended Detroit to six games in a first-round series that was more competitive than many anticipated and now will be adding a two-time All-Star to veterans Andre Miller and Andre Iguodala, top youngsters Louis Williams and Thaddeus Young, and the considerable wingspan of Samuel Dalembert at center.
A move to the East also comes with off-court benefits for Brand, sending the 29-year-old to a conference with far fewer title contenders and moving him closer to his East Coast-based family. Brand and his wife are expecting their first child this fall.
Brand told ESPN.com on June 30 that his "intention is to stay" with the Clippers, while Falk spoke optimistically of Brand signing a deal to "finish his career with the Clippers" if the team could make another significant personnel acquisition or two. ESPN.com reported late last week that Davis was the player Brand specifically asked Clippers management to chase in June.
Yet sources were adamant late Tuesday that Davis, while undeniably disappointed by Brand's about-face, would not reconsider his promise to sign with L.A.'s star-crossed other team. Nor are the Clippers, sources said, planning to back away from the lucrative long-term commitment they've made to the former UCLA star, even though their Plan A scenario was certainly signing Brand and Davis as a package deal to team with center Chris Kaman and youngsters Al Thornton and Eric Gordon.
"I thought that we made some moves that had the chance to get a great team on the court," Clippers coach Mike Dunleavy told The Los Angeles Times, adding he hadn't had any contact with Brand since Thursday.
"I thought we had a deal with Baron." Dunleavy continued. "I thought we had a deal with Elton. It was a big commitment from our owner. I don't know what happened with Elton. It just didn't work out."
Marc Stein is the senior NBA writer for ESPN.com. To e-mail him, click here.
ESPN Senior Writer
• Senior NBA writer for ESPN.com
• Began covering the NBA in 1993-94
• Also covered soccer, tennis and the Olympics
FREE AGENCY 2008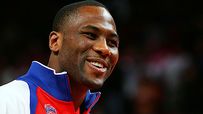 The NBA offseason has been busier than expected, thanks in part to Elton Brand's joining the 76ers. Keep up with the latest moves.
Transactions
News
•
George's deal with Mavs made official
•
Brown returns to New Orleans to back up Paul
•
Veteran Finley re-signs with Spurs
•
Nuggets re-sign Smith to multiyear deal
•
Miles signs with champion Celtics
•
George, Mavs agree to two-year deal
•
Clips re-sign free-agent center Paul Davis
•
Iguodala signs six-year deal with Sixers
•
Sources: 76ers, Iguodala agree to multiyear deal
•
Hawks match Grizzlies' $58M offer, retain Smith
•
Heat's Williams reaches terms with Clippers
•
Bobcats' Boykins signs European contract
•
Restricted free agent Williams re-signs with 76ers
•
Cavs shore up backcourt, sign ex-Grizzly Kinsey
•
Arroyo signs with Maccabi Tel-Aviv
•
Ex-Clipper draftee Skinner signs deal with team
•
Bulls sign Deng to six-year extension
•
Sources: Deng, Bulls on verge of deal
•
Hawks sign ex-Magic G Evans to contract
•
Sources: Okafor, Cats agree on new deal
•
Nets lose Krstic to Moscow team
•
Clippers sign swingman Davis from Heat
•
Vujacic officially signs multiyear deal with Lakers
•
Agent: Brown, Pistons agree to deal
•
Warriors re-sign Biedrins to 6-year, $62M deal
•
Sources: Biedrins, Warriors agree to 6-year deal
•
Wolves agree to deal with Gomes
•
Lakers, Vujacic agree to 3-year, $15 million deal
•
Ellis inks $67 million deal to stay with Warriors
•
Summer star Roberson signs with Knicks
•
Andersen bolts Hornets to return to Denver
•
Telfair re-signs with Timberwolves
•
Childress leaves NBA for Greece
•
Spurs re-sign Kurt Thomas
•
Suns sign ex-Warrior Barnes to one-year deal
•
Turiaf to play for Warriors
•
Jazz, Williams agree to 4-year extension
•
Sources: Clippers, Azubuike agree to offer sheet
•
Bucks add veterans Allen, Lue
•
Posey agrees to 4-year deal with Hornets
•
Arenas signs six-year deal with Wiz
•
Mason's hard work pays off in contract with Spurs
•
Wright re-signs with Mavericks
•
Clippers officially sign Davis to multiyear contract
•
Family ties: Brent is 3rd Barry to play for Rockets
•
Warriors ink forward Maggette to deal
•
Magic sign, introduce ex-Warrior Pietrus
•
Nets agree to terms with forwards Najera, Hayes
•
Sixers give frontline big boost, sign Brand to deal
•
Agent: Bucks to sign Bogut to $60M extension
•
Diop rejoins Mavs on 5-year, $31M contract
•
Gasol in Memphis: Marc, not Pau, signs contract
•
Kings re-sign point guard Udrih to five-year deal
•
Heat sign 3-point specialist Jones to 5-year deal
•
Sources say Brand will sign with 76ers
•
Sources: NBA cap at $58.68 million
•
Sources: 76ers confident of getting Brand
•
Sixers making run at Brand
•
Hawks free agent Smith visits 76ers
•
Brand opts out, and Clippers await decision
•
Calderon reaches agreement on new Raps deal
•
Wizards hang on to Jamison
•
Reports: Arenas agrees to six-year contract
•
For 2nd year in row, Cats, Okafor to discuss deal
•
Artest not opting out of final year of deal
•
Paul agrees on four-year, $68M deal
•
Davis leaving Warriors for Clippers
•
Free Agents:
2008
|
2009 and 2010
Analysis
•
Hollinger: Hornets pay heavily for Posey's ring
•
Martin: Najera's 3-point skills help seal Nets deal
•
Stein: Which teams in hot pursuit of free agents?
•
Adande: Why Brand left the Clippers
•
Broussard: Crushing blow for Clippers
•
Arnovitz: Clipper Nation in world of hurt
•
Adande: Brand's departure is business as usual
•
Hollinger: Brand new Sixers are East challengers
•
Hollinger: Five big questions on free agents
•
Stein: Davis verbally agrees to go to Clippers
•
Broussard: The Clippers' other free agent
•
TrueHoop: What is Corey Maggette Worth?
Podcast
•
Stein on Elton Brand and Baron Davis
•
Hollinger on players who may switch teams
•
Broussard on the money given to Arenas
•
Sheridan on Brand, Davis, Artest and Smith
Video
•
Bucher on how the Brand deal got done
•
Bucher on the latest NBA news
•
Arenas agrees to six-year extension