What they are saying about Iverson
Updated:
November 26, 2009, 4:06 AM ET
ESPN.com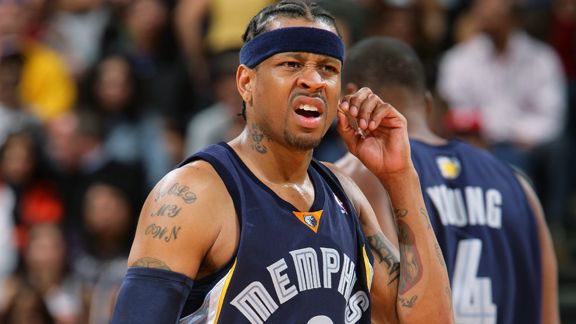 Rocky Widner/NBAE/Getty ImagesHave we seen the last of Allen Iverson in the NBA? He is the only one who can answer that question.
Editor's note: After 14 seasons in the NBA, Allen Iverson says he plans to retire. Here are some quotes from players and coaches Wednesday, from games around the league or via their Twitter feeds, about the 10-time All-Star.
"It's sad man, especially coming from a guy that's close to me and a friend. To see him go out the way he's going out right now, it's not like he wants to go out, he's almost being forced to retire. It's a bad situation right now. It was just, he got dealt a bad hand from when he went to Detroit up to right now. Everything kind of spiraled downhill. I never want to see nobody go through nothing like that, especially a guy with his talent, somebody who can still go out there and be productive." -- Denver forward Carmelo Anthony
"I think he still has something left to give some team out there. If that's his decision, he'll go down in history, I think, as the greatest little guard ever to play the game of basketball. I was happy to have him for a couple years and hopefully our paths will cross. But I have a sneaky feeling that somewhere along the way an injury or a circumstance with a team will open that window back up." -- Nuggets coach George Karl
"His legacy would be huge. He's one of the best when you talk about guys 6-foot and under in the game of basketball. He played injured and he played hard every single night. I don't think it should end this way, but if it does, he's left a lot of great things behind." -- Cavaliers forward LeBron James
"I don't ever believe anyone retires until they get to the point they have to. He had a great career if it is true, but I still think he has more to offer." -- Celtics coach Doc Rivers
"He's been one the faces of the NBA. Everybody respects A.I. A lot of people in the league started getting braids because of him. He's influenced the league so much. That's just the real talk." -- Warriors guard Corey Maggette
"Everybody talked about competing pound for pound. He was just one hell of a competitor. I don't care what he weighed or how tall he was, he sacrificed his body a lot and took a pounding and played hurt a lot." -- Spurs coach Gregg Popovich (who was an assistant on the 2004 Olympic team)
"I was looking forward to going up against him. Hopefully he does get another shot. That would be something I'd never forget, and I could one day tell my kids that I got to play against a guy that was my idol." -- Bucks guard Brandon Jennings
"Everyone in the league should wear a sleave and a headband tonight." -- Grizzlies forward Rudy Gay
"Please say it ain't so that Ai retiring!?!?" -- Thunder guard Kevin Durant
"AI a NBA cultural icon-crossover/tats/cornrows-a hip hop style/flavor not seen from an NBA MVP esp in 2001--this has an effect on opts 2day." -- ESPN's Jalen Rose
"Say it ain't so, I'm hearin BubbaChuck is retiring?!?! Well OG u changed the game bruh the best 6 foot n under player ever, ull be missed" -- Warriors Anthony Morrow
"Jus seen A I retiring say it ain't so." -- Shawn Marion