Commentary
TrueHoop's Stat Geek Smackdown 2009
Originally Published:
April 14, 2009
By
Henry Abbott
| ESPN.com
Welcome to Year 3 of the TrueHoop Stat Geek Smackdown, won in 2007 and 2008 by Basketball-Reference.com's Justin Kubatko.
Quantitative analysis has come to the NBA. Like when "Moneyball" came to baseball, it inspires a certain degree of skepticism. This contest was born to put the whiz-kid analysts to the test. What do those numbers say? How smart are they compared to conventional thinking? And to make it really tough … do they have a hope in hell of beating my mom?
In the first two years, the experts in the Smackdown have done far better than more traditional "experts" like me. (They also have done pretty darn well compared to my mom.)
They have proven themselves so smart, in fact, that some of them are no longer available: Kubatko is now under contract with the Trail Blazers, who prevented him from defending his crown. (Jeff Ma, who is a returning participant, also works for the Blazers at times.)
The rules are simple: Based on stats, hunches and anything else, each person predicts the outcome of every playoff series, as the rounds unfold. Each correctly picked series is worth five points. Correctly predicting the number of games is worth two additional points. The winner gets something bizarre and arbitrary to be determined later.
Scoreboard
TRUEHOOP'S STAT GEEK SMACKDOWN SCOREBOARD
RD 1
CONFERENCE SEMIS
CONF. FINALS
FINALS
TOTAL
STAT GEEK
TOTAL
ATL-
CLE
ORL-
BOS
HOU-
LAL
DAL-
DEN
ORL-
CLE
DEN-
LAL
ORL-
LAL
POINTS
Berri
41
7
7
5
5
0
5
5
75
Hollinger
43
5
5
5
5
0
0
5
68
Ilardi
31
7
5
5
7
0
0
5
60
Ma
45
5
0
5
7
0
5
0
67
Paine
32
5
5
5
7
0
7
5
66
Pelton
37
5
5
5
5
0
5
5
67
Weil
29
5
5
5
5
0
0
0
49
Mom
36
5
0
5
5
0
0
0
51
TRUEHOOP'S STAT GEEK SMACKDOWN SCOREBOARD: FIRST ROUND
STAT GEEK
DET-
CLE
CHI-
BOS
PHI-
ORL
MIA-
ATL
UTH-
LAL
NO-
DEN
DAL-
SA
HOU-
POR
TOTAL
Berri
7
5
5
7
7
5
5
0
41
Hollinger
7
5
5
7
7
7
5
0
43
Ilardi
7
7
5
0
7
5
0
0
31
Ma
5
7
5
7
7
7
0
7
45
Paine
7
5
5
5
5
5
0
0
32
Pelton
5
7
5
5
5
5
5
0
37
Weil
7
5
5
0
7
5
0
0
29
Mom
5
7
7
5
7
5
0
0
36
---
Series Predictions (click on the links below to see picks for each matchup)
NBA Finals
Magic-Lakers
Conference finals
Magic-Cavaliers | Nuggets-Lakers
Second round
Hawks-Cavaliers | Magic-Celtics | Rockets-Lakers | Mavericks-Nuggets
First-round
DET-CLE | CHI-BOS | PHI-ORL | MIA-ATL | UTH-LAL | NO-DEN | DAL-SA | HOU-POR
ORLANDO MAGIC VS. LOS ANGELES LAKERS

Berri


Lakers in 7


Hollinger


Lakers in 6


Ilardi


Lakers in 7


Ma


Magic in 7


Mom


Magic in 6


Paine


Lakers in 6


Pelton


Lakers in 6


Weil


Magic in 6
Smackdown Breakdown: Magic-Lakers
In essence, every single stat expert thinks the Lakers will win this series.
(My mom does not. She is adamant that the Magic will win because, in her words, they play as a team and are not all about one player. With apologies to my mother, however, she is not a stat expert.)
Looking at the standings, however, and realizing they needed to mix it up to have a shot at advancing up the leaderboard, both Jeffrey Ma and Sandy Weil went against their best analysis and picked the Magic.
Weil is in particular trouble. His model seems quite good, but he already has overruled it with his human intuition five times, and three of those times he has been wrong. As a result, he heads into the Finals having to make a high-risk pick to avoid becoming the first Stat Geek to lose to my mom.
Said Weil, "Well, the model says the Magic in a photo finish if all games were neutral-court; but favoring the Lakers with home-court factored in. Given that my only hope to pull out of the basement of the standings is to go a different direction than Mom and Ilardi, and get it right, I'm going to take the Magic in 6. No one else will take that, I suspect. If the Magic win in six (my model's second-most-likely scenario, after Lakers in seven), I could pull it off."
The bad news for Weil: His fate is sealed. As luck would have it, the Magic in six pick he found unlikely to be popular was the exact pick my mom thought seemed most likely of all.
In the meantime, David Berri is in the catbird seat heading into the Finals, and he's not playing any games with his pick. "Assuming [Jameer] Nelson comes back, and he plays as he did earlier in the season (big if), I think the Magic can make this close. But I am still taking the Lakers since they have home-court for both Games 6 and 7."
Kevin Pelton also is taking the Lakers, and explains that Orlando's unforeseen win against the Cavaliers might be a different situation than what it's facing now. In hindsight, he writes, "Orlando's upset win in the Eastern Conference finals looks more predictable because of the importance of matchups in the postseason. The Magic had won the season series 2-1, and convincingly so. Orlando's upset meant every playoff series so far has been won by the team that won or tied the regular-season series, a trend the Magic certainly hope continues, having swept the Lakers this season.
"This time, however, the evidence isn't as strong in Orlando's favor. The two wins were both close, coming by a combined nine points, and the Magic relied heavily on the production of Jameer Nelson. The odds of his matching that even if he does play -- or any of the other Orlando point guards replicating it -- are long indeed. This time around, the matchups are not so strongly tilted in the Magic's favor. When the Lakers go small, they match up very well indeed -- with the notable exception of the middle.
Although it's possible to envision a scenario in which Dwight Howard is too much for either Andrew Bynum or Pau Gasol to handle, the shooters make their shots and the Orlando defense is solid enough to hold the Lakers at bay, the more likely scenario is that Howard will come back to Earth slightly after his conference finals, and the Lakers' offense will prove more potent."
As Hollinger and Berri have both picked the Lakers, Jeffrey Ma is the only person besides Berri with a chance to win. Once again, he writes, "I find myself in the unenviable position of making a pick simply to be contrarian and hoping for the best. Here's how it could happen: Orlando is able to spread the floor and hit its 3s, and Howard is able to get Gasol and, more importantly, Bynum in foul trouble. The 6-foot-10 wing players create mismatches, and Pietrus annoys Kobe enough to make him take too many shots."
---
Bios
David Berri is an associate professor of economics at Southern Utah University and lead author of "The Wages of Wins."
John Hollinger writes for ESPN.com. He created the Player Efficiency Rating (PER) and several other statistical measures.
Stephen Ilardi is a professor of clinical psychology at the University of Kansas, a former statistical consultant to the KU men's basketball team under Roy Williams, and an expert on adjusted plus/minus.
Jeff Ma is co-founder of Citizen Sports Network in 2004. He was the protagonist, under the name Kevin Lewis, in the bestseller "Bringing Down the House," the story of the MIT blackjack team and the basis of the movie "21."
Neil Paine is a senior at Georgia Tech and a longtime presence on the APBRmetrics message board. As the lead blogger for Basketball-Reference.com, he also has the unenviable task of playing the Pete Myers role to Justin Kubatko's MJ in this year's Smackdown.
Kevin Pelton writes for Basketball Prospectus and moderates the APBRmetrics forum for statistical analysis discussion. He also covers the WNBA's Seattle Storm for storm.wnba.com.
Sandy Weil is an independent statistical consultant at Sportsmetricians.com, where he developed a new NBA analysis database that makes better use of NBA play-by-play data that provides context around all game events. He recently co-wrote a paper on the "Hot Hand in the NBA."
My mom: She hasn't watched all that much NBA since "JeRomeo" Kersey retired.
NBA Playoffs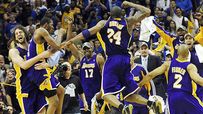 TODAY'S BEST
MORE ON THE PLAYOFFS