Commentary
TrueHoop's Stat Geek Smackdown 2010
Updated:
June 17, 2010, 11:56 PM ET
By
Henry Abbott
| ESPN.com
The concept is simple: Get a bunch of real-deal hard-core basketball quantitative analysts together, and have them pick playoff winners, in a battle for pride. Against my mom.
The "Moneyball" movement in basketball has been picking up steam, which is great for analysts everywhere, but maybe a little tough on the Smackdown roster. The 2007 and 2008 champion, Basketball-Reference.com's Justin Kubatko, was taken out of the mix thanks to the work he does for the Trail Blazers (although his Basketball-Reference protégé, Neil Paine, is now in the Smackdown mix). Basketball Prospectus' Kevin Pelton, a mainstay, also works for the Pacers now, but they're nice enough to let him hang around.
Jeff Ma also consults for the Blazers sometimes. Ma is the notable whiz kid who famously led that MIT blackjack team on the mission that became the book "Bringing Down the House" and the movie "21."
Meanwhile, 2009 champion David Berri is all over the Web promoting his book about the foolish mistakes of professional sports executives. I've had a few e-mails from NBA front-office people eager to see him get his comeuppance.
Also in the mix is adjusted plus/minus expert Stephen Ilardi. And one contender is almost certainly the biggest name in hoops stat geekery: ESPN.com's John Hollinger.
This year, he'll be keeping an eye out for Haralabos Voulgaris. For many years Voulgaris made a tidy living using some of the world's most sophisticated quant analysis to beat oddsmakers. Now he has stopped gambling in the hopes of finding employment with an NBA team.
Welcome to the fourth annual TrueHoop Stat Geek Smackdown.
The rules are the same: Based on stats, hunches and anything else, each expert predicts the outcome of every playoff series as the rounds unfold. Each correctly picked series is worth five points. Correctly predicting the number of games is worth two additional points. The winner gets something bizarre and arbitrary to be determined later.
Scoreboard
TRUEHOOP'S STAT GEEK SMACKDOWN SCOREBOARD
RD 1
CONFERENCE SEMIS
CONF. FINALS
FINALS
TOTAL
STAT GEEK
TOTAL
BOS-
CLE
ATL-
ORL
UTH-
LAL
SAS-
PHO
BOS-
ORL
PHO-
LAL
BOS-
LAL
POINTS
Berri
37
0
5
5
5
0
5
0
57
Hollinger
44
0
5
5
5
0
0
7
66
Ilardi
39
0
5
5
0
0
5
0
54
Ma
37
7
5
5
5
7
5
0
71
Paine
35
0
5
5
0
0
7
0
52
Pelton
41
0
5
5
5
0
7
7
70
Voulgaris
30
0
5
5
0
0
0
0
40
Mom
27
0
5
0
5
7
0
0
44
TRUEHOOP'S STAT GEEK SMACKDOWN SCOREBOARD: FIRST ROUND
STAT GEEK
CHI-
CLE
CHA-
ORL
MIL-
ATL
MIA-
BOS
OKC-
LAL
SA-
DAL
POR-
PHO
UTH-
DEN
TOTAL
Berri
5
5
5
5
7
5
5
0
37
Hollinger
5
5
5
5
5
7
5
7
44
Ilardi
5
7
5
5
5
7
5
0
39
Ma
5
5
5
5
5
7
5
0
37
Paine
5
5
5
5
5
5
5
0
35
Pelton
5
5
5
5
7
0
7
7
41
Voulgaris
5
5
5
5
5
0
5
0
30
Mom
5
5
5
5
7
0
0
0
27
---
Series Predictions (click on the links below to see picks for each matchup)
NBA Finals
CELTICS-LAKERS
Conference finals
CELTICS-MAGIC | SUNS-LAKERS
Conference semis
CELTICS-CAVS | HAWKS-MAGIC | JAZZ-LAKERS | SPURS-SUNS
First round
CHI-CLE | CHA-ORL | MIL-ATL | MIA-BOS | OKC-LAL | SA-DAL | POR-PHO | UTH-DEN
NBA FINALS: BOSTON CELTICS VS. LOS ANGELES LAKERS

Berri


Celtics in 6


Hollinger


Lakers in 7


Ilardi


Celtics in 6


Ma


Celtics in 7


Paine


Celtics in 5


Pelton


Lakers in 7


Voulgaris


Celtics in 6


Mom


Celtics in 7
Smackdown Breakdown: Celtics-Lakers
The Smackdwon, like the playoffs, have been all about the Celtics. Almsot nobody believed in them a few weeks ago, and yet here they are in the Finals.
One person who believed in them was Jeff Ma, and because of that, his title is already secured.
Everyone else is playing for second place, and in that the Finals round of the Smackdown can be a funny thing.
By and large, the picks in this contest are a reflection of the data. Most of the picks are heavily influenced by offensive and defensive efficiency, homecourt advantage, and maybe a few other ingredients like injuries and Vegas betting lines.
But it's about winning the contest, and in the Finals, some picks are made for strategic reasons within the competition.
Neil Paine's pick is all about that. "Do I think the Lakers will really win? Yes. But I also know that it's impossible for the cellar-dwellers (Bob & Henry's Mom) to tie me even if I get 0 points and they get the full 7 ... Meanwhile, if I make a correct pick and neither Hollinger, Berri nor Ilardi do, I can tie Hollinger for third place. So I'm going to do something really dastardly: I'm going to pick the team those three are unlikely to pick -- based on their previous picks -- since the reward (possibly tying for third) is far greater than the risk (if it fails, I still can't finish any worse than I am right now).
"That means I'm picking the Celtics to win it all (being a rabid Boston fan who watched nearly every C's game this season on League Pass just makes this a bonus). And why five games? Every set of numbers I run says that if the Celtics win, the most likely scenario will involve them taking advantage of the Finals' 2-3-2 format and capturing the series in 5 games."
Kevin Pelton is picking the Lakers, but with a lot of respect for the Celtics: "By now," he explains, "I'm convinced Boston is legitimate and that we didn't see the true Celtics team during the regular season (at least the last four months of it). The question then becomes whether that is enough to beat a Lakers team that is playing some pretty fair basketball itself and holds homecourt advantage.
"I think we've got a good chance of seeing the classic NBA Finals we anticipated when these two teams met two years ago and Boston won going away, which would be nice given how forgettable most recent Finals series have been. Still, I'm picking the Lakers to win it. I like the matchups for them at the defensive end of the floor. If they can hold Rondo in check, Boston may have a difficult time consistently scoring. The Celtics will cause their own issues with their defense, but even though they were less impressive in the regular season, I think the Lakers have better-rounded talent to beat the Boston defense than Cleveland and Orlando, who were ultimately forced to rely on flawed options.
"There is also, I must admit, a tiny bit of doubt about how long the Celtics can keep this up. They're coming off two difficult series and are playing Rondo 41 minutes a night and Allen and Pierce 38 apiece during the postseason. The Lakers aren't much more reliant on their bench, but the only player for whom fatigue should be any kind of an issue is Bryant. If this series goes the distance, that could work to the Lakers' favor."
David Berri is wrestling with how to assess the Celtics. He writes on his blog: "The model I employ considers only two issues: The efficiency differential of the two teams and who has homecourt advantage. This model led to my victory last year, and has correctly chosen the winning team in eleven of the fourteen series this year. And if we used this model for the NBA Finals, the Lakers would be expected to win in six.
"But the Boston Celtics are the Lakers' opponent. And twice the Celtics have won a series when the model said otherwise. In fact, the Celtics have defeated the two best teams from the NBA's regular season in the playoffs. So now I have a choice. I can stick with the model and pick the Lakers. Or I can remember the words of Stephen Colbert. In discussing George W. Bush, Colbert observed sarcastically that Bush "... believes the same thing Wednesday that he believed on Monday, no matter what happened Tuesday. Events can change; this man's beliefs never will."
---
Bios
David Berri is an associate professor of economics at Southern Utah University and lead author of "The Wages of Wins."
John Hollinger writes for ESPN.com. He created the Player Efficiency Rating (PER) and several other statistical measures.
Stephen Ilardi is a professor of clinical psychology at the University of Kansas, a former statistical consultant to the KU men's basketball team under Roy Williams and an expert on adjusted plus/minus.
Jeff Ma co-founded Citizen Sports Network in 2004, and wrote "The House Advantage."
Neil Paine is the lead blogger for Basketball-Reference.com, where he works for two-time Smackdown champion Justin Kubatko. No pressure.
Kevin Pelton writes for Basketball Prospectus and moderates the APBRmetrics forum for statistical analysis discussion. He also covers the WNBA's Seattle Storm for wnba.com and consults for the Indiana Pacers.
Haralabos Voulgaris built one of the most powerful databases in sports, which he once used to gamble on basketball. He has stopped betting to pursue a career in an NBA front office. He'll replace Sandy Weil in the Smackdown.
My mom: She hasn't watched all that much NBA since "JeRomeo" Kersey retired.
2010 NBA Finals On ESPN.com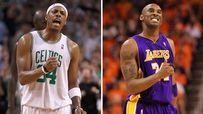 Follow ESPN's NBA coverage on Twitter
2010 NBA PLAYOFFS
PLAYOFF PREVIEW
FINALS PAGE
CONFERENCE FINALS PAGES