Mavs-Thunder: Who makes NBA Finals?
Five writers tackle five questions on the West finals matchup between Dallas and OKC
Originally Published:
May 16, 2011
ESPN.com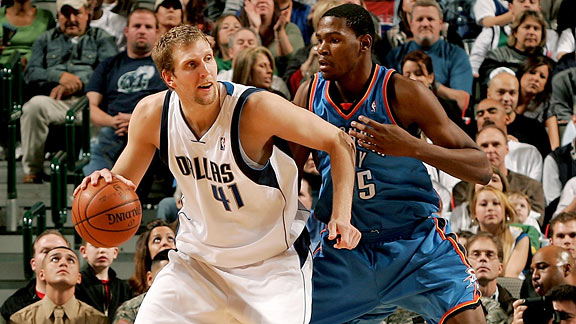 Tim Heitman/NBAE/Getty ImagesDirk and KD have been impressive in leading their teams to the West finals. Who wins this matchup?
It's a battle for the ages!
That is, the league's oldest remaining team versus its youngest. Dirk versus Durant. Kidd versus Westbrook. Rest versus rust. Experience versus inexperience. Royal blue, navy blue and white versus light blue, navy blue and white. The Mavs versus history.
Two teams separated by just 200 miles are in a fight for Western Conference bragging rights. Who advances to the NBA Finals? We asked five writers:
1. Dirk or KD: Which superstar has been more impressive this postseason?

Durant

Nowitzki
Henry Abbott, TrueHoop: Dirk has a little better shooting and rebounding percentages and is a more consistent scorer. But I'll take Durant, who's the nerve center of a young team hanging together through the twin fires of tough playoff opponents and a grab of trades, personalities and stress.
Mark Haubner, The Painted Area: Dirk gets the slight edge because he's been more consistent and he's sporting an absurd 50-60-90 shooting line. KD's highs have been higher (40 points per game average in close-out games) but his lows have been lower (3-for-14 stinker in Game 6). It's close, for sure.
Rob Mahoney, The Two Man Game: Dirk. There have been no questions about his ability to get open or exploit particular defenders; Nowitzki just has two dominant series to his name, without any of Durant's red flags.
Marc Stein, ESPN.com: I'll give you one guess who I'm going with. I'll also assume no one's going to argue with me on this one. Dirk's dominance in the Mavs' sweeping of the Lakers pretty much dissolves any argument, although Durant is averaging 39 points per game in the playoffs when I'm on press row. If he keeps that up, Dallas has a big problem.
Royce Young, Daily Thunder: Hard to argue against Dirk's efficiency this postseason. Averaging 26.5 points per game on just 18 shots and 50 percent shooting. That's good. But Durant just dropped 39 in his first Game 7 ever. That's the trump card for me.
---
2. Dirk or KD: Which superstar has a more favorable matchup this series?

Durant

Nowitzki
Henry Abbott, TrueHoop: Now that Luol Deng and the Bulls have given LeBron James a very tough game, it's pretty safe to say Dirk is the toughest cover in the playoffs, which is remarkable for a guy who can't move.
Mark Haubner, The Painted Area: Give Dirk the slight edge in the battle of impossible matchups. Serge Ibaka is a menacing shot-blocker from the weak side but not as strong in head-to-head defense. Nick Collison is a tough defender but better closer to the basket. In Shawn Marion, Dallas has someone to be competitive in chasing Durant around, even if KD won't really be stopped.
Rob Mahoney, The Two Man Game: Dirk. Neither team is likely to stifle the other's star -- Ibaka and Collison are commendable defenders, but neither has managed to even be remotely effective against Nowitzki, and Dallas may be similarly limited in relying on DeShawn Stevenson and Shawn Marion against Durant. But Dirk's more diverse repertoire gives him more avenues to exploit defenders.
Marc Stein, ESPN.com: Dirk. Nick Collison just showed the world how effective he can be with his work against Zach Randolph in Game 7, but Nowitzki will gladly deal with the likes of Collison and Serge Ibaka compared to the prospect of trying to guard Z-Bo or Marc Gasol for long stretches. Durant has also had trouble scoring against Dallas, even though he's so much bigger than any of the Mavs' 3 men.
Royce Young, Daily Thunder: Dirk. Simply because there's really not a single player in the entire league that's an ideal defender for him. There's a book on defending Durant. Get physical, don't let him run off screens without contact and make every catch a challenge. With Dirk, what's the strategy? Just hope he misses?
---
3. What do you expect from Russell Westbrook in this series?

Westbrook
Henry Abbott, TrueHoop: The highest usage rate of any player left in the playoffs, with the possible exception of Derrick Rose.
Mark Haubner, The Painted Area: About the same as usual: thorough stat-stuffing production with which one of the league's best athletes sometimes carries the Thunder to victory by making explosive individual plays off the dribble and on the boards, and sometimes falls short because he's a 22-year-old point guard still learning how to run a team.
Rob Mahoney, The Two Man Game: Up-and-down play. Dallas was able to coax Westbrook into settling for jumpers during the three regular-season games, and I'd expect the Mavs to employ the same passive defensive strategy and Westbrook to continue to take (and miss) the looks given to him by the Mavericks defense. Westbrook will have to be incredibly patient to make a positive impact on this series, but his restraint comes and goes.
Marc Stein, ESPN.com:The Mavs have undoubtedly lost rhythm with all this time off, but the gas that's been poured back into Jason Kidd's tank is going to be significant. There will obviously be times Westbrook blows by him, but I see the combo of J-Kidd's freshness and guile making this matchup way closer than you'd figure just looking at their stats and ages.
Royce Young, Daily Thunder: Westbrook has struggled a bit against Dallas this season because with Tyson Chandler in the paint; there's no free path to the rim, which is what Westbrook wants. I'd expect some ups and downs, with Westbrook's productivity largely hinging on the consistency of his midrange game.
---
4. Rank the top 3 among 10 factors: Rest, rust, experience, inexperience, age, home court, coaching, supporting cast, officiating or [name one].
Henry Abbott, TrueHoop: (1) Home court is like money in the bank. (2) I don't really get it, but old age seems to help teams in the playoffs, probably in no small part because (3) officials respect veterans and have the power to change everything -- though that's worth worrying about because there's not much you can do about it.
Mark Haubner, The Painted Area: (1) Coaching, (2) crunch-time execution and (3) home court. Oklahoma City is more talented, but Dallas has a vast edge in coaching staff. The Mavs are always well-prepared and execute well, as opposed to the Thunder, who often struggle to get good shots late. Also, free throw rate is a stat to watch: OKC ranked second in free-throw attempts (31.3), while Dallas was third in FTA against (20.9).
Rob Mahoney, The Two Man Game: (1) Execution, (2) supporting cast and (3) coaching. The youth versus experience angle will run rampant in the media coverage of this series but has little to do with the on-court product. Both teams are incredibly capable, and the outcome of this series will be decided by which can most effectively implement its game plan, not which has more youthful energy or more playoff experience.
Marc Stein, ESPN.com: (1) Experience (also known as smarts): The Mavs are the smartest team still playing. They can exploit the lack-of-experience mistakes OKC makes.
(2) Game 1: The Thunder just finished a series, and Dallas hasn't played a real game since May 8. Will OKC have a better chance to steal a game in Dallas in Game 1?
(3) Help: Durant and Westbrook were treated to big step-up performances in Game 7 from Harden and Collison and finally shook loose from Memphis. The Mavs got everyone involved in the series with the Lakers after Dirk gave them a foothold. I trust Dallas' supporting cast much more than OKC's, but the Thunder often play better when they go to their bench. Big factor in this series.
Royce Young, Daily Thunder: (1) Supporting cast, (2) home court and (3) rust. You can make a strong case that both of these teams' benches are what ultimately made the difference in them advancing. James Harden and Nick Collison for the Thunder, Jason Terry and J.J. Barea for the Mavs. But having the first two at home is key for Dallas, which might help shake some of the rust built up from a week off.
---
5. Who wins the West and advances to the NBA Finals?

Henry Abbott, TrueHoop: Now that the Mavericks deploy so much effective size, to go with all that shooting ... well, it's hard to pick against the team that swept the defending champs, you know?
Mark Haubner, The Painted Area: Dallas in seven. It's a fascinating matchup between pretty much the league's oldest and youngest teams -- really, they're among the oldest and youngest teams to ever compete for a championship. Will experience or athleticism prevail?
With Game 7 at home, Dallas is my pick. Dirk versus KD will be a wash, but Rick Carlisle will dominate Scotty Brooks.

Rob Mahoney, The Two Man Game: Dallas wins in a hard-fought series. Nowitzki and Durant continue to show off their all-world talent, but Dallas' help defense neutralizes Westbrook, and the high-scoring Mavericks' reserves tip the scales.
Marc Stein, ESPN.com: I've pretty much bought into the Mavs-Miami rematch vibe since the second round ended. Not going to back off it just because the Heat wobbled in Game 1 of the East finals.

Royce Young, Daily Thunder: Dallas in seven. I don't necessarily buy into experience because, at this point, the Thunder have played in big games. Their youth doesn't mean as much anymore. But it does feel like it's Dirk's time to return to the Finals. The Mavs looked downright powerful against the Lakers, and while OKC will push them, playing Game 7 at home will be the difference.
---
Check out our NBA Finals pages
NBA Finals: Mavs vs. Heat | NBA Finals: History and more


ESPN.com and the TrueHoop Network
Henry Abbott and Marc Stein are senior writers for ESPN.com. Mark Haubner, Rob Mahoney and Royce Young write for the TrueHoop Network.
• Follow ESPN's NBA coverage on Twitter | On Facebook

5-on-5: Five Questions on Five Hot NBA Topics