Commentary
TrueHoop's Stat Geek Smackdown 2011
Updated:
June 12, 2011, 10:49 PM ET
By
Henry Abbott
| ESPN.com
In the NBA, quantitative analysis has achieved certain landmarks. The analytical-minded are close to the centers of power on an increasing number of teams. The annual stat geek conference is nearly a must-attend for power brokers and has even spawned imitators.
But there is only one goofy contest in which real-deal analysts publicly compete against my mom. Since its 2007 founding, the contest has featured some of the best in the business, as evidenced by the fact that they keep getting hired away by NBA teams.
The 2007 and 2008 champion, Basketball-Reference.com's Justin Kubatko, was taken out of the mix thanks to the work he does for the Trail Blazers. (His Basketball-Reference protégé, Neil Paine, is now in the Smackdown mix.) Basketball Prospectus' Kevin Pelton, a mainstay, works for the Pacers now, and as they're in the playoffs, he's out of the Smackdown.
The 2009 champion, author and professor David Berri, returns to try to win back the crown he lost in 2010 to Jeff Ma, who isn't participating this year. Berri will be competing against longtime Smackdown participant and newish Phoenix Suns analytical consultant Stephen Ilardi.
Right now the hot hand among stat geeks (if you get that little reference, you're a geek, too) belongs to ESPN.com's John Hollinger; we'll see whether he can carry his regular-season success into the playoffs.
This year, there's a new trend worth noting: In asking around about who was doing the very best work in this field, a lot of the names that came up had some role in gambling. It's not hard to understand why. If you have statistical models that show who's going to win, why settle for a salaried job from a team when you can put those numbers to work on the betting market?
Last year, gambler Haralabos Voulgaris became the first gambler in the Smackdown. He fared poorly but is back to avenge his loss. And two new analysts come highly recommended. Benjamin Morris of Skeptical Sports writes a very interesting blog loaded with sophisticated insight. And in the decade since he got an Ivy League degree, he has earned most of his income wagering.
Then there's Matthew Stahlhut. Throughout last year's contest, he emailed me round by round with picks before each series started and before everybody else's picks were published. In a very professional way, he even talked a little trash. And, even though he wasn't really in the contest, he "won" it. He uses sophisticated models that he created (with the help of others) as a consultant for a gambling group.
The rules are the same as ever: Based on stats, hunches and anything else, each expert predicts the outcome of every playoff series as the rounds unfold. Each correctly picked series is worth five points. Correctly predicting the number of games is worth two additional points. The winner gets something bizarre and arbitrary to be determined later.
Scoreboard
TRUEHOOP'S STAT GEEK SMACKDOWN SCOREBOARD
RD 1
CONFERENCE SEMIS
CONF. FINALS
FINALS
TOTAL
STAT GEEK
TOTAL
ATL-
CHI
BOS-
MIA
DAL-
LAL
MEM-
OKC
MIA-
CHI
OKC-
DAL
DAL-
MIA
POINTS
Berri
32
5
5
0
5
0
5
0
52
Hollinger
27
5
7
0
5
5
5
0
54
Ilardi
34
5
7
0
7
5
7
0
65
Morris
36
5
5
0
5
5
5
7
68
Paine
27
5
5
0
7
0
5
0
49
Stahlhut
34
5
5
0
7
5
0
0
56
Voulgaris
27
5
5
0
7
5
5
0
54
Mom
24
7
0
0
5
0
5
5
46
TRUEHOOP'S STAT GEEK SMACKDOWN SCOREBOARD: FIRST ROUND
STAT GEEK
IND-
CHI
PHI-
MIA
NY-
BOS
ATL-
ORL
MEM-
SA
NO-
LAL
POR-
DAL
DEN-
OKC
TOTAL
Berri
5
7
5
0
0
5
5
5
32
Hollinger
5
7
5
0
0
5
0
5
27
Ilardi
7
5
7
0
0
5
5
5
34
Morris
7
7
5
0
0
5
7
5
36
Paine
5
7
5
0
0
5
5
0
27
Stahlhut
7
7
5
0
0
5
5
5
34
Voulgaris
5
7
5
0
0
5
0
5
27
Mom
7
7
5
0
0
5
0
0
24
---
Series Predictions (click on the links below to see picks for each matchup)
NBA FINALS
MAVS-HEAT
CONFERENCE FINALS
HEAT-BULLS | THUNDER-MAVS
SECOND ROUND
HAWKS-BULLS | CELTICS-HEAT | MAVS-LAKERS | GRIZZLIES-THUNDER
FIRST ROUND
IND-CHI | PHI-MIA | NY-BOS | ATL-ORL | MEM-SA | NO-LAL | POR-DAL | DEN-OKC
DALLAS MAVERICKS VS. MIAMI HEAT

Berri


Heat in 6


Hollinger


Heat in 6


Ilardi


Heat in 6


Morris


Mavs in 6


Paine


Heat in 6


Stahlhut


Heat in 6


Voulgaris


Heat in 6


Mom


Mavs in 7
Smackdown Breakdown: Mavs-Heat
David Berri fell with the Bulls. John Hollinger and Haralabos Voulgaris succumbed early to the wily charms of the Trail Blazers. Matthew Stahlhut dropped from contention by picking the Thunder over the Mavericks. For Neil Paine it was a double-whammy: The Nuggets and Bulls.
This year, three series shocked everybody: The Mavericks over the Lakers, the Grizzlies over the Spurs and the Hawks over the Magic. Everybody got all of those wrong.
But two contestants -- veteran Stephen Ilardi and first-timer Benjamin Morris -- picked the other 11 series correctly and are, therefore, the two remaining threats to take the Smackdown crown.
Thanks to picking seven of those series in the correct number of games, Ilardi brings a lead to the Finals, which creates a tactical dilemma. Both contenders favor the Heat. But if Ilardi can manage to pick the same team as Morris, Ilardi wins. So there's a lot to think about.
"The Heat," says Morris, "have a better record, home-court advantage, a better MOV [margin of victory], better SRS [simple rating system], more star power, more championship experience, and had a tougher road to the Finals. Plus Miami's poor early-season performance can be fairly discounted, and it has important players back from injury. Thus, my model heavily favors Miami in five or six games.
"But I'm sure Ilardi knows all this, so, since I'm playing to win, I'll take Dallas. Of course, I'm gambling that Ilardi will play it safe and stick with Miami himself since I'm the only person close enough to catch him. If he assumes I will switch, he could also switch to Dallas and sew this thing up right now. Game-theoretically, there's a mixed-strategy Nash equilibrium solution to the situation, but without knowing any more about the guy, I have to assume he'll play it like most people would. If he's tricky enough to level me, congrats."
"One could offer a coherent rationale for picking either team in this series," says Ilardi. "Dallas has played better than Miami in the postseason (i.e., at a higher adjusted efficiency); the Mavs won the regular-season matchup with the Heat 2-0; they are considerably deeper and much stronger at positions 4-9 in the rotation; and they have, in Dirk Nowitzki, the league's single most potent offensive weapon.
"On the other hand, Miami was the league's best team (with the highest adjusted efficiency) over the course of the entire season; it has home-court advantage in the Finals; and the recent return of Udonis Haslem provides a defender who can, in stretches, slow down Nowitzki to some extent. And did I mention that Miami has the actual Most Valuable Player (LeBron), along with two other guys who are arguably among the league's top 10? Although I would not be at all surprised to see Dallas continue its magical playoff run and find a way to pull out this series, I believe Miami's numerous advantages will ultimately prove decisive. And P.S., I'm hoping Ben Morris decides to stick with his numbers and pick Miami, as well!"
Neil Paine says the Mavericks are "a much better offensive team than the Bulls were, which offers hope for Dallas. Having said that, though, Dallas is not in Chicago's class defensively, so don't expect the Heat's offensive efficiency to be as low as it was in the conference finals. It's going to be an uphill battle for Dallas. The Mavs win this by playing above their heads on defense (approximating Chicago's work last round), executing on offense much more efficiently than the Bulls did, and winning at least one of the first two games in Miami. More likely, though, Miami's offense runs roughshod over the Mavs' D, the Heat use home-court to their advantage, and they make it 2-for-2 in the Finals versus Dallas."
"I hope it's not over," says Voulgaris, "but it likely is. Now that the Heat roster is healthy and has had some time to jell, I don't think there is any doubt that they are the best team in the league. Chicago led the league in wins this year, and it lost four straight, including two at home, to the Heat. Miami's big lineup of LeBron James, Dwyane Wade, Mike Miller, Udonis Haslem and Chris Bosh is too good. There isn't a lineup that can compete. They are a terror on defense and a nightmare to match up with offensively.
"Dallas is playing amazing basketball, it moves the ball, rarely takes a bad shot and has the best fourth-quarter scorer in the league in Dirk -- but I can't see the Mavs beating this Heat team. As much as I'd like to see the new and improved (quiet) Mark Cuban win a title, I don't see it happening this year, nor in the next five -- unless he buys the Heat."
---
Bios
David Berri is an associate professor of economics at Southern Utah University and lead author of "The Wages of Wins."
John Hollinger writes for ESPN.com. He created the Player Efficiency Rating (PER) and several other statistical measures.
Stephen Ilardi is a professor of clinical psychology at the University of Kansas, a former statistical consultant to the KU men's basketball team under Roy Williams and an expert on adjusted plus/minus.
Benjamin Morris publishes original research and criticism on his blog Skeptical Sports Analysis. After graduating from Yale University with a double major in philosophy and English, he spent the better part of the past decade as a professional gambler.
Neil Paine is the lead blogger for Basketball-Reference.com, where he works for two-time Smackdown champion Justin Kubatko. No pressure.
Matthew Stahlhut, who graduated from St. Louis University School of Law in 2007, has been both an attorney and a statistical analyst for a group of sports gamblers. He also contributes to DenverStiffs.com.
Haralabos Voulgaris built one of the most powerful databases in sports, which he uses to gamble on basketball.
My mom: She hasn't watched all that much NBA since "JeRomeo" Kersey retired.
2011 NBA FINALS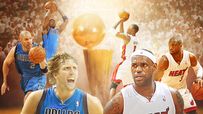 Follow the NBA on ESPN: Twitter / Facebook
LATEST CONTENT
MUST-READ
FEATURES
SERIES PAGES