Commentary
Scouting Report: Wolves vs. Nuggets
Updated:
April 16, 2004, 6:35 PM ET
By
Brian James
| Special to ESPN Insider
T'Wolves' plus-minus breakdown
|
Nuggets' plus-minus breakdown
Brian James, a former assistant coach with the Pistons, Raptors and Wizards, spent the 2003-04 season scouting for the SuperSonics. Insider tapped his NBA expertise to break down each playoff series.
Minnesota has been a model of consistency over the past few seasons, showing a great work ethic that led to a fast starts in terms of wins and losses. Then, toward the end of the season and due to lack of depth, the starters had a tendency to get worn down, and the Timberwolves lost home-court advantage in the playoffs.

Only last season did Minnesota have an edge in home court, but it was against the Lakers -- some advantage. The result has been early exits each year. Not this season. Kevin McHale and Flip Saunders have done a great job of adding tough, experienced pieces to help out Kevin Garnett and the rest of the roster.

Denver made a 26-game improvement, getting to 43 wins after their 17-win performance in 2002-03. Some coaches may have equaled the job Jeff Bzdelik did this season, but none was better. He has done an incredible job of coaching Denver's young talent, blending in the veterans Kiki Vandeweghe brought in.

After staggering somewhat in the last weeks of the season, the Nuggets won when they had to against very good teams. Carmelo Anthony proved why he is a big-time winner by carrying his team to the No. 8 seed. Denver won to get into the playoffs, rather than backing their way into the post season.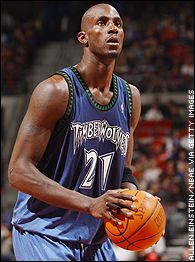 KG has been here before, but now he has the teammates to keep on going.

Minnesota is probably the most intense team in terms of getting focused to play compared to any other team in the West. I've seen very few games where KG didn't play at an all-around, All-Star level.

To continue reading this article you must be an Insider
Insider